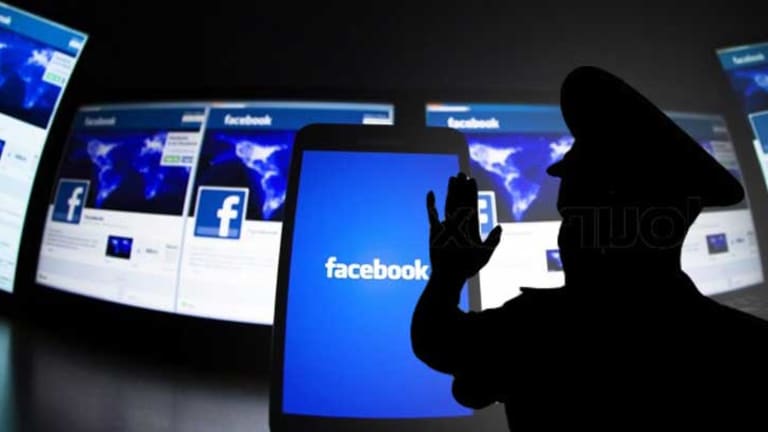 After Dallas Shootings, Police Start Arresting People for Criticizing Cops on Facebook, Twitter
Following the murders in Dallas, people are being arrested for Facebook and Twitter posts criticizing cops.
In our new hyper-nervous atmosphere in America following the murders of five police officers in Dallas, social media posts are landing a number of people in jail — including four men from Detroit last weekend.
Though the four haven't been named or charged, their arrests highlight a dangerous trend worthy of everyone's rapt attention.
"I know this is a new issue, but I want these people charged with crimes," said Detroit Police Chief James Craig, the Detroit News reported. "I've directed my officers to prepare warrants for these four individuals, and we'll see which venue is the best to pursue charges."
One of the men wrote in a post on Facebook, describing now-deceased alleged cop-killer in the Dallas attack, Micah Johnson, as a hero.
"These individuals that are on social media making threats regarding the suspect — this violent terror suspect, that's what he is — a hero, that's a problem," Craig asserted.
Problematic, perhaps, but whether or not such a post represents an actual, tangible threat is up for debate — to a degree.
"Certainly, posting that kind of thing on social media is a bad thought,"said Larry Dublin, a professor at University of Detroit Mercy School of Law. "But having a bad thought isn't necessarily a crime. There are a lot of issues at play here, and I think a lot would depend on exactly what was said."
Police departments nationwide are understandably on edge, but initiating a war on free speech because cops are nervous would be a foolhardy one-way path the country wouldn't be able to return from.
"Arresting people for speech is something we should be very careful about," Bruce Schneier, security technologist at the Berkman Klein Center for Internet & Society at Harvard University, told the Intercept.
Several posts, while undoubtedly inflammatory and controversial, don't necessarily meet guidelines from a Supreme Court precedent set last year in Elonis v. United States, that "prosecutors pursuing a charge of communicating threats need to prove both that reasonable people would view the statement as a threat and that the intent was to threaten," the Interceptsummarized.
That case involved a man who had been convicted over violent rap lyrics concerning his wife — which the Supreme Court overturned — but free speech still hangs in the balance following any tragedy or mass violence, when frayed nerves and emotional reactions often overtake reason and eliminate debate of future repercussions.
"Social media is new territory, and while it's been established that hate speech is protected by the First Amendment, we're talking about people specifically saying on Facebook they want to kill white police officers,"said Craig, noting his department's counter-terrorism unit observed the posts while monitoring social media.
"If someone threatens to kill the president," he continued, "that person would be arrested and prosecuted. How is it any different when someone threatens to kill white cops?"
Actually, considering the content of the posts, it's a definitively different animal.
"I have no problem shooting a cop for a simple traffic stop cuz they'd have no problem doing it to me,"posted Jenesis Reynolds, an Illinois woman who was subsequently arrested and charged with disorderly conduct.
"This needs to happen more often," wrote one of the four aforementioned suspects, who accompanied the post with videos and images of cops being shot, according to police.
Another man arrested wrote, "It's time to wage war and shoot police first."
But, as the Supreme Court ruled in Elonis, these generalized, murky 'threats' don't exactly constitute specific, reasonable expectations of violence.
"After Dallas, threats may seem more threatening to police officers around the country," explained professor of law at Northeastern University, Daniel Medwed, as cited by the Intercept. "We might be seeing more arrests right now because the police will interpret that they have probable cause to make the arrest," adding, "that doesn't mean in the end that this will result in convictions."
Though Craig railed against such posts to social media as a sort of existential threat against police deserving swift quashing and punishment, he made no mention of equally reactionary posts by police.
In at least one example, a Facebook post accompanying the image stating "I stand with Baton Rouge," featuring the department's badge atop a blue line on a black background, described the exact sentiment of those arrested — ostensibly from an officer's point of view.
"I have been a Police Officer/ Deputy Sheriff/ Probation Officer/ D.A. Investigator/ Tribal Officer for 19 years, off and on," the poster, whose identity had been blacked out, wrote. "I HAVE NEVER served with someone who went to work and said 'Today I'm gonna kill/ beat/ deprive someone of their civil rights."
The poster makes clear he or she stands in solidarity with the slain officers, noting the public could not possibly understand what police deal with unless and until they actually become a cop. But most tellingly, the poster concluded:
"Make no mistake about it, brothers and sisters in blue/green/brown/gray, we are officially at war with those we serve. Lock and load."
Would Craig vehemently call for the arrest of an officer perpetrating the exact threat others have been arrested for?
Would an officer's declaration of war against the civilians he or she is tasked with serving garner similar outrage from his or another department?
Though it would be purely theoretical to assume, either way, the question is valid. Is this, after all, a battle against threats to specific people — or a war against controversial opposing opinion and free speech?
"This is complicated," Schneier lamented, urging law enforcement to use caution. "We don't know how to do this — we're doing it pretty badly and we should do it better."
Social media and the permanence of the Internet have undoubtedly changed the game for everyone.
"This new world where things aren't forgotten is going to be different," Schneier added. "And you're seeing one manifestation of it in casual comments that are resulting in arrest."