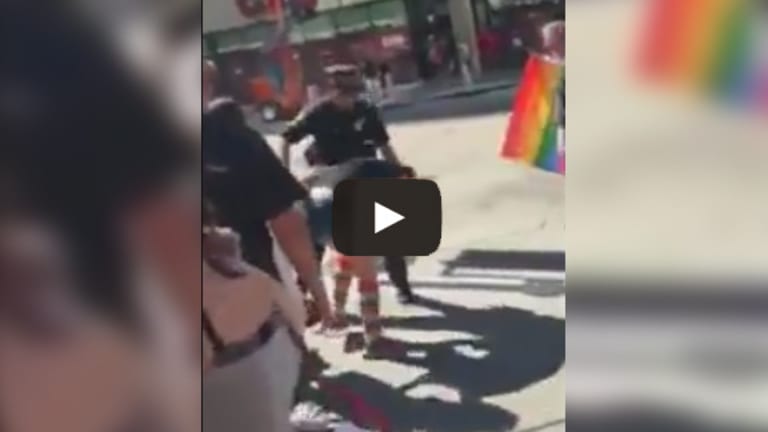 Facebook Video Shows a Cop Pummelling a Young Girl at Gay Pride Fest
"Do you want me to hit you."
June 16, 2014
A video posted to facebook late Sunday afternoon shows some disturbing footage of excessive force by Pittsburgh Police.
The video has sparked quite the outrage.
The witness, Autumn Huntera, the one who filmed the incident, told The Gaily Grind, that the incident happened around 5:00 pm Sunday afternoon.
Huntera explains that the teen engaged in a heated debate with a group of anti-gay protesters attending the Pride festival: "She was saying that being gay is not a sin and that she was a lesbian and proud of it, and that she wasn't going to hell for it."

The girl was debating with one of the protesters, and she stepped closer without even realizing it and the officer ran over to her. He grabbed her by the back of her neck, pulled her over, dropped her on the ground, pulled her up by her hair, and said "Do you want me to hit you." When she didn't respond, he hit her in stomach area about 4 or 5 times repeatedly. After everyone yelled at him, he hand cuffed her, put her against a wall. She was crying against a wall next to her 'attacker' while her fiancee was panicking trying to find someone who recorded it.

Huntera adds that the protester and teen were about a foot apart when the officer grabbed her without prior warning.
Obviously we do not have the entire context of this incident. However, from what we can see in the video, the level of force by this officer seems excessive.
What do you think?