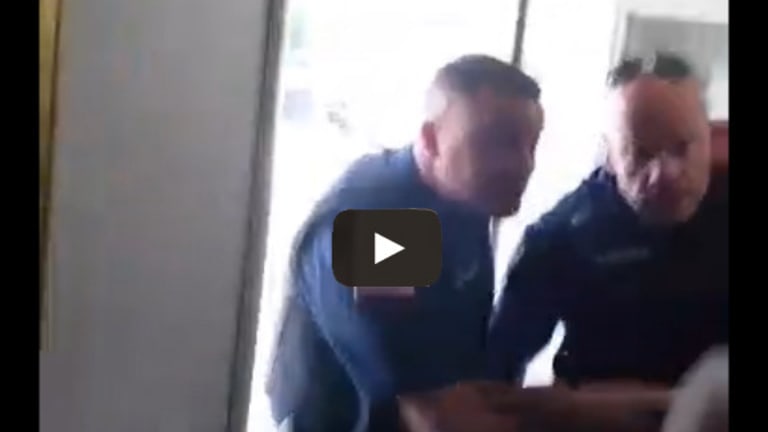 Facebook Video Shows Cops Grab Man's Camera, Assault Him and his 58-Year-Old Mother
June 18, 2014
A video posted to facebook today shows two belligerent cops assault a man and his mother.
The man filming is Richard Phillips who was at his mother's house today when two Wareham, Massachusetts police officers, Chandler and Verhaegen showed up at the door.
It is unclear as to why the officers were there, but they were questioning the mother and she responded by saying she was "drinking strawberry milk and smoking a cigarette."
Phillips clearly announces that he is filming as required by Massachusetts state law when interacting with police.
However, this does not stop officer Verhaegen from barging in and grabbing at Phillips' camera.
During the forced entry into the house, the officers struck Phillips' mother in the face.
Phillips then dials 9-1-1 to report to the uniformed gang members that there are uniformed gang members at his house.
About halfway through the video, officer Chandler is seen holding his foot against the door, not allowing Phillips' mother to shut it.
At this point the officers state that they are not there for an arrest which could make the unauthorized entry into the house, illegal.
The Free Thought Project has contacted the Wareham Police Department and they have declined to comment on the incident. We have also reached to Richard Phillips but have yet to receive a reply.
Below is the video. What are your thoughts on it?