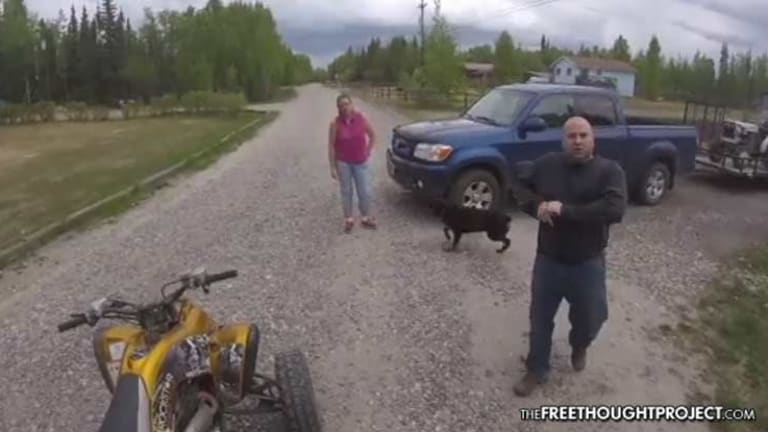 WATCH: Jail Guard Pretends He's a Cop, Holds Innocent People at Gunpoint, Cops Arrive, Arrest the Victim
Two ATV riders were held at gunpoint and forced off of their ATVs after a corrections officer accused them of going too fast down his gravel road.
Fairbanks, AK -- According to KTVF News 11 in Fairbanks, Alaska, an off-duty corrections officer may be in trouble with the law after video surfaced of him brandishing his firearm, forcing private citizens to the ground, and holding them against their will, all for allegedly driving too fast on 4-wheelers on the gravel road near his home.
Alaska Department of Corrections officer Gregory Braeuer accosted two men riding ATVs in his neighborhood and threatened their lives according to reports and the accompanying video.
Approaching the two men, Braeuer accused them of treating his road like a "racetrack" and then took hold of the lead man's handlebars. The ATV's owner, Devarge Walker, pushed back, telling the corrections officer, who's not a police officer, to keep his hands off of his bike. Walker, who was still seated, had more than a few choice words for Braeuer who impeded his travel, took hold of his property, and accused him of driving recklessly.
But what happened next may very well lead to Braeurer getting fired, arrested and going to jail. The corrections officer retrieved his firearm from his truck as the argument had gotten heated, and returned demanding the two riders "get on the ground." He even apparently flashed his corrections officer's badge in an attempt to impersonate a real cop.
Braeuer tells Walker, "I got my badge, get on the fucking ground."
The whole incident, captured on video, could have turned deadly had the riders been armed and perceived Braeuer's actions as life-threatening. Certainly, there was enough tension on the tiny rural street to conclude the man may have intended them harm.
After all, when he retrieved his firearm, he chambered a round, and, according to witnesses, pointed his gun at the ATV riders, then demanded they bow down to him and the power of his gun by getting down on the ground.
Alaska State Troopers were called to the scene. But instead of arresting Braeuer for brandishing a firearm, kidnapping two civilians, and assaulting the two men with a firearm, troopers arrested Walker and charged him with assault!
In what appears to be a clear case of blue privilege at work, officers sided with their fellow badge wearing buddy. They charged the other guy who was doing nothing more than riding his ATV when he was kidnapped and held at gun point by a deranged man who must apparently believe he has the same powers conferred to him as a police officer.
The incident has not gone unnoticed by the general public who, incredulously, believe the police arrested the wrong man. Several comments to the KTVF Facebook post were outraged citizens who believed not only should Braeuer have been charged, but the citizen would have been within his legal rights to have shot the corrections officer when he crossed the line, and broke several laws in the process.
They're now calling on police to investigate the incident, arrest the right man, and drop charges against Walker who was apparently minding his own business.
According to the Alaska Department of Corrections, Corrections Officers do not have the authority to detain anyone outside of the correctional facility. They are also not authorized to carry firearms in the course of their duties, only as private citizens. Braeuer broke all these rules and yet he remains free.
The entire ordeal seems to be a case of neighbors not being able to get along. Gone are the days when neighbors could simply talk to one another without raising one's voice, and work out their disagreements.
But more disturbingly is a culture where a man, who has no law enforcement privileges, can detain and force citizens to submit to his will at gunpoint. Worse still is the good ole boy network of badge wearing bullies who cover for one another when one so obviously steps out of line and breaks the law.
Mr. Walker's charges should be dropped, an official apology issued in person by Braeuer.