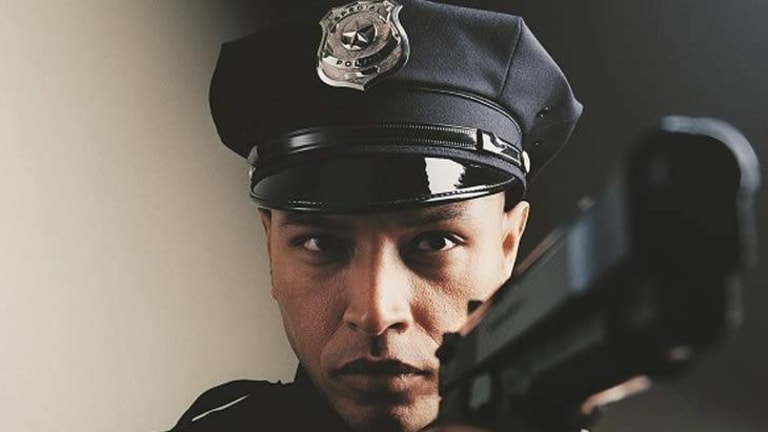 When Citizens Behave Like Law Enforcement They are Arrested -- Why aren't Cops?
Hypocrisy is a function of the state, it cannot exist without it.
Three members of a border vigilante group that offered to assist the Border Patrol have been indicted for practicing "asset forfeiture" without a license – that is, plotting to steal narcotics and cash from drug cartels in Mexico.
A criminal complaint filed by FBI Special Agent John E. Kelly accuses Parris Frazier, Robert Deatherage, and Erik Foster of conspiring to possess and distribute "five kilograms or more of a mixture … containing a detectable amount of cocaine" and derivatives of that controlled substance. The suspects, who belong to a private militia called the "Arizona Special Operations Group," obtained the contraband from an undercover FBI agent as part of a federal false-flag operation.
On January 24, Frazier was stopped by Border Patrol agents operating an internal checkpoint. Explaining that he "wanted to assist Border Patrol in stopping illegal border activities," Frazier "asked for information on the illegal activities they had seen lately," narrates Kelly's criminal complaint. The agents claimed that they had been working with an informal source but could no longer do so. Frazier "expressed his interest in contacting the source" in order to conduct his own investigation.
Several weeks later, the undercover FBI agent, "posing as the informal [Border Patrol] source," contacted Frazier. During a covertly recorded conversation, Frazier allegedly told the provocateur that "he had a small group of patriots that he trusted and they were trying to take care of (steal) anything that came up out of Mexico (drugs) or was going back into Mexico (bulk cash)," and that, predictably, "they preferred the cash loads going south." Frazier promised the undercover FBI agent "a percentage of whatever is taken" from the narco-couriers.
During a second recorded conversation on March 4, Frazier reportedly told the FBI agent that he and his colleagues would be willing to "dispatch" – that is, kill – "all of the individuals guarding the cash to ensure that his guys go home at night." Although he had specified that none of his associates were "tied up in law enforcement," their policy regarding lethal force apparently was modeled on the familiar "officer safety uber alles" paradigm.
In recorded phone calls over the next several weeks, the FBI agent outlined a plan to steal thousands of dollars from a vehicle that was supposedly owned by a cousin in the employ of a drug trafficker. This led to an attempted "rip" by Frazier and a partner on April 2: FBI surveillance captured the suspects, dressed in camouflage, wearing facemasks, and carrying AR-15s, search the Bureau's "bait car" in a fruitless effort to steal money that wasn't there.
A follow-up phone call from the informant added new details to the fabricated story by claiming that cartel members had found $8,000 in the vehicle, but that the miscreant cousin had stolen $12,000. Unwittingly playing the role scripted for him, Frazier allegedly told the informant: "How about I lay an offer out on the table that we just get him [the cousin] out of the way for you." The informant suggested that Frazier and his partners do at last one more cash "rip" before discussing a hit on the mythical cousin.
On April 23, Frazier and his companion seized $7300 from a second FBI "bait car" that was said to be carrying $20,000. Once again, the informant claimed that the cousin had confiscated the rest while driving the "cartel vehicle" to a pre-designated drop.
Artfully stringing Frazier along, the informant continued to discuss the possibility of a murder-for-hire targeting the nonexistent cousin. In the meantime, he told Frazier, it would be possible for him to steal a northbound cocaine shipment. Frazier and the other two suspects were directed to a warehouse in Phoenix where they found a Hyundai Tucson containing "one package of actual cocaine weighing approximately one kilogram and nine packages of cocaine stimulant [sic] that also weighed approximately one kilogram each."(Emphasis added.)
Although the FBI criminal complaint dishonestly refers to the quantity as a five-kilo "mixture," the single kilo of cocaine was packaged separately from nine kilos of cocaine substitute. By arranging for the suspects to find the ten-kilo "mixture," rather than the single kilo of "actual cocaine," the FBI made it possible to charge them with offenses that carry a mandatory 10-year prison sentence, and fines of up to $10 million.
As they drove away from the warehouse, Frazier and his comrades were intercepted by an FBI SWAT team. They briefly managed to evade several police vehicles but were kept under surveillance by an FBI aircraft, which tracked them to the home of Frazier's girlfriend. The suspects were arrested, and firearms found in the home during a search were "seized as evidence."
Frazier and his associates in the Arizona Special Operations Group provided security during the recent protest at a mosque in Phoenix organized by anti-Muslim activist Jon Ritzheimer. Deatherage and a militia volunteer named Richard Malley were involved in an incident several years ago in which they held a Maricopa County Sheriff's Deputy at gunpoint during a confrontation near Gila Bend.
In that earlier episode, the deputies had "stopped their vehicle, then flashed their headlights, and honked their horn, a common practice used by law enforcement to trick drug smugglers into thinking the car is there to transfer their narcotics load and lure them out of hiding," explained an AP report. Malley, "shouted commands" as the deputies emerged from their vehicle, was charged with aggravated assault on a law enforcement officer. Maricopa County Sheriff Joe Arpaio, who had been congenial toward border vigilantes, said Malley was fortunate "he didn't see 30 rounds fired into him."
By seeking to confiscate drug proceeds at gunpoint, Parris Frazier and his friends behaved in a fashion indistinguishable from government-authorized "narcotics interdiction" patrols – especially by expressing a preference to confiscate southbound cash deliveries, rather than northbound drug shipments.
In the state of Tennessee, where police departments have been permitted to retain 100 percent of the cash stolen through "civil asset forfeiture," Interstate 40 has been designated a high-impact narcotics area. However, the most coveted patrol area is the westbound lane, because of the assumption that narcotics flow east and cash flows west. Competing law enforcement agencies have literally come to blows over jurisdictional claims on the most profitable sections of I-40.
" width="789" height="444" frameborder="0" allowfullscreen="allowfullscreen">
The ends pursued by Frazier, and the means they employed, didn't differ materially from those of government law enforcement and intelligence agencies – but they lacked official authorization to conduct highway robbery. For their part, the FBI and Border Patrol weren't protecting the public by orchestrating a false-flag operation that targeted the militiamen; they were simply cracking down on potential competitors.