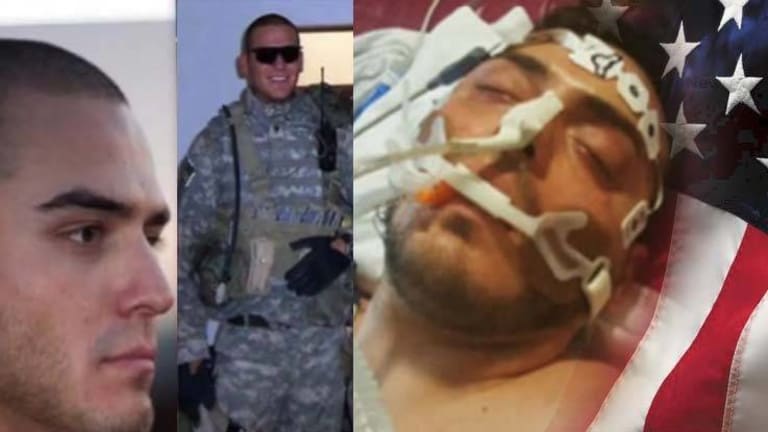 Family Calls VA Crisis Line for Son's PTSD, Asked for No Cops - Police Show Up & Nearly Kill Him
The family specifically asked for no cops, only medical personnel, however, they only got cops, who beat their son nearly to death.
Gilbert, AZ -- The family of Kyle Cardenas has filed a notice of claim with the Gilbert Police Department after they say, police beat him and tasered him until his heart stopped.
According to the claim, Cardenas' family called the VA Crisis hotline on Sept. 12, 2015, and asked for medical help for their son. Cardenas was suffering from PTSD-induced delusions, so his family specifically asked for no police and a crisis team instead.
However, according to the claim, rather than getting the crisis team, who is trained to handle these situations, they got untrained cops from the Gilbert Police department.
Cardenas, clearly in a state of delusion, and in need of medical help, could not comply with the multiple officers screaming at him, so the officers escalated to violence after Cardenas resisted. The claim states that officers used excessive force because Cardenas was unable to comply.
The notice reads in part:
"The police charged into this bedroom as well and attempted to restrain Kyle again. During the melee, the officers Tased Kyle at least seven times, sprayed OC spray directly into Kyle's face, struck Kyle multiple times with their batons, punched Kyle in the face with closed fists, kicked and kneed Kyle in the thighs and legs, and ordered one of the K-9 unit dogs to attack and bite Kyle."
The multiple hits with the taser, clearly in violation of their use, stopped Cardenas' heart, according to the claim.
"Fortunately for Kyle and his family, the emergency department personnel were able to revive him, but not before he suffered permanent and debilitating physical and emotional injuries," the notice of claim said.
The Gilbert police have refused to comment on the case citing the ongoing administrative investigation.
This incident highlights two failures on behalf of government. The first failure is the inability of the VA to respond to a veteran who has PTSD without leaning on the police, their batons, tasers, and fists for help -- completely the opposite of what the family asked for.
The second failure is on behalf of the Gilbert police officers who couldn't resolve a situation involving a mentally unstable individual without resorting to violence and nearly killing him.
Sadly, veterans, especially those with PTSD are victims of the police far too often.
The Free Thought Project reported on the murder of Tommy Yancy, a father of two, who was savagely beaten to death by five law enforcement officers during a routine traffic stop on Mother's Day. Yancy, a veteran who suffered from PTSD, served in Afghanistan and Iraq in the 259th Field Service Unit following the 9/11 attacks.
In January of last year, a video emerged of a 70-year-old veteran abused by police for walking with a cane.
In February 2015, an officer pleaded not guilty after gunning down Raymond Keith Martinez, 51, an unarmed homeless veteran who was loitering, but posed no threat to anyone. In another incident that month, another officer turned away as his partner beat an innocent and handcuffed veteran- so that the assault would not be captured on his body camera.
In March of last year, police gunned down a naked and mentally ill veteran in broad daylight.
In April 2015, a horrifying video was posted online of a police officer beating a veteran in front of her child, after she screamed out that she was pregnant. Her 9-month-pregnant stomach was left covered in bruises.
The list goes on and on.  A search of the term "veteran" on our website should be enough for any person with a "support our troops" sticker on the back of their car to be outraged, so where are they?
It is truly tragic how many men and women survive wars abroad just to come home and be killed by the muscle for their own government.
[author title="" image="https://tftpstagingstg.wpengine.com/wp-content/uploads/2016/03/magorist-e1456948757204.jpg"]Matt Agorist is an honorably discharged veteran of the USMC and former intelligence operator directly tasked by the NSA. This prior experience gives him unique insight into the world of government corruption and the American police state. Agorist has been an independent journalist for over a decade and has been featured on mainstream networks around the world. Follow @MattAgorist[/author]