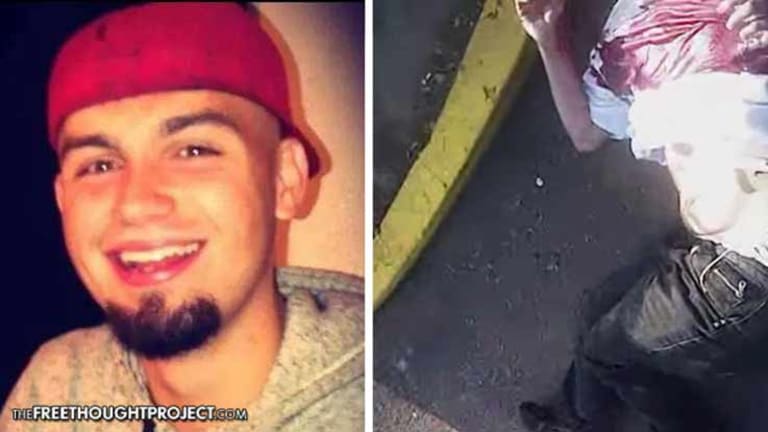 Family Seeks Justice After Body Cam Shows Cops Publicly Execute Unarmed Son for No Reason
A devastated family is still attempting to fight for justice for their murdered son Dillon Taylor. However, the city and department are making it difficult.
Salt Lake City, UT — Three years ago, on August 11, 2014, Dillon Taylor was gunned down in broad daylight by Officer Bron Cruz. Despite the horrific body cam evidence showing this Salt Lake City cop murder an unarmed young man in cold blood, Salt Lake County District Attorney Sim Gill ruled the murder as "justified."
Having been completely failed by the justice system, the family of Dillon Taylor filed a federal lawsuit in October of 2015 against the City of Salt Lake, the officer who killed Taylor, Bron Cruz, and several other officers.
On Friday, that lawsuit, which has been tied up in courts for nearly two years, was narrowed down in an attempt to seek some sort of justice.
As the Salt Lake Tribune reports, the family agreed with Salt Lake City to dismiss their claims of wrongful death and denial of family association, according to motion filed Friday in federal court.
Two claims remain. The family still contends Officer Bron Cruz used excessive force when he shot and killed Taylor on Aug. 11, 2014, outside a convenience store near 2100 South and State Street. There also remains an excessive force claim against Salt Lake City itself.
To show just how slow the city is reacting to the lawsuit, both Jerrail Taylor, Dillon's brother, and Adam Thayne, Dillon's cousin, have settled at least a portion of their lawsuits against the city over a year ago. Because the young men had done nothing wrong, Jerrail and Thayne sued for being unlawfully detained after Cruz killed Dillon.
Despite having done nothing wrong, the pair was handcuffed and detained for over five hours after the killing in a likely attempt at justifying Dillon's murder.
As the Free Thought Project reported at the time of the shooting, the confrontation happened, according to the lawsuit, because, a person who refused to identify herself called 911 making a confused, incoherent, and convoluted report about some kids the caller viewed as maybe suspicious. The caller told the 911 operator that she did not feel threatened and that no one was in danger. The caller later admitted to drinking Vodka earlier that evening.
Taylor, his brother, and his cousin were exiting a 7-Eleven when they were unlawfully profiled by officers Bron Cruz, Uppsen Downes, and Andrew Sylelloglou.
When the three men exited the convenience store they were surrounded by officers and ordered to show their hands. Two of the men stopped and complied, Dillon Taylor, listening to music, kept walking.
Barely 40 seconds go by from the time Dillon is approached until he is shot by Cruz.
The body cam footage was released in September of 2014, however, it stopped just after the shots were fired. Apparently, the department did not want you to see what happened after as the full video was not released until the following June. It shows the disturbing moments before and after this young man was gunned down by police.
"He couldn't hear them, so he just kept walking. Then … they had guns pointed at his face. That's when he turned off the music," Taylor's brother Jerrail Taylor told the SLC Tribune. "I saw them point guns at my brother's face, and I knew what was going to happen."
One officer told Taylor to get on the ground, while another told him to put his hands on his head.
"He got confused, he went to pull up his pants to get on the ground, and they shot him," Jerrail Taylor said.
According to the lawsuit, Defendant Cruz and each of the Defendant Officers named in the Complaint were improperly trained and groomed through a vicious culture and cycle of shoot-to-kill-first, avoid questions and accountability later, beginning at the start of their careers and reinforced throughout.
This entrenched departmental detachment from human life and the consequences of excessive deadly force is evident through the shocking, despicable explanation told by Defendant Cruz to investigators after killing Dillon, according to the suit. Defendant Cruz stated he shot-to-kill because when he briefly made eye contact with Dillon, Defendant Cruz interpreted Dillon's eyes as having a "defiant look." Defendant Cruz stated:
Um, and his eyes were just complete 100% defiance. He had this, this look on his face like, you know, like I, ah, hate? Um, like he was, he was not going to do anything that I said. Um, and it was just a horrible feeling, um, looking at him. Having him, you know, just the, it was horrible. Just hate, defiance, that he had in his eyes.
During questioning, Cruz was able to convince his fellow cops, who were conducting the "investigation," that he knew, without a doubt, that Dillon Taylor was going to kill him.
"I was 100 percent, 100 percent convinced when I saw him turn around it was gonna be a gunfight. I knew he had that gun, that he'd be trying to kill us," said Officer Cruz.
But he had no such gun.
Despite Taylor being unarmed, not advancing toward Cruz, and not given a chance to comply with the officer's commands due to his headphones, the thin blue investigation was substantiated with that one erroneous and completely false claim.
As TFTP reported in 2014, the state of Utah had an epidemic of officer-involved shootings. Deadly force by police surpassed even violence between spouses and dating partners. Dillon was killed at the height of this problem.
However, after massive backlash from the community, police took proactive measures to train police in de-escalation, and it is showing. To date, there have not been any fatal officer-involved shootings in Salt Lake City since 2015.