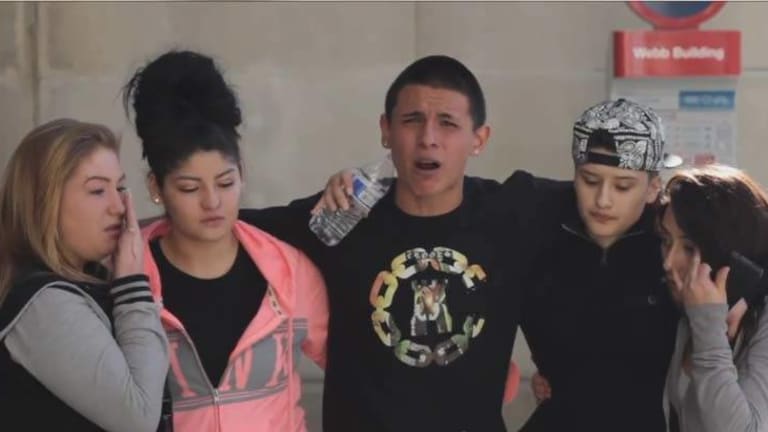 Family And Friends Of Teen Killed By Denver PD, Speak Out Challenging Official Story
Passenger in the car of slain teen tells a very different story of how 16-year-old Jessica Hernandez was killed by police.
Denver, CO-- Around 6:30 am on Monday morning, 16-year-old Jessica Hernandez was fatally shot multiple times by two Denver Police Officers.
The department claims the young girl attempted to use the stolen vehicle she was in, which included 4 other teenagers, as a weapon against an officer.
Her friends and girlfriend who were with her, as well as her family, are now speaking out against the official story. As of Tuesday evening, there is still no word on who stole the car, where it came from, or if the car belonged to a relative of one of the teenagers.
The shooting took place in an alley behind one of Hernadez' friend's homes, who was in the car during the incident. She tells a very different story from what the cops are alleging happened.
She claims that the cop was not struck by the car until after Hernandez had already been shot in the neck and lost control of the vehicle. The Free Thought Project is choosing to withhold the friend's name as she is a minor, but her story may explain why the car had collided into a wall, as well.
"The cops that shot Jessica were on the side, they shot the window and then shot her that's why she got shot on the SIDE of her neck, she hit that cop when she was already shot and unconscious." she said.
The unnamed teenager's mother, Bobbie Diaz, told CBS that she was lying in bed when she heard four gunshots followed by an officer yelling, "Freeze! Get out of the car! Get down!"
Diaz also told CBS that when she rushed outside to see what was going on, the officer's had their guns drawn and were yanking the teenagers out of the car, including Jessica Hernandez' limp body.
"She seemed like she was not responding, not moving," Diaz stated. "They just yanked her out and handcuffed her."

As they were pulling Hernandez out and handcuffing her frail body, Diaz said she heard another person screaming, "She's dead! She's dead!"

"I'm just trying to process everything. I'm just heartbroken for the girl's family," Diaz said. "How could something like this happen again?"
The Denver Post has reported that they received a video of the officer's searching and handcuffing the motionless girl as she bled out, before providing any sort of medical aid. The video has not been released at this time. Hernandez was unarmed, according to her friends and family.
Hernandez' shooting marks the fourth time in seven months that a Denver police officer has fired into a moving vehicle after claiming it was being used as a weapon, and the city's independent police monitor now says he will investigate the department's policies and practices related to shooting at moving vehicles, which he said poses unique safety risks, Yahoo News reports.
On Tuesday morning, friends, relatives, and protesters gathered at the District Attorney's Mitch Morrissey's office to demand justice and a special prosecutor on the case. Reason behind this being, despite Denver PD's notorious violence, the last time a Denver police officer faced charges in a shooting was in 1992.
One of those in attendance was a very emotional Jose Castaneda, cousin of Jessica Hernandez. District Attorney Morrissey was not at his office during the demonstration, but Castaneda was able to confront chief deputy district attorneys Doug Jackson and Lamar Sims.
"Let me ask you one question, how would you feel if it was your kid?!" Castaneda demanded.
Since the demonstation, Morrissey has released a statement saying that they "promise a thorough investigation." They also promised transparency- something the Denver Police are already failing at.
Jose Hernandez, Jessica's father, says police told him his daughter had been shot once, however, Denver's medical examiner has stated that she was shot multiple times.
Hernandez was the oldest of six children and lived with her parents, Jose and Laura Hernandez. Jessie and sister Joanna, her sibling nearest in age, were extremely close, friends and family told the Denver Post.
Last year, Jessie took on odd jobs to save money to buy a puppy. She ended up buying two, Simba and Precious, one for her and one for her sister, the Post also reported.
"She just had such a good vibe about her, and she made you smile, and like, she always was the person to bring you back up, you know? She was never the person to bring you down. Her mom has to bury her, her own mother has to bury her. That's her baby, she raised her!" a friend of Hernandez since third grade tearfully explained at the vigil on Monday evening.

"Its ridiculous, we shouldnt have to go through this! We shouldn't have to have loss from anything, and especially from the people that we expect to protect us! It's not okay and it needs to stop!" she continued.
"Its sad that she's gone now, because now she can never make anyone smile again."
She is also described on Facebook in the outpouring of grief as happy, loving, someone who wouldn't hurt a fly, and always smiling. A fact demonstrated by this video clip reportedly filmed just before her young life was taken.
The family is planning the funeral for their oldest child, and are unsure how to cover the costs as her mother is currently unemployed.
Help her family cover her unexpected funeral costs here.