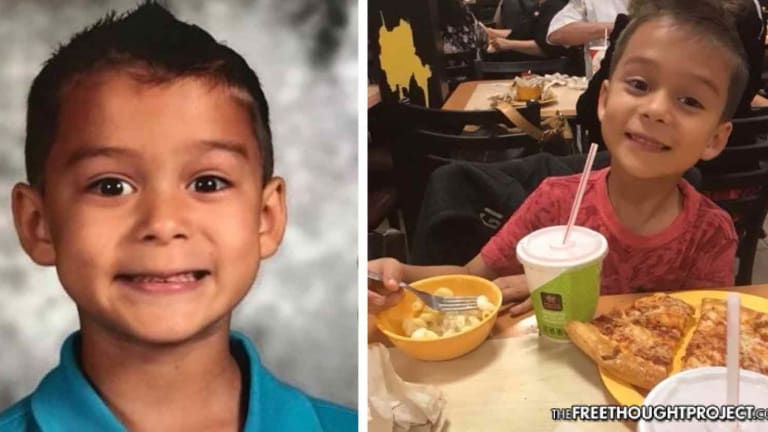 Family Calls for Justice After Cops Shoot and Kill Their 6-Year-old Little Boy
The family of 6-year-old Kameron Prescott killed by police this week is demanding answers from the cops who killed him and want them to be held accountable.
Bexar County, TX — Media across the country are reporting on the tragic death of 6-year-old Kameron Prescott whose life was stolen this week when police opened fire on an unarmed woman suspected of stealing a car.
The mainstream media is reporting that Kameron was hit with a "stray bullet," however, this bullet was anything but "stray." The shot that killed young Kameron was deliberately fired at an unarmed woman. The officer's gun did not accidentally go off. All of these police officers deliberately shot at an unarmed woman and their fear, poor judgment, and carelessness led to the death of an innocent child.
Now, the family is asking for justice to be served. Kameron's uncle, Christopher Gonzales, says that he's angry and saddened about the officers' decision to open fire that day.
"It is shocking really," he said. "It hasn't even hit us to the full extent yet."
The family had to tragically say goodbye to their beloved Kameron this week, who they say was always smiling.
"We all put our hands on him and prayed on him, stuff like that," the uncle said. "We are that kind of family."
Although Kameron didn't live in the home in which he was gunned down by police, it was his father's house and he was visiting him after getting out of school early on Thursday for Christmas break.
Gonzales, who is now calling for the officers who killed his nephew to be held accountable, said Kameron knew something bad was going to happen that day.
"He was saying to his grandpa that he didn't want to be there," he said. "All day, he was saying he didn't have a good feeling. He was telling his dad he wanted to call his mom and didn't want to be there. He just kind of knew it wasn't going to be a good day."
Gonzales has now gone to local media and is demanding that the Bexar County Sheriff's Office give the family answers and justice.
"If it is the police, we hope that you hold your people accountable," he said. "I am sorry that it comes to this, but y'all are people just like us at the end of the day. Y'all deserve to be held accountable. It is a Constitutional right. Y'all just killed a little boy, it was y'all. There's no weapon, so it wasn't that lady."
Had a regular citizen opened fire on an unarmed woman and killed an innocent child in the process, rest assured that they would be sitting in a jail cell right this moment. However, because the people who killed this unarmed woman and child are police officers, there will likely be no justice for Kameron.
Naturally, the sheriff's department is claiming the officers acted appropriately—by opening fire on an unarmed woman—and killing her and a child in the process. They are claiming to have seen the now deceased suspect—30-year-old Amanda Jones—carrying a pistol prior to finding her breaking into Kameron's father's house. However, no such pistol was found.
"In my opinion, it's a tragic accident that led to the death of this young man," Sheriff Javier Salazar said at a news conference. "We are looking into all of it. Internal Affairs is still investigating it. But again preliminarily it appears that policies and procedures (on use of force) were complied with."
According to Salazar, it is apparently proper procedure to open fire on an unarmed woman as she flees police and not care about the mobile home behind her in a neighborhood full of children out for Christmas break.
Although they didn't originally report it, police are now claiming that Jones was holding a "dark pipe," which caused the multiple armed officers to all open fire on her with complete disregard for everyone's life who happened to be near her—including 6-year-old Kameron Prescott.
Kameron Prescott became the 1,152nd and the youngest person to be killed by police in 2017.
The family has since set up a GoFundMe account to pay for the cost of Kameron's funeral. They are asking for a modest $12,000. If you'd like to support the family, you can do so at the link below.