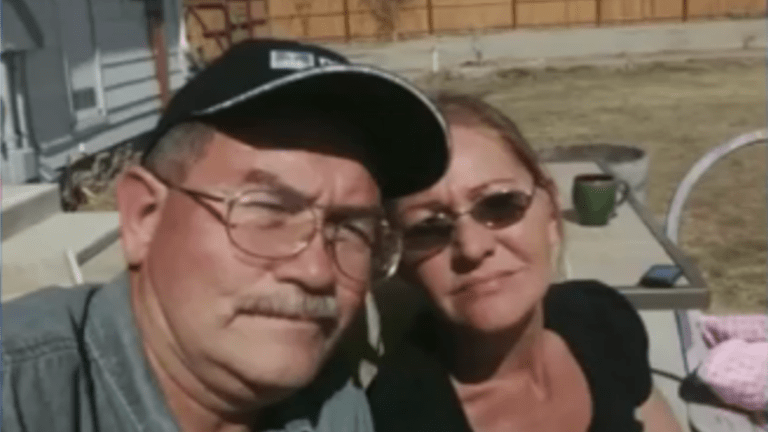 Family of Man Killed by New Mexico Police Say He Was Unarmed
"I was in the house cleaning, and my husband was in the garage working on his motorcycle," Billie Rogers said. "I saw a cop car pull up on the side, and I saw another one. They were heading everywhere. I heard a boom, and I heard another boom."
"They said there was a struggle, and the officer pulled out his gun and shot him in the head, while he was still gurgling, they put their cold, steel boots to his neck." his son told the Daily Times.
John J. Rogers, of Bloomfield, New Mexico was shot and killed by police outside of his home on Wednesday when officers were called to the home to check on someone who may be suicidal.
Rogers' brother told reporters that a family member had called a friend during a "squabble" at the house and he believes the friend called the police.
"I seen a cop walking up towards him with his gun out, and I screamed. I ran out the back door and…'boom boom,'" his wife of 40 years tearfully told News 4.
A state police official said Rogers had a deadly weapon when they responded to the scene, however, the family members who were home at the time maintain that is a lie and that the 61 year old man was unarmed when he was killed.
Two Bloomfield police officers have been placed on paid administrative leave while the murder is investigated, but State police Lt. Emmanuel Gutierrez refuses to provide any more information.
Police shooting those who may be suicidal is far too common. Just last week we reported on Joseph Jennings, an unarmed and suicidal teen who was shot to death, sixteen times, as family begged officers to spare his life.
Two weeks ago we reported on a lawsuit filed by a man who was shot in the face twice after a call that he may be suicidal.
At the beginning of the month we reported on a SWAT team, snipers, and MRAP responding to a suicidal man with a knife.
In July, a family called 9-11 after their seventeen year old son threatened suicide. The police showed up and shot him to death. His mother thought police would "save him, not finish him off".
With this growing trend, we urge you to share this information and urge everyone you know to turn to people who are actually trained in mental health issues during a crisis. Calling militarized thugs in an attempt to save your loved ones may actually cost their life.