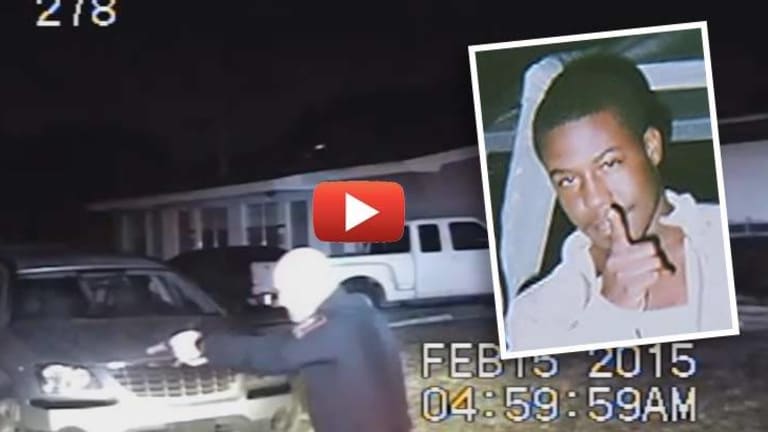 Family Releases Dashcam of Cops Killing Mentally Ill Son in His Underwear for Holding a Broom
A family now regrets their 9-1-1 call for medical help with their son, after cops showed up and killed him instead of helped.
Miami Gardens, FL-- The family of Lavall Hall, a 25-year-old mentally ill man killed by Miami Gardens Officer Eddo Trimino, chose to release dashcam footage of the February 15 incident on Wednesday evening. They maintain that it proves excessive force and that Trimino had no reason to leave an 8-year-old girl without a father. This is the second killing by the officer in two years.
" width="790" height="444" frameborder="0" allowfullscreen="allowfullscreen">
Hall was schizophrenic and was having an episode on the night of February 15. His mother had looked out the door and saw him on the sidewalk holding a red broom.
"I said, baby come inside, it's cold out there," she said during a press conference.
Unable to get him in the house, his mother called 9-1-1 for assistance to get her son back to the hospital, as he had only been released one week prior. She says that the police were aware of her son's condition as they had responded to calls for medical assistance at her home in the past, and that she repeatedly told the officers that he was schizophrenic and bipolar on this evening.
"Don't hurt my child," the mother asked the officers before the encounter. The officers were heard mocking her plea in the video.
The department claims that Hall attacked officers with the broomstick and that two officers had fired tasers at him which were ineffective. The family maintains that this was a murder and that the police had no intention of leaving the scene with him alive.
In the video, the officer is heard screaming "get on the f---ing ground or you're dead." He then fires his service weapon pointed slightly downwards four times, then moving closer for a fifth shot.
Hall is not seen in the frame. After repeatedly shooting Hall, the officer callously screams at the fatally injured man to put his hands behind his back.
"I was outraged, furious, devastated and very emotional. They killed him, murdered him," Melissa Edwards, the mother of Hall's 8-year-old daughter stated.
Witnesses have publicly stated that Hall did not have the broom in his hand when he was gunned down.
"When I look he ain't have nothing in his hand," Hall's next-door neighbor Tyrone Bennett told WLRN. "He had on boxers and a undershirt."
Gregorio Marmolejo, also told reporters that he saw Hall's body on the ground after he was shot, but did not see a broom.
The family and their attorneys gave a press conference prior to releasing the footage. They have stressed that while Hall was black, they prefer to focus on police lack of care or proper training when handling situations involving the mentally ill.
A lawyer for the family alleges that ever since the Chief of Police was recently caught soliciting a prostitute and fired from the department, they have received no updates on the case. They no longer know who is even in charge of it. They also believe there is more footage that the department is withholding.