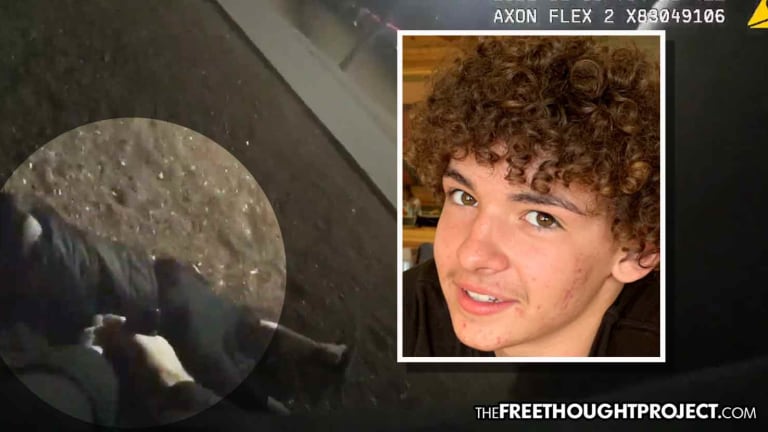 Family Targeted by Police After Calling for Arrest of Cop Who Executed Unarmed Teen on Video
After protesting the teen family member's death, the family says they were pulled over and held at gunpoint for no reason.
Chandler, AZ — It has been nearly three months since officer Chase Bebak-Miller shot and killed 17-year-old Anthony Cano as he complied with the officer's orders. So far, no charges have been brought and the only ones receiving scrutiny from the police are family members who are asking for justice.
According to Eva Cano, Anthony's aunt, she and other activists gathered outside of the Central Court Building on Saturday to call for the arrest and termination of officer Bebak-Miller. When she left the event, Eva says she was then targeted by police for protesting.
After leaving city hall, Eva was almost immediately pulled over by police officers. According to police, they say she was pulled over for having a license plate that did not match with Eva's new Chevy Tahoe. However, it was the dealer who put the plate on and a simple search determined the vehicle was in clean standing and belonged to Eva.
"There was a reason, but it wasn't how we were pulled over," said Eva.
Though police claim the stop was over a license plate, according to Eva, multiple police units conducted the stop and cops surrounded the innocent woman's vehicle with guns drawn. She and her son Marcus were scared to death as cops surrounded them with guns pointed into the vehicle. After all, it was this same department who executed her nephew just weeks ago.
"I feel absolutely targeted. I asked them flat out, 'Did you follow me from City Hall in pulling me over?'" Eva said during a press conference last weekend.
Naturally, police said the dealer plate created a "high risk" stop situation which is why so many cops jumped out and held the innocent family at gunpoint.
The full statement from the Chandler Police Department said:
"Chandler officers were not aware of the occupants and stopped the vehicle
for reasons of it possibly being stolen due to displaying a fictitious license plate not registered or connected to the Tahoe. This is the reason a high risk stop was conducted."
Since Anthony was killed, more and more details have continued to come out. Most recently, we found out that a civilian was in Bebak-Miller's car that night when he jumped out, chased down, and executed Anthony over a bicycle light.
According to 12 News,
12 News obtained a copy of the redacted Chandler Police General Offense Report which revealed Bebak-Miller had a civilian passenger in his patrol car the night of the shooting.

The report states around 9:00 p.m. Officer Bebak-Miller picked up someone for a civilian ride a-long and that civilian claimed he "exited the patrol vehicle" during the foot pursuit.
It was also reported that just 8 months prior to killing Anthony, Bebak-Miller had been shot in the leg, potentially setting off some post traumatic stress.
"I don't know if this was a mistaken identity, or angry officer, or a traumatized officer being that he was shot. Maybe he wasn't ready to come back to work? I can't tell you all those questions. There is so many things unanswered," Eva Cano said.
In a statement to 12 News, the family's lawyer Greg Kuykendall called the incident "profoundly troubling" and says "none of this is normal." Kuykendall says the fact he was shot a second time as he lay face-down on the ground "mandates an investigation by the federal government."
Indeed, the details of this case are very troubling. As TFTP reported, on the night of January 2, Anthony was riding his bicycle down the road when Bebak-Miller decided he needed to stop the teen because he did not have the proper lighting. Moments later, he'd have two bullet holes in his back — the second shot fired as Anthony lie facedown on the ground, his gun 10 yards away.
For two months, police let Cano's family, and the public believe that Cano was a threat to the officer when he was shot. However, the unedited video released earlier this month proves that this was not true at all and anything other than a murder charge against this cop would be a travesty of justice.
Rene Clum, Cano's mother questioned the entire reason for the stop in the first place, saying her son should've never been targeted.
"He was scared, coming home. He wasn't doing anything wrong other than riding a bike without a light."