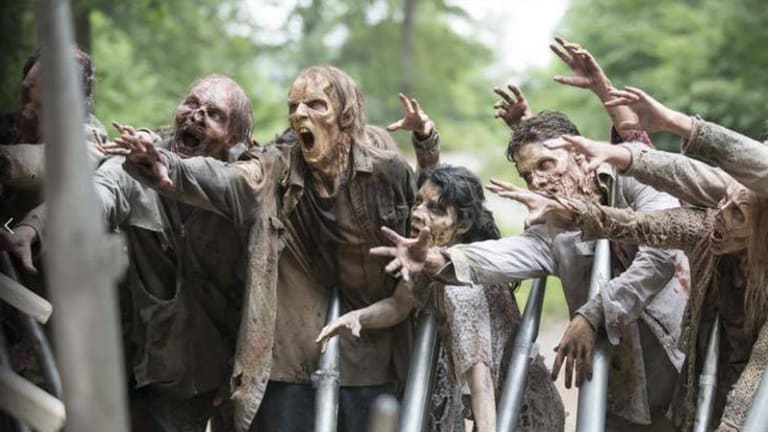 Cops Swarm Family's Home During 'Walking Dead' Because Neighbors Called 9-1-1 on the TV
Dozens of heavily-armed police surrounded a home...just because they were watching TV too loudly.
Great Falls, MT -- Sunday night, a family sat down to watch the mid-season premiere of the show "The Walking Dead," and nearly ended up getting raided by dozens of police officers because their neighbors thought that they heard something suspicious. What they actually heard was the nearby family listening to the show at a high volume, but the neighbors alleged that they heard screaming, and talks of someone "having a gun."
Without checking out the situation for themselves to see if anything truly suspicious was going on, the nosy neighbors instantly called the police, who showed up quickly and in large numbers.
Sgt. Brian McGraw told WFAA that, "We had a whole bunch of guys on that one."
As police began to surround the house, they looked through the window and noticed a family sitting peacefully in their living room and watching The Walking Dead.
It was reported by UPI that police did approach the house with their weapons drawn.
Luckily, the police were able to see what was going on while they were outside, or else the situation could have ended up very badly.
In situations like this, police will often storm into a residence, where they will shoot at anything that moves and ask questions later. This is why calling the police at the slightest hint of something suspicious happening is extremely irresponsible and dangerous.
The family was not able to make a statement about the incident since there was no report filed, and there were no other witnesses nearby to document how the search was conducted.
While the family was able to end their night safely, this should still serve as a reminder that calling the police has serious consequences.
The location of the incident and the names of those involved were not released by police. It was also not revealed whether or not the police attempted to conduct a search of the home.
John Vibes is an author and researcher who organizes a number of large events including the Free Your Mind Conference. He also has a publishing company where he offers a censorship free platform for both fiction and non-fiction writers. You can contact him and stay connected to his work at his Facebook page. You can purchase his books, or get your own book published at his website www.JohnVibes.com.