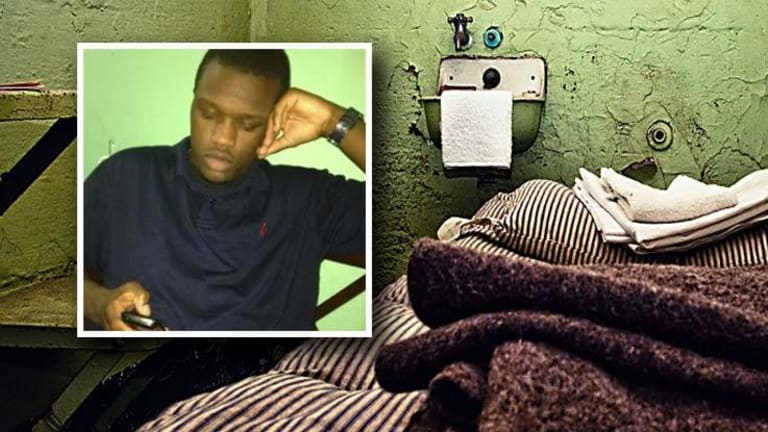 Nothing to See Here -- Police Bury Dead Prisoner with No Investigation & Never Notified his Family
Bronx, NY -- A family is now heartbroken after attempting to get in touch with their incarcerated son only to find out that he'd died months prior and had been buried without any word. To make matters worse, the prison never conducted an investigation into his death, and the family has still yet to receive a cause of death.
The family of the deceased, Lonnie Hamilton, received this horrible news earlier this month after unsuccessfully trying to call him, write him, and eventually going to the state's correctional website. When they logged into the website to see if he'd been transferred, Hamilton's family was shocked to find that he was listed as "deceased."
They thought it was a horrible joke; unfortunately, it was not.
His death occurred nearly two months prior and no one in the jail ever attempted to notify the family.
"I want to know why my son is dead. I want to know why you buried him without asking me. I want to know why we weren't allowed to properly send him off," Hamilton's father, Lonnie Hamilton Sr. said in an interview with NY1.
When NY1 asked if he knew where his son was buried, Lonnie Hamilton replied, "I don't know."
"I'm thinking, 'This can't be right. It has to be some sort of typo or joke or whatever.' So we start reaching out to the facility" his father said. "Days later, they finally say he is deceased."
After finally confirming that their beloved son was dead, the family finds out that Hamilton, who'd been serving time on a robbery charge, was buried weeks prior in a cemetery near the prison.
According to the report by NY1:
State Corrections tells NY1 it made several unsuccessful attempts to reach the inmate's next of kin, his father. They said the father's phone number didn't work.

Corrections say it also searched Hamilton's belongings for contacts but couldn't find any. They also reached out to police in Georgia, where Hamilton was originally from.
However, Hamilton's father is calling their bluff, noting that he was easy to find since he's lived in the Bronx for years. It was also the place that police arrested him.
"He was picked up, my doorstep. Knock on my door, 'Is your son here?' Taken out of my home," he said. "So they knew where I lived."
Speaking on behalf of the family, Rev. Kevin McCall of the National Action Network said, "They have nothing in writing at all to date that says their son is deceased. They have no autopsy report of how their son died. They don't know anything."
The only word this poor family has received in regards to their 22-year-old son's untimely death is an unofficial report stating that he committed suicide. However, they don't believe it.
The Hamiltons are now requesting that their son's body be exhumed and an independent autopsy conducted. They also want an independent investigation.

In-custody deaths are an unfortunately common occurrence in prisons throughout the US. In 2015 alone, in just the state of Texas, there were nearly 600 deaths under police supervision.
Causes of custodial death can include illness (heart disease, cancer, etc.), suicide, drug or alcohol intoxication, accident or homicide. However, it is likely that there are more homicides than reported, only at the hands of cops.
The case of Sandra Bland illustrates how suspicious some of these deaths can be. Bland was charged with "assault on a public servant," but dashcam video showed no such thing. The arresting officer, enraged at Bland's flexing of her rights, threatened her repeatedly before making the arrest. Bland was later found dead in her cell, allegedly hanging herself with a plastic bag.
In July of last year, 32-year-old Jesse Jacobs checked himself into Galveston County Jail to serve a 30-day sentence. He was denied medication after suffering seizures and died after becoming unresponsive three days later. The department insists he died of natural causes, yet they were aware that he needed the medication from a phone call put in by Jacobs' mother.
Four people in eight days died while in the custody of the Houston Police Department, two before they even reached a jail cell. One died by allegedly hanging himself 12 hours after being booked for drug possession, even though he passed their mental health evaluation.
Unnatural causes of death while in custody have increased in the U.S. since 2007, while illness-related deaths have declined. Suicide is consistently the leading cause of death, but intoxication, accidents, and homicides have all increased. California joins Texas to produce nearly a quarter of all jail inmate deaths.
Many of these "intoxication" or "natural cause" deaths are likely due to the police denying medical services or medication to those who are obviously in need, as in the case of Jacobs. These deaths could be construed as a form of homicide.
The Hamiltons lost their son over two months ago, and so far, no one has been able to tell them a thing. Such irresponsible and callous disregard for human life is a telling sign of a failed system.
Yes, Lonnie Hamilton made a poor decision as a young man, but he was still a human being, and his life, even though it was being lived behind bars, still had value.