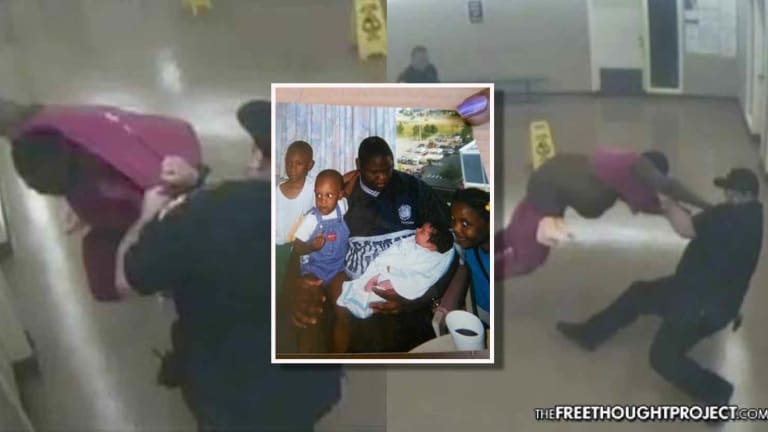 'I Can't Breathe': Video Shows Cops Beat Father, Ignore Cries for Help Until He Dies
The family of a man who was killed by officers has filed a lawsuit to get justice for their father who was in jail for a verbal argument.
Only 48 hours after he made a Facebook post thanking God for his kids, a 35-year-old father of four, Michael Sabbie, would die in a concrete cage. His last moments alive were caught on a jail's surveillance cameras as he uttered the all-too-familiar phrase 'I can't breathe' -- 19 times.
As none of the officers involved in his death have been held accountable, his family has filed a lawsuit this week to seek some semblance of justice.
"He is a medically-vulnerable person. So he reported at intake that he had hypertension, diabetes, heart disease and asthma," said Erik Heipt, who is representing Sabbie's family in the lawsuit against the jail filed earlier this week, according to CBS.
The lawsuit claims what the video shows -- officers ignored his pleas for help, his clear signs of distress, his labored breathing, and used excessive force -- leading to the death of this father.
In 2015, Sabbie was violently subdued and repeatedly pepper sprayed by guards at the Bi State Prison on the borders of Arkansas, Texas, and Louisiana. He'd been arrested after a verbal dispute with his wife.
As the assault on this father began, five officers swarmed Sabbie and piled on top of him as he shouted, "I can't breathe." Then, a sixth guard, equipped with a body camera, joined the group and began spraying Sabbie in the face while accusing him of resisting.
"Get your hands behind your back or you'll get it again!" the guard yelled.
"I can't breathe, sir," Sabbie said, as officers propped him up against the wall outside of the nurse's office. "Please, please. I got pneumonia."
The nurse examined him and then released him, noting that his symptoms were normal for someone who'd just been pepper sprayed. However, Sabbie had those symptoms before he was sprayed.
"Please, please," Sabbie begged for water, but was denied. He was then brought to the shower to wash off the spray and thrown in his cell.
The guards then said Sabbie had attacked one of them after refusing to go back to his cell. Yet his family's attorney, Erik Heipt, told Huffington Post that Sabbie had complained "I can't breathe" 19 different times in the nine total minutes of video obtained by the family. And, the video shows no such attack.
"If you just looked at the cause of death, you would think that Michael died of some sort of hypertensive heart condition, and that may be true," Heipt said. "But if we didn't have a video, we'd never know that he had been begging for help due to his shortness of breath and inability to breathe."
According to jail protocol, somebody was supposed to check on Sabbie every 30 minutes overnight, according to CBS. The suit claims that a guard said she did and then later admitted to lying.
Hours after he was left to die in his cell while begging for help, Sabbie was found dead.
Medical examiners ruled Sabbie's cause of death as "hypertensive arteriosclerotic cardiovascular disease." They claim the pepper spray in the face and the violent beating "played a minimal role in the decedent's death, and may not have contributed at all to his death."
Heipt told Huffington Post the family believes Sabbie died from a treatable and recognizable medical emergency called a pulmonary edema, which is excess fluid in the lungs due to his heart condition. Sabbie had said he was spitting blood and needed to go to a hospital in court, where a judge set his bail at $2,500 for the misdemeanor domestic assault charge.
Police said Sabbie threatened his wife during a fight over monetary issues, but he pleaded not guilty and his wife even said that this was "a tragedy that should never have happened."
"I can't put into words how devastated my children and I are after the loss of Michael," she said. "He was my backbone and best friend. My children lost a wonderful father who wanted the best for his family. A piece of our heart is gone, and I pray to God for justice."
Sabbie's death is not an isolated incident. And, according to a report released by the Bureau of Justice Statistics, an overwhelming amount of inmates who die in police custody haven't been convicted of a crime.
In fact, an alarming 75% of the people who die behind bars actually have not been convicted of a crime.
As we have seen with the cases of Sandra Bland, Rexdale Henry, Sarah Circle Bear, and others, many of the deaths that occur in prison happen under extremely suspicious circumstances and are labeled as "suicides" without proper investigation.
"He was treated as if his life did not matter," Sabbie's family said. "Most of all they want justice and accountability and to make sure that this doesn't happen again."