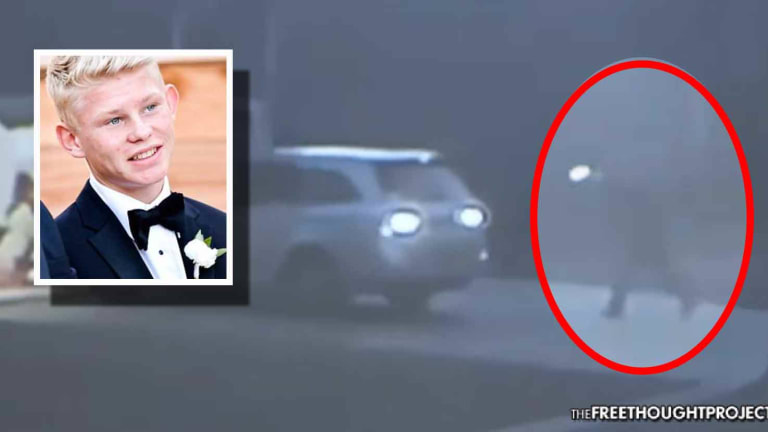 Feds Investigate After Cop Killed Unarmed Child on Video and Got a $70k Bonus Instead of Jail
After his own department refused to hold him accountable, and gave him a bonus, the FBI is now stepping in to investigate.
Johnson County, KS — As is normally the case when police kill unarmed and often innocent people, no charges were filed against an Overland Park Officer Clayton Jenison who shot and killed an unarmed 17-year-old boy on January 20, 2018. Police were called to the home of teenager John Albers after his girlfriend said she was afraid he was going to kill himself. Police arrived and Jenison opened fire on Albers as the teen backed out of his driveway.
There may be a glimmer of hope for justice now, however, as the Federal Bureau of Investigation has since opened an investigation into the case. The FBI will now "collect all available facts and evidence and will ensure that the investigation is conducted in a fair, thorough and impartial manner," a spokeswoman told NBC News in a statement.
After two years, the family may finally see some justice. Given the history of this case and the treatment of the officer involved, any positive news at this point is welcome.
While it is typical for charges not to follow police officers who kill children, in Jenison's case, it was far worse than simply getting off Scot-free. He received a bonus.
As TFTP reported, Jenison was not only reinstated as a law enforcement officer but he also received a payout of $70,000 to leave the department.
Jenison worked just two months into 2018 but documents reveal he made over $80,000. His income included a $70,000 severance package — after dumping 13 rounds into an unarmed high school sports star.
It was a 5-figure bonus for murdering a child. Naturally, Alber's mother said she was "disgusted" when she found out about the payment.
"They allowed an officer who clearly committed misconduct to get incentivized," Sheila Albers said. "We essentially incentivized police misconduct by giving Jenison a payout."
According to WDAF, Albers' family settled a wrongful death lawsuit against the city. They've still been unable to get many of the documents they requested to show how police and the DA reached the decision they did.
When pressed for a statement after issuing the bonus, the city of Overland Park stood by their decision and claimed giving a child-killing cop a bonus was in the best interest of the city.
"In the best interest of the community, city officials negotiated an agreement with former Overland Park Police Officer Clayton Jenison, which resulted in his voluntary resignation and the city providing a final compensation package that included a severance payment as well as other benefits."
As we reported at the time, the shooting was caught on police dash cam and one angle seems to show the teen start to back the family's minivan out of the driveway before being confronted by the police officer. Jenison fired an initial two shots. After the first two shots were fired, Albers may have been wounded and it caused him to push the gas.
The vehicle then spun out in donut-like fashion, nearly hitting the officer. Fully engaged in the conflict the officer then opened fire with 11 more bullets further wounding and eventually killing the reportedly distraught teen.
Once again, another American family was then faced with the sad reality an officer of the peace ended their son's life in the family's own front yard.
After the shooting, Johnson County District Attorney Steve Howe told reporters in a news conference with Overland Park Police Chief Frank Donchez that no charges would be filed against Jenison because he was "following police procedure."
Predictably, Sheriff Donchez took the side of his former officer as well, saying:
He was out of the way at one point, but as you saw the van turned around and came back at him...One of the misconceptions is that if you are alongside a vehicle you are no longer subject to danger. That's not remotely true. One cut of the wheel to one side or other can take you down with the side of the vehicle. Don't let the fact that he's alongside the vehicle fool anyone into believing that he's no longer in danger...A vehicle can be a weapon...That factored into our equation.
Following the shooting, the Johnson County Officer Involved Shooting Investigation Team (OISIT) conducted the post-shooting investigation. As TFTP has reported, in other states when there's an officer-involved shooting, the police department from which the officer was employed cannot take the lead. Predictably, OISIT, after investigating its own county's police department, found no wrongdoing on the part of Jenison.
Albers' family issued the following statement on social media after their son was gunned down outside their home:
We are heartbroken at the loss of our beloved son, John. We truly appreciate the outpouring of support from friends, family and community. Thank you for your thoughts and prayers and for respecting our privacy during this very difficult time. John was loved by many.
John Albers was a Junior at Blue Valley Northwest High School. He was a member of the Wrestling and Soccer teams and was involved with at-risk youth in a Kansas City based soccer league. Friends of Albers say he was unfairly portrayed in a negative light but was, in fact, "loyal", "courageous", and "compassionate."
After his killing in 2018, dozens of his friends gathered outside his home, wrote memories of Albers on balloons and released them following a vigil. The young man's death was one of nearly 1,200 deaths by officers recorded that year. He was unarmed. He was suicidal. And he was killed by a cop who was supposedly in fear of his life.
John Albers was born Valery Alexandrovich Zhemchugov in Belarus. He was adopted by Sheila Albers (Principal of Harmony Middle School) and Steve Albers when he was just an infant. Reflecting on John's adoption, Sheila said, "John brought us much more joy than we brought him in this sense that he fulfilled our dreams of becoming parents...There's nothing more beautiful than that."
The following is dashcam footage from the actual shooting. One can clearly see the officer open fire on Albers before he started driving erratically. Those two shots were likely unnecessary and would have made any motorist attempt to flee or cause them to lose control.
Hopefully, the federal investigation into this shooting gets more scrutiny than the one that gave the cop a bonus for it.
https://m.youtube.com/watch?v=KqoNTdr2RbI