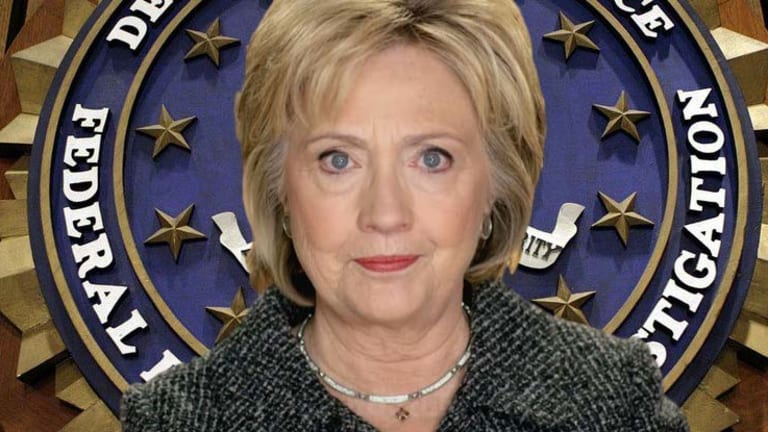 FBI Rewrote Federal Law to Let Hillary Walk -- Agency Director Now Faces Congressional Inquiry
James Comey is under a Congressional inquiry and has been scheduled to testify before Congress after the FBI rewrote federal law to grant Clinton a pass.
Washington, D.C. - In the wake of the FBI's dubious decision to recommend Hillary Clinton not be indicted for her mishandling of classified materials, FBI director James Comey has been scheduled to testify before Congress.
The head of the House Oversight and Government Reform Committee, Jason Chaffetz (R-Utah), called on the director of the FBI to testify before a congressional panel this week amid national outrage over the agency's decision to not recommend charges against Hillary Clinton.
"Individuals who intentionally skirt the law must be held accountable. Congress and the American people have a right to understand the depth and breadth of the FBI's investigation," Chaffetz said in a statement.
The FBI investigation of Clinton centered around  Section 793 of the U.S. legal code, relating to her use of a private email server.
Section 793, subsection (f), "Gathering, transmitting or losing defense information," makes quite clear that intent is not a key consideration in a case like this when deciding whether to press charges:
Whoever, being entrusted with or having lawful possession or control of any document, writing, code book, signal book, sketch, photograph, photographic negative, blueprint, plan, map, model, instrument, appliance, note, or information, relating to the national defense, (1) through gross negligence permits the same to be removed from its proper place of custody or delivered to anyone in violation of his trust, or to be lost, stolen, abstracted, or destroyed, or (2) having knowledge that the same has been illegally removed from its proper place of custody or delivered to anyone in violation of its trust, or lost, or stolen, abstracted, or destroyed, and fails to make prompt report of such loss, theft, abstraction, or destruction to his superior officer— Shall be fined under this title or imprisoned not more than ten years, or both.
"The FBI's recommendation is surprising and confusing," Chaffetz said on Wednesday. "The fact pattern presented by Director Comey makes clear Secretary Clinton violated the law."
During the FBI press conference announcing that the bureau would not recommend an indictment for Clinton, Comey claimed that "although there is evidence of potential violations of the statutes regarding the handling of classified information, our judgment is that no reasonable prosecutor would bring such a case."
Adding that "prosecutors necessarily weigh a number of factors before bringing charges. There are obvious considerations, like the strength of the evidence, especially regarding intent. Responsible decisions also consider the context of a person's actions, and how similar situations have been handled in the past."
But Comey's assertion, that a lack of intent creates a situation that doesn't rise to criminal behavior, is patently false, as the statute itself criminalizes gross negligence. In essence, the FBI rewrote the law specifically for this case -- deviating substantially from the intent of the law passed by Congress.
People rarely intend the bad things that happen from simple gross negligence, hence Congress passing a law criminalizing such behavior for people in positions that handle classified materials -- with intent not being a prerequisite for a crime to have been committed.
Former Assistant United States Attorney for the Southern District of New York, Andrew C. McCarthy, writing for the National Journal, took issue with Comey's assertion that "no reasonable prosecutor would bring such a case."
Finally, I was especially unpersuaded by Director Comey's claim that no reasonable prosecutor would bring a case based on the evidence uncovered by the FBI. To my mind, a reasonable prosecutor would ask: Why did Congress criminalize the mishandling of classified information through gross negligence? The answer, obviously, is to prevent harm to national security. So then the reasonable prosecutor asks: Was the statute clearly violated, and if yes, is it likely that Mrs. Clinton's conduct caused harm to national security? If those two questions are answered in the affirmative, I believe many, if not most, reasonable prosecutors would feel obliged to bring the case.
After the announcement by Comey, Chairman of the House Judiciary Committee Bob Goodlatte "raised several concerns" with Comey in a phone call and follow-up letter. Goodlatte questioned how Comey concluded that Clinton shouldn't be prosecuted for "gross negligence" in light of his admission that she showed "extreme carelessness" in handling classified information, including top-secret military information.
"It is clear that Secretary Clinton possibly jeopardized the safety and security of our citizens and nation through her use of private email servers. None should be above the law, and the American people need to know that federal law enforcement is taking this misconduct seriously," Goodlatte said in a statement on Tuesday.
"If any other American with a security clearance had placed such sensitive information at risk, is there nothing the FBI would have done to recommend sanctions against such person's extreme carelessness?" Goodlatte wrote.
In fact, less than one year ago, naval reservist Bryan H. Nishimura was prosecuted for "unauthorized removal and retention of classified information" without malicious intent -- the exact charge the FBI now says it will not recommend Clinton be prosecuted for violating due to her lack of malicious intent.
The simple fact is that there is a separate system of "justice" for people who are politically connected. While the public is prosecuted without hesitation, those connected to the corridors of power are able to skirt responsibility for almost identical actions.
In 2016, the rule of law only applies to those that don't wield power and influence.