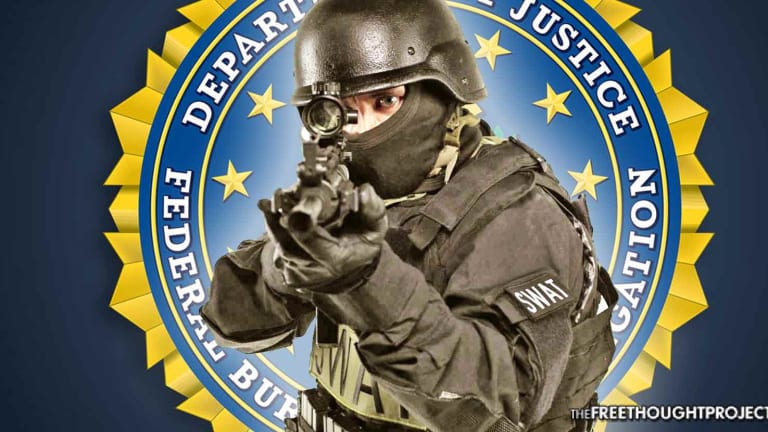 FBI Responds to Kidnapping by Killing the Innocent Hostage—Criminals Just Fine
An innocent father was shot and killed by the same FBI agents who were supposed to be rescuing him after he and his son were tied up and taken hostage.
Houston – A community is shocked and searching for answers after an innocent father was tied up and taken hostage by men who claimed they were with "the cartel," and then shot and killed by the same FBI agents who were supposed to rescue him.
Ulises Villadares was at home with his 12-year-old son when two men forced their way into the house with guns and took both Villadares and his son hostage. According to a report from Click2Houston, the men started by tying up the home's residents and then searching for Villadares' brother, who they claimed owed them $8,000.
The men then took Villadares from the home, leaving his son alone. They left the young boy tied up and told him that if he called the police, they would kill his father. The report noted that the boy was eventually able to free himself, and he reached out to a neighbor who let him call his uncle.
The uncle then received a call from an unknown number, with a man on the line claiming that he was with "El Cartel Del Golfo," and that Villadares was being held for a ransom of $20,000. While the men who kidnapped him repeatedly said that they would kill him if anyone contacted police, it was not the gang members who murdered Villadares.
The Conroe Police Department was called, and they reached out to the FBI for assistance with the hostage situation. FBI agents tracked the anonymous call Villadares' brother received to a nearby Best Western hotel.
Jimmy Tony Sanchez, 38, and Nicholas Chase Cunningham, 42, were arrested at the hotel, according to the report, and they now face charges of aggravated kidnapping and aggravated robbery. Cunningham told the officers that Villadares was being held at his girlfriend's house.
However, the details of what happened when officers arrived at the house, and why they opened fire on Villadares when he was tied up, are still not clear. Click2Houston reported:
"Investigators and the FBI went to the house where FBI agents made entry into the home where Villadares was being held. Court records indicate that authorities found Villadares' with his hands bound with tape. According to sources, FBI agents accidentally shot Villadares. He was taken to LBJ Hospital, where he was pronounced dead."
Neighbors told Click2Houston that they heard multiple gunshots around 3 a.m. on Thursday. "We just heard gunshots. It was like four, pop, pop, pops," one neighbor said.
Conroe Police Chief Philip Dupuis told KHOU News that Villadares' son is in CPS custody and had not yet been told about this dad's murder.
"The system failed, whether it was accidental or not, the man is not going home to his family," Dupuis said.
The two men who kidnapped Villadares and the girlfriend who allowed him to stay as a hostage in her home could face capital murder charges—even though they did not shoot the man, according to Dupuis.
During a press conference, Houston FBI Public Affairs Officer Christina Garza admitted that there were several people in the home, including two children, when the FBI agents entered, and opened fire on Villadares.
The names of the FBI agent who is responsible for shooting and killing Ulises Villadares has not yet been released, and it is not clear if he will face any charges.