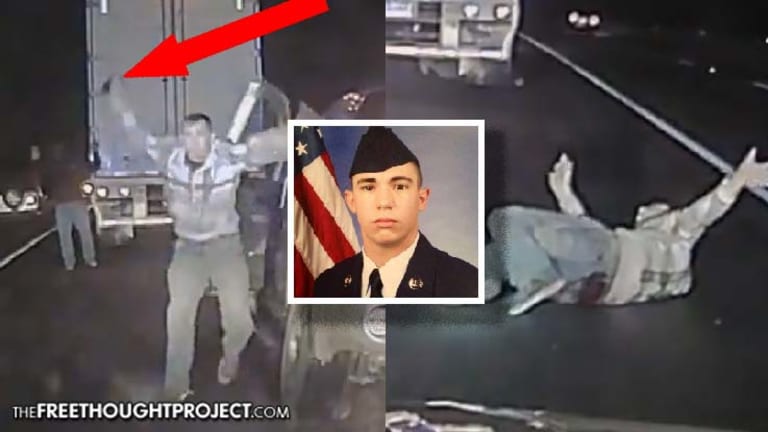 WATCH: Cowardly Cop Mistakes Wallet for a Gun and Shoots Innocent Airman
Disturbing dashcam footage has just been released showing a cop fear an Airman's wallet which led to him shooting an innocent man.
Lee County, AL — Fear, cowardice, dread, hate — training — one or more of these traits are present more often than not when a police officer shoots an unarmed person. And, in the dashcam video below, that assertion becomes apparent as Opelika police officer Phillip Hancock shoots Airman Michael Davidson for no reason other than fear.
The incident happened on March 6, 2014, however, the dashcam was kept secret until a little more than three years to the date after the shooting. Hancock was responding to a minor accident in which Davidson had swiped the back of a tractor trailer, and both parties were waiting for police to arrive after they had exchanged information.
When Hancock arrives on the scene, he immediately becomes aggressive with Davidson, who was merely trying to get out of his car. Because Davidson was parked on a slope, opening his door was particularly difficult as it was much heavier at this angle. Instead of realizing this was a factor, Hancock, applying his training while experiencing high levels of fear and cowardice, escalated the situation to violence.
"Show me your hands," screams Hancock as Davidson frantically tries to comply.
Davidson's attorney's, Brian Mosholder explains, as reported by WRBL, that Davidson's wallet was in his left hand while pushing against the door to get it open, and then he reached back with his right hand. Soon after, Ofc. Hancock asks Davidson to show him his hands. Davidson brings his right hand through and up to his left hand, turned and got out of the vehicle as quickly as he could and put his hands out in front of him with his wallet in both hands and began to raise his hands. Soon after, the first shot is fired, which hits the ground. Then, Mosholder said Davidson's hands went up and the second shot was fired, which hit Davidson.
"It's very obvious from that part of the video that Officer Hancock is creating a situation that he wished had happened that would have justified this shooting," Mosholder said. "When you look at the video, none of that happened. When you look at the video, in less than six seconds, from the time Michael Davidson opens his door, Officer Hancock shoots him, and he shoots him for absolutely no reason."
After he was shot, the Airman was seen writhing in pain on the ground — as the blood spot in the back of his jeans grew increasingly larger. Davidson was shot in the abdomen and suffered severe artery damage and "extensive internal bleeding," according to the suit.
During the melee, the innocent truck driver was also in danger from this irresponsible cop's fear as he fired rounds in his direction as well.
For the last three years, Davidson was hoping to seek justice against the man who shot him for no reason. However, as is the case in so many other police shootings, the shooting was found to be justified — because the cop expressed a justifiable reason to fear for his life.
"The City, the Chief of Police and its officer have always denied any wrongdoing," a statement from the City of Opelika in response to the most recent court ruling read. "This case has now been analyzed by two federal courts … The judges have unanimously determined after a review of the evidence, which includes the dash cam video, there was no wrongdoing on behalf of the City, the Chief, or the involved officer. In reaching their respective decisions, these Federal Courts reviewed all of the evidence. Their opinions are clearly supported by all evidence."
In affirming the district court's ruling, according to oanow.com, the three-judge panel said it had reviewed the evidence, including dash cam video, and provided the following summary statement: "After careful consideration and review of a video recording of the shooting, viewing the evidence in the light most favorable to Davidson, we conclude that a reasonable officer in Hancock's position would have feared for his life. Accordingly, we affirm the district court's grant of summary judgment based on qualified immunity in favor of Hancock on all claims."
Below is the end result of too much fear pumped into cops during their training. Thankfully, Davidson lived, no thanks to the cops who let him bleed out for more than 5 minutes before providing any life saving methods — but he will never be the same again.
[author title="" image="https://tftpstagingstg.wpengine.com/wp-content/uploads/2016/03/magorist-e1456948757204.jpg"]Matt Agorist is an honorably discharged veteran of the USMC and former intelligence operator directly tasked by the NSA. This prior experience gives him unique insight into the world of government corruption and the American police state. Agorist has been an independent journalist for over a decade and has been featured on mainstream networks around the world. Agorist is also the Editor at Large at the Free Thought Project. Follow @MattAgorist on Twitter, Steemit, and now on Facebook.[/author]