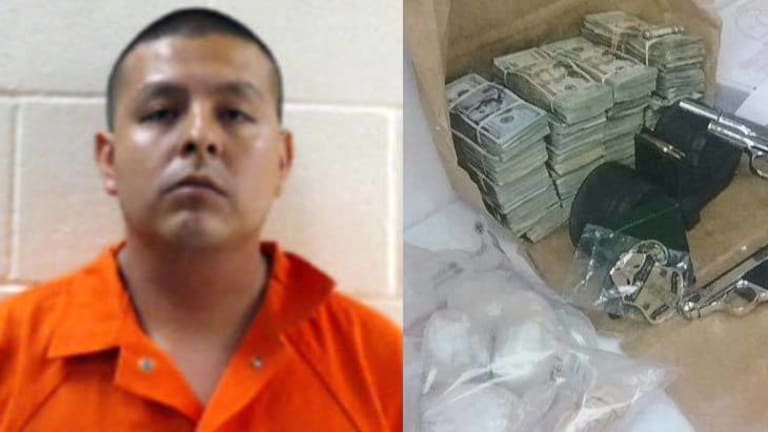 Fed Cop Supposedly Protecting Us from ISIS Arrested for Role in ISIS-Style Beheading
Videos depicting the decapitation of hostages by the nihilistic terrorist group called ISIS have caused millions of Americans to fear that the Middle Eastern group might infiltrate the United States – perhaps working in concert with Mexican drug cartels.
On November 5, San Juan, Texas native Joel Luna was arrested and charged with capital murder in an ISIS-style beheading that took place last March. While the 30-year-old Luna has no documented ties to ISIS, he is a six-year veteran of the U.S. Border Patrol.
Brownsville ABC affiliate KRGV reports that Luna faces a capital murder charge, in addition to charges of possession of a controlled substance, tampering with physical evidence and criminal conspiracy. A safe that was seized by investigators contained more than two pounds of cocaine, 17 grams of methamphetamine, three pistols, $89,000 in cash, and Luna's Border Patrol badge.
"Somewhere along the line, he let you down," declared Cameron County Sheriff Omar Lucio in what must be considered a substantial understatement, should the charges be true. "He let law enforcement down." At the time this is written, Agent Luna is on administrative leave.
Last March, the naked and decapitated body of 33-year-old Jose Francisco Palacios Paz was found by fishermen in Laguna Madre Bay near South Padre Island. A little more than two months later, the Cameron County Sheriff's Office arrested four suspects – Eduardo Luna Rodriguez, Fernando Luna Rodriguez, Nestor Manuel Leal, and Aaron Rodriguez Medellin. All four of the suspects, according to Cameron County Sheriff Omar Lucio, worked with the victim at a tire shop in Edinburg, the small town where the killing took place.
Three of the suspects are described as "undocumented" immigrants. In a press conference following the arrests, Sheriff Lucio pointed out that while he wasn't sure about the citizenship status of Fernando Luna Rodriguez, the suspect "might have had a crossing card to go back and forth to Mexico." Both Fernando and Edwardo Luna Rodriguez are brothers of Agent Luna.
At the time of the arrests in June, the motive for the hideous crime was not clear. As the investigation progressed it became clear that the killing was connected to the Gulf drug cartel – which, at least to some, might have prompted fears of a long-discussed alliance between ISIS and Mexican narco-syndicates.
A report published in April by the advocacy group Judicial Watch claimed that "authorities" in Mexico, including a "Mexican Army field grade officer and a Mexican Federal Police Inspector," had confirmed that ISIS was "operating a camp just a few miles from El Paso." A few weeks later, U.S. News and World Report relayed concerns from U.S. military officials that the Middle Eastern terrorist group was seeking to exploit drug-smuggling routes into the United States.
As public alarm grew over the prospect of ISIS deploying throat-slitting jihadists across the southern border of the United States, the naked, decapitated body of a murder victim was found by a fisherman in Laguna Madre Bay near South Padre Island in Texas. Even before the emergence of ISIS, border alarmists had circulated gruesome tales of beheadings by Mexican drug smugglers.
"We cannot afford all this illegal immigration and everything that comes with it, everything from the crime and to the drugs and the kidnappings and the extortion and the beheadings and the fact that people can feel safe in their community," exclaimed Republican Governor Jan Brewer of Arizona in a June 16, 2010 interview with Fox News. When questioned about that claim by Phoenix NBC affiliate KPNX – a less congenial media outlet – Gov. Brewer insisted that "our law enforcement agencies have found bodies in the desert, either buried or just lying out there, that have been beheaded."
According to Dr. Eric Peters, deputy chief medical examiner for Pima County (which has the largest shared border with Mexico of any Arizona county), over the past ten years "we haven't had a single death due to a beheading or having a beheading associated with it." In September 2010 Brewer offered an oddly equivocal retraction during a debate with Democratic gubernatorial challenger Terry Goddard. "That was an error, if I said that," Brewer commented when asked about the beheading claim.
The murder of Francisco Palacios Paz is the first documented "ISIS-style" beheading to occur in a U.S. border state – and the accused ringleader of the conspiracy behind that murder is an officer with the Customs and Border Patrol Agency.
In response to Agent Luna's arrest, the agency issued a statement emphasizing that it "stresses honor and integrity in every aspect of our mission, and the overwhelming majority of CBP officers and agents perform their duties with honor and distinction... We do not tolerate corruption or abuse within our ranks."
A few days after it offered that vehement defense of its institutional integrity, the Border Patrol announced that it would not be among the law enforcement agencies requiring its patrol officers to wear body cameras. Among the reasons listed for that rejection in the draft internal report, according to officials who spoke with the Associated Press, is that body cameras "may hurt employee morale."