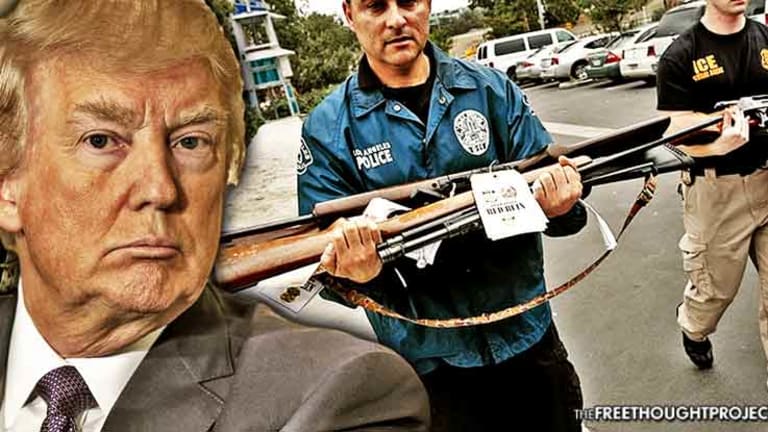 'Pro 2nd Amendment' Trump Sends in Feds to Confiscate Guns in Chicago
Chicago police are now turning to the federal government for help and equipment to enforce the city's ongoing attempt to confiscate all "illegal" guns.
The city of Chicago saw a staggering number of homicides last year, with over 760 murders in 2016. President Trump is combatting the problem by following in Obama's footsteps, and ramping up the confiscation of "illegal" guns—and he's using the federal government for assistance.
The Chicago Crime Gun Strike Force is now made up of both Chicago police and 20 agents from the Bureau of Alcohol, Tobacco, Firearms and Explosives. Because the federal agents bring their technology and weapons with them, the city now has access to a van outfitted with ballistic testing equipment, specifically devoted to targeting "illegal" guns and repeat gun offenders.
During a news conference on June 30, acting U.S. Attorney Joel Levin said prosecutors are working on increasing federal gun prosecutions, and his office has prosecuted "more federal gun cases this year than in all of 2016—and in 2016, his office prosecuted more such cases than it had in a decade."
As the homicide rate skyrocketed in summer 2016, Chicago police claim they seized nearly 6,000 guns—making the average rate one gun seizure per every 59 minutes. This practice is nothing new, as a report on the gun confiscations in Chicago revealed that in 2012, police seized 7,624 guns, which was more per capita than New York City and Los Angeles… combined.
All of the guns Chicago police are confiscating are defined as "illegal guns," and it raises the question—what exactly is it that makes these guns, and their owners, illegal? As with many things that are prohibited in the United States, the guns are illegal because the government says they are illegal.
"If you had some guns in that club the night that this took place, if you had guns on the other side, you wouldn't have had the tragedy that you had," Trump said in a CNN interview after last year's tragic shooting in Orlando, noting that only good guys with guns can stop bad guys with guns. With the thousands of gun confiscations taking place in Illinois, there are undoubtedly good people losing their means of self-defense to Trump's gun confiscating army.
Trump has even made note that the strict gun laws in Chicago do nothing to stop gun violence as bad guys will always find ways to get guns.
While Illinois doesn't actually have the toughest gun laws, it is known for having some of the strictest gun laws in the U.S., and it is currently ranked 8th out of all 50 states on the "Gun Law State Scorecard" created by the pro-gun control Law Center to Prevent Violence. That ranking is largely due to the requirement for all gun owners in the state to obtain a "Firearm Owners Identification Card" or FOID card from state police. Illinois then passed a law in August 2016, making it a felony for anyone to so much as bring a gun into the state for the purpose of selling, delivering or transferring it, without a FOID card. Based on a
Crime and killings in Chicago have reached such epidemic proportions that I am sending in Federal help. 1714 shootings in Chicago this year!
— Donald J. Trump (@realDonaldTrump) June 30, 2017
">Tweet from President Trump on June 30, in which he said, "Crime and killings in Chicago have reached such epidemic proportions that I am sending in Federal help," one might think that this was his plan all along.
However, as pointed out above, it should be noted that—as with many things—Trump had vastly different sentiments toward gun violence in Chicago when he was on the campaign trail. During a debate against Democratic nominee Hillary Clinton, on Oct. 19, 2016, Trump criticized the amount of gun violence in Chicago, despite the strict laws.
"In Chicago, which has the toughest gun laws in the United States, probably you could say by far, they have more gun violence than any other city. So we have the toughest laws, and you have tremendous gun violence," Trump said. "I am a very strong supporter of the Second Amendment."
As The Free Thought Project reported in August 2015, one group of Chicago moms combatted the level of violence by taking to the streets, and helping those in need. As a result, violence began declining in one of the city's most dangerous neighborhoods.
The current tactics used by Chicago police, including the mass confiscation of guns, have been ongoing for years, and even though thousands of guns are confiscated each year, the number of homicides continues to climb. While the addition of the federal government's agents and their equipment will certainly increase the number of gun confiscations, it will also likely increase the death toll, raising the question of when city and state officials will start looking at the root of the problem, and stop increasing the power of the police state.