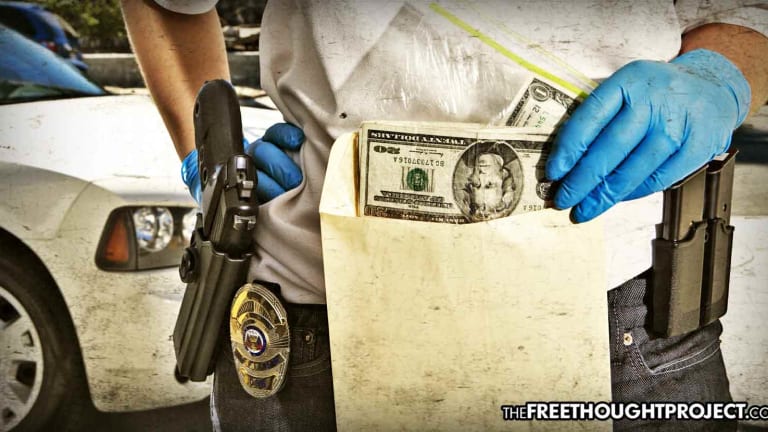 Federal Court Rules Cops Can Steal Your Stuff and it Does NOT Violate the Constitution
A 9th Circuit court ruled cops can get away with stealing your stuff and there's nothing you can do about it because cops have qualified immunity protecting them from lawsuits.
The ninth circuit court of appeals has upheld a ruling which declared police can constitutionally steal your possessions. Called "civil asset forfeiture," the police are under no obligation to give the property back to you. Instead, police departments will steal your stuff, hold it in storage (accruing fees in most cases), and then sell your stuff to the highest bidder.
Police have no qualms about stealing your property, especially after you've been arrested for a crime. Even though every citizen is supposedly innocent until proven guilty, police will routinely confiscate, cash, guns, and real property from those who've been charged with a crime, even property from other members of a family living under the same roof. After all, it is difficult to prove ownership without a receipt. More sinister, however, is the fact that you need not even be accused of a crime for police to steal your stuff.
The most egregious case of civil asset forfeiture of which we are aware comes from Oklahoma. To keep society safe, sheriff's deputies in Muskogee County, Oklahoma robbed a church and an orphanage of $53,000. Real American heroes.
Eh Wah, 40, a refugee from Burma, who became a US citizen more than a decade ago, was traveling with the cash to deliver it to the intended recipients when he was targeted by modern day, state-sanctioned pirates -- for a broken tail light.
Eh Wah had been entrusted with the money by the members of his Christian band who had been on a 19-city tour raising funds for the Dr. T. Thanbyah Christian Institute, a religious liberal arts college in Burma serving the Karen community there. And, they had also collected funds for the Hsa Thoo Lei orphanage in Thailand, which serves internally displaced Karen people.
Clearly a vulnerable host for their parasitic process, Eh Wah's English was incompatible with that of the deputies' and he was accused of trafficking drugs. A K9 was called to the scene, and, naturally, alerted to the vehicle. As the Free Thought Project has reported in the past, drug dogs will alert to your vehicle nearly every single time they are brought out regardless of actually having drugs or not.
In spite of the fact that not one single bit of contraband was found, Eh Wah was brought to the police station and interrogated for hours. Police even called one of Eh Wah's friends in the band who confirmed the story, but the cops, with dollar signs in their eyes, still believed that his story was "inconsistent."
Eh Wah was then released without charges and sent on his way -- police kept his cash, and Eh Wah kept his broken tail light.
With the latest ruling by the 9th circuit, police will have no problem getting back to the work of stealing peoples cash and property. The 9th Circuit ruled on a case involving illegal gambling. Michael Jessop and Brittany Ashjian were the homeowners and sued the City of Fresno, CA as well as several officers.
Following the raid of their illegal gambling establishment officers issued a receipt for property totaling $50,000 but the homeowners contend the cops stole another $225 thousand for which they did not receive a receipt.
Following the search, the City Officers gave Appellants an inventory sheet stating that they seized approximately $50,000 from the properties. Appellants allege, however, that the officers actually seized $151,380 in cash and another $125,000 in rare coins. Appellants claim that the City Officers stole the difference between the amount listed on the inventory sheet and the amount that was actually seized from the properties.
Instead of demanding the police return the unreceipted items, the 9th circuit found qualified immunity of the officers was sufficient to protect them from prosecution.
Because the homeowners in the case could not prove property was stolen, the 9th circuit found their case to be worthy of a dismissal. The 9th circuit wrote the following statement:
Appellants have failed to show that it was clearly established that the City Officers' alleged conduct violated the Fourth Amendment. Accordingly, we hold that the City Officers are protected by qualified immunity against Appellants' Fourth Amendment claim.
In other words, the cops allegedly got away with stealing a quarter of a million dollars from citizens. That pretty much kills the homeowners' chances of ever getting justice from dirty cops.
Fortunately, however, the Supreme Court (SCOTUS) has ruled on civil asset forfeiture and does not stand with Law Enforcement Agencies' desire to get away with the loot. In February of this year, the SCOTUS put very tight restrictions on police with respect to civil asset forfeiture. The SCOTUS concluded "Excessive Fines" should not result from search and seizure of individuals' private property. But a way around that for police is to simply not receipt all they took. Go figure! But that's precisely what Jessop and Ashjian claim happen to them.