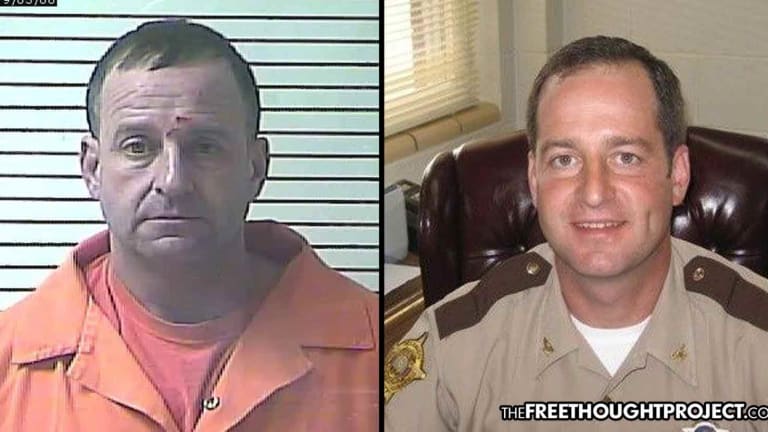 Fellow Cop Let Drunk Sheriff Go After DUI Stop, Then He Smashed Into Woman Head On
Despite slurring, being unable to walk, and being at twice the legal BAC limit, a sheriff was let go by a fellow cop after a DUI stop and he then smashed into a woman head on.
Breckinridge County, KY — The term 'blue privilege' exists and is well known because police officers will commit crimes, often far worse than civilians, and face little to no consequences. This is especially common among traffic offenses like speeding and driving under the influence (DUI). Sometimes, as the following case illustrates, this blue privilege can and will lead to the suffering of others.
Breckinridge County Sheriff Todd Pate was arrested in March after crashing his car into a woman while drunk out of his mind. According to the police report, Pate could barely talk, had bloodshot eyes, and had trouble even standing up. The report noted he had "blood shot eyes," "slurred speech," was "unsteady on his feet," and smelled a "strong odor of alcohol." When administered a breathalyzer, the sheriff blew twice the legal limit.
The police report also noted that the arresting officer caught Pate hiding beer bottles in the woods after he crashed. Instead of rendering aid to his victim, the sheriff took to destroying evidence.
The woman driving the car that Pate smashed into had to be rushed to the hospital with life threatening injuries. Pate suffered only minor scrapes.
While DUI is certainly not a rare occurrence, especially among police officers, what happened before Pate smashed into this innocent woman is most certainly peculiar.
Only 40 minutes before Pate nearly killed an innocent woman, another motorist called 911 to report his reckless driving.
As WHAS 11 reports, according to dispatch records, the 911 caller complained of a male driver "asleep at the wheel" and said that driver was "all over the road" crossing three lanes of traffic and then "hit a curb" turning into a gas station parking lot.
A few minutes after the 911 call, an officer found the vehicle described by the caller and went to talk to the driver. Inside the vehicle was Sheriff Pate.
Despite the officer who arrested Pate after he crashed into the woman noting that Pate was so drunk he couldn't talk or walk, the officer who stopped Pate before he crashed, let the sheriff go.
Only 20 minutes would pass until Pate would smash head-on into the woman, yet the officer who stopped him first is claiming Pate was not drunk at all.
Irvington Police Officer Crag Ball says he had a conversation with Pate and didn't notice anything out of the ordinary, so he let the sheriff go. Given that only 20 minutes had passed before the sheriff smashed head on into a woman's car, and was hiding beer bottles in the woods, officer Ball's account of the incident is likely false.
Still, the Irvington police department is defending their cop.
"We have nothing to hide. The officer did what he's trained to do and the sheriff showed no signs of impairment," Irvington Police Chief Brandon Brinkley said, adding, "unfortunately, sometimes you miss things."
An investigation has since been launched by the Kentucky State Police into the matter. They are apparently looking into the interaction the officer had with Pate just a few minutes before the crash.
After he was arrested, residents of Breckinridge County started a petition online to remove Pate from office. According to the petition on Change.org, Pate has a history of repeatedly breaking the law and driving drunk.
Mr. Pate has repeatedly shown by his actions that he is a danger to the public and himself. He has demonstrated that he does not use good judgment, nor does he seem to have proper decision-making skills, or responsable control of his behavior. We believe Mr. Pate has no business holding others accountable to the laws that he himself violates. He does not represent the values of the people of our community, nor does he have the trust and respect of those that he has sworn to serve and potect. We wish no ill will or harm to Mr Pate and wish him well for his future, but for the sake of himself in this community, we demand and petition his immediate removal from Sheriff's Department of Breckinridge County Kentucky.
As of the writing of this article, the petition has reached nearly 1,000 signatures.
Proving the writer of the petition correct is the fact that this is not Pate's first arrest. Pate was arrested several years ago for drunk driving and threatening to kill his wife. However, nothing ever came of it and not only was he not jailed, but he was allowed to remain sheriff. And this is the state of law enforcement in the land of the free.