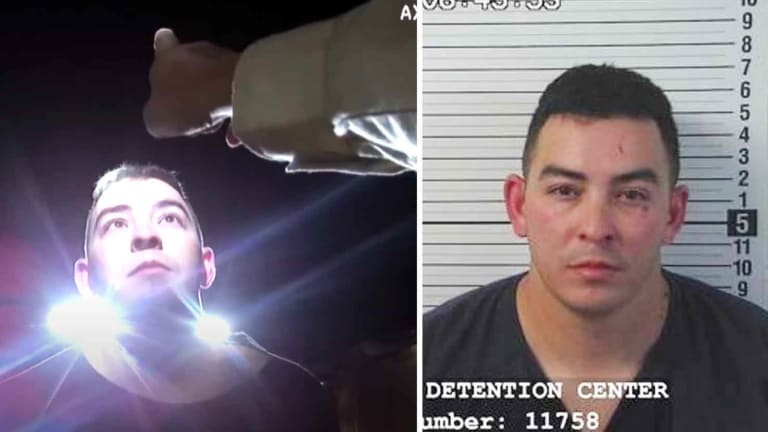 'I Still Love You Bro': Cops Console Fellow Cop as They're Forced to Taser Him for Running Over His GF
A cop with two prior convictions relating to domestic violence was shown blue privilege by fellow officers who apologized for having to taser him.
Taos County, NM — A woman-abusing Taos County Deputy resigned last month after he attempted to run over his girlfriend — while intoxicated — in his police cruiser. The incident took place in October, but the body camera footage was only recently released.
Deputy Lorenzo Sanchez, 26, quietly resigned after the incident in which he used his patrol cruiser to ram his girlfriend's vehicle before chasing her into the house with it.
According to police, they responded to a call about a domestic dispute between Sanchez and his girlfriend and two others. When police arrived at the scene, Sanchez was visibly intoxicated, bloodied and his shirt was torn. When questioned about the torn shirt Sanchez told police it was from "rough sex." It was not.
His girlfriend told police a different story, however, and had the video to back it up. It showed this crazed cop in his police cruiser, ramming her car and chasing her into the house. Even after watching the video, Sanchez's fellow officers gave him blue privilege and did not immediately arrest him.
It wasn't until Sanchez attacked one of the cops that he was taken into custody.
Sergeant Jason Rael ordered two of Sanchez's fellow deputies, Teddy Flores and Taylor Gwinn, to take him into custody but Sanchez wasn't having it and fought with the deputies. Sanchez even tried to go to his patrol car where his gun was stored and instead of shooting him, Flores simply grabbed the gun first.
A third deputy then arrived on the scene and had enough of the two other deputies giving Sanchez special treatment so he pulled out his taser and took the drunk cop down.
After he was tasered and put in handcuffs, his fellow deputy then somewhat apologized for having to take him in.
"I still love you bro," a deputy is heard telling the drunken cop who just attacked two cops after trying to kill his girlfriend in his county-issued patrol vehicle.
Imagine if an average Joe would have reacted in a similar manner while surrounded by cops. Do you think things would have played out the same way? Not likely. In reality, had Sanchez not been a cop, he would have been tasered or beaten way earlier in this scenario and possibly even shot. This was the exact same scenario that led to Jacob Blake being shot in the back 7 times by police in Kenosha, Wisconsin.
Sanchez was not shot, however, because his badge protects him from such things. If you doubt this claim, we can look at his past to prove it. The fact is that Sanchez has a history of domestic violence and it hasn't caused him to lose his job.
Just 4 months before this incident, as Taos News reports, in June, a Rio Arriba County jury found Sanchez guilty of negligent use of a deadly weapon in connection to another domestic violence case filed in January 2019. In that case, Sanchez's former fiancé accused him of attacking her and giving her a gun and bullets when she said she wanted to kill herself.
Despite the guilty verdict, Sanchez kept his job and returned to active duty only to strike again. But that is not all. According to the paper, in 2012, court records also show he was charged in Rio Arriba County with aggravated stalking in violation of a protection order and criminal damage to property. He was convicted of the latter charge and the former was dropped in a plea agreement that granted him a conditional discharge after he completed probation in 2014.
Despite his criminal history, he was still hired on with the sheriff's department in 2017.
The video below is just one more piece of evidence as to why domestic violence rates are likely much higher than the already-high rates among police officer families. Sanchez literally had to attack a fellow cop before he was brought into custody — and this is after he received and kept his badge despite two prior convictions relating to domestic violence.