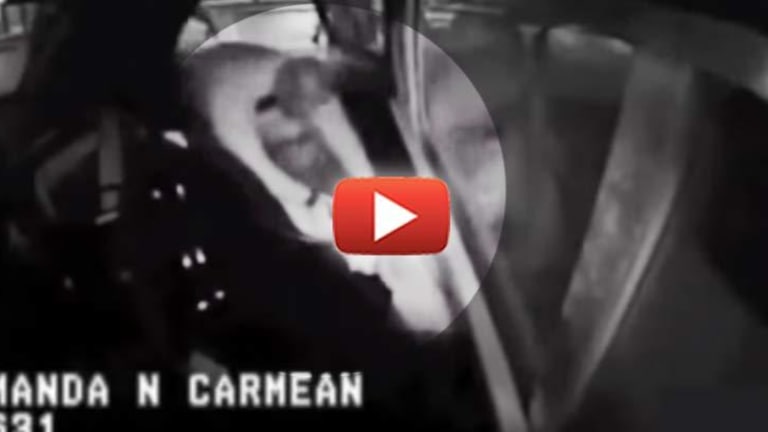 Despite Fellow Cops Lying to Cover it Up, Cop Finally Found Guilty for Beating Cuffed Man on Video
On Thursday, a small crack formed in the blue wall of silence as the best efforts of lying cops were overcome by a jury who saw the truth.
Huntsville, AL -- Four years ago, Huntsville police officer Brett Russell pulled suspect Gary Wayne Hopkins from the back of a police cruiser and proceeded to violently attack him as fellow officers held him down. Despite the assault being captured on video, it took nearly four years for Russell to finally be found guilty. This delay was a function of the blue code of silence.
On Thursday, Russell was found guilty by a jury for violating Hopkin's civil rights by beating him in custody and of obstructing justice by trying to cover it up.
During the dramatic trial, two witnesses admitted to lying about the events that night to cover up Russell's crimes.
Fellow cop, Joshua Bates broke down on the witness stand and admitted that he lied twice to internal affairs to cover for Russel.
According to WAFF,
When asked why he didn't do anything, Bates said he froze in disbelief of what was taking place. The 8-year veteran of the department said he was scared about losing his job, adding that he carried that with him for the last four years.
The threat of Bates losing his job for telling the truth is a very real one. The Free Thought Project has reported on countless cases of whistleblower cops who attempted to report fellow officers' violence and were met with demotions, harassment, and even death threats from their peers.
The incident began during the arrest of Hopkins over suspected domestic dispute. Hopkins can be seen in the video kicking the window of the back of the cruiser. At this point is when the "official narrative" takes a different path than the truth.
According to Russell, Hopkins began kicking him, yelling racial slurs, headbutt him, and was spitting at officers. Russell claimed that Hopkins was resisting and due to the spitting and kicking he used the appropriate level of force.
However, the audio and video do not show any of this. Also, during Bates' testimony, he said the altercation he witnessed was shocking, and that Hopkins was not resisting. Bates said that Hopkins did not spit at officers, swear or headbutt anyone.
"I didn't think he was resisting," Bates said. "I was still in shock about what was going on."
Bates wasn't the only one that night who witnessed the brutal beating of a handcuffed man and went on to lie about it. A police cadet was on a ride along that night and had been called to the scene to assist in getting Hopkins in the leg shackles.
The unidentified cadet said that he had lied to investigators three times about what happened that night in 2011 and he also lied to the FBI.
The power of the blue code of silence is strong. It can convince otherwise good people to go against their better judgement and cover up the heinous crimes of their co-workers out of fear of retaliation.
This incident would have been swept under the rug, like so many incidents in the past, had the FBI not been so persistent in their investigation. In fact, after the video was initially released, Russell was fired from the Huntsville Police Department in May 2012. However, after the smoke had cleared, he was unanimously reinstated by the Huntsville City Council just a few months later.
"What Officer Russell did was wrong and won't be tolerated in our police department," Huntsville Police Chief Lewis Morris said after the trial. "With today's verdict, we will immediately initiate termination proceedings, and we will move to expedite that process any way we can."
This case highlights the corruption that is rife within police departments. In case after case, we hear of innocent or subdued and restrained people being assaulted by police and they have almost no recourse. The blue wall rises up to silence anyone who would expose the malfeasance within.
Below is the video of the brutal beating. After he pummelled him, Russell kept the belongings of Hopkins as "trophies" of his beat down. Hopkins was then brought to the hospital where it took doctors 3 hours to put his face back together.
The jury was shown more video from the altercation, in which Officer Russell is heard saying, "You deserve to get that ass whooping."