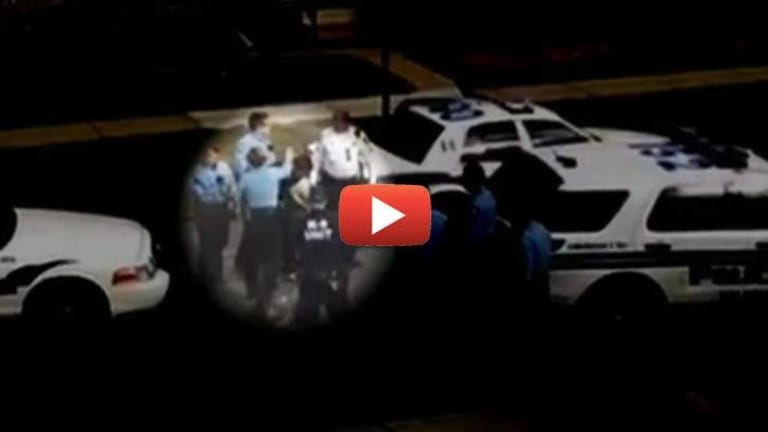 Female Cop Sucker Punches Handcuffed Man in the Face for No Reason, Fellow Cops Do Nothing
A cop on a violent power trip assaulted a handcuffed man. Luckily for the man in handcuffs a neighbor was filming the entire time.
Toledo, OH -- Police in Toledo will have a hard time building the trust of their citizens after a cellphone video showed one of their officers assaulting a handcuffed man.
"Police brutality captured at its finest," said Brad Bollinger, the man who filmed this flagrant assault last week.
The man being punched in the face by the officer is 20-year-old Raymond Rober. Police were serving him with an arrest warrant, and he initially ran. However, he eventually stopped and allowed police to arrest him.
He was in handcuffs and cooperating with officers when out of nowhere, a female officer walks up to him and punches him.
"As he leans his head down, he's adjusting the handcuffs on the back of him because they're probably uncomfortable, and the lady officer strikes him in the side of the head," says Bollinger. "It's a coward move. It's a thing of complete power. She knows that she has him, and he has nowhere to go, so she took complete advantage of it. It's a sucker move."
"It seems to me, based on the other officer's conduct, he didn't do something that justified being hit in any capacity," Phil Stinson, a criminologist at Bowling Green State University, told ABC 13 News. "Certainly not while being handcuffed."
After he had been punched in the face, Rober was then booked into Lucas County Jail on multiple charges, including resisting arrest.
Notice in the video below that not one of the officers around the man attempted to stop the other officer's assault.
Police have not released the officer's name and refuse to comment after they watched the video, stating only that the department has launched an investigation.