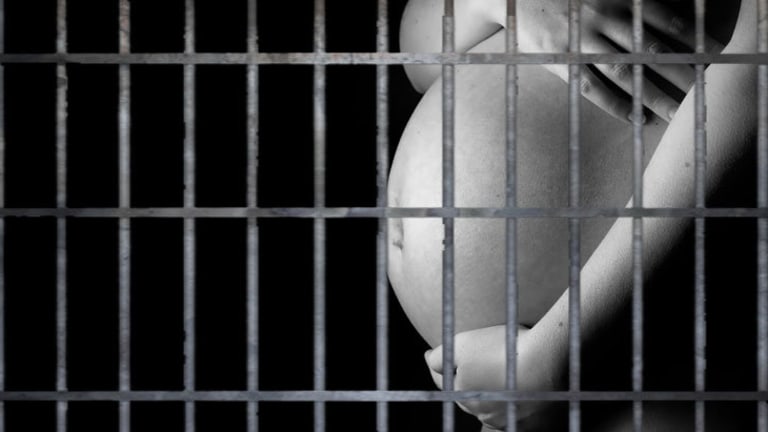 Ferguson Police Throw Pregnant Woman in Jail for Traffic Stop, Where She Was Later Raped by Officer
"Discovery will produce other acts of violence, all contributing to a pattern and practice of allowing violence and sexual assault on members of the public… The numerous acts of violence against the citizenry by law enforcement of the City of Ferguson constitute a pattern."
Ferguson, Mo. - According to a federal lawsuit filed Friday, a woman claims a Ferguson corrections officer raped her while pregnant and in custody last year.
The officer, Jaris Hayden, faces four felony counts including corruption by a public servant, sexual contact with a prisoner, and permitting escape, according to the St. Louis Post Dispatch.
Hayden posted a $10,000 cash bond and was released the day he was arrested, Nov. 12. He is scheduled to appear in St. Louis County court for arraignment on Dec. 3.
The woman, whose name was withheld from the suit, is known in court filings as J.W. She was stopped for having expired plates on Oct. 9, 2013, was arrested by the Ferguson police, and was given two tickets for providing a false name during the stop, according to the lawsuit.
Court documents state that while J.W. was being booked in to jail, Hayden told her, "You smell good," and, "This will teach you a lesson."
J.W.'s boyfriend subsequently arrived to post bond. At this point Hayden took her from her holding cell and allegedly told her:
"You're the type of girl that can get me in trouble."
Then while she was filling out paperwork, Hayden informed her that she had outstanding traffic warrants from other jurisdictions, according to the St. Louis Business Journal.
According to court filings, J.W. said, "I will do anything to go home," which the suit specifies was not in regard to sexual favors.
Hayden then told J.W. to follow him and took her down various hallways leading to a boiler room in the jail, then unbuttoned his pants and allegedly told the victim: "You gonna suck my d—k."
J.W. then began to perform oral sex on Hayden. After the oral sex, he then took her further back into an even more remote spot in the boiler room, bent her over and "indicated that he was going to have intercourse with her," according to the suit.
The lawsuit claims J.W. did not resist "because she was afraid."
The suit goes on to claim that Hayden then allowed J.W. to leave through a side door, telling her to "run and stay close to the building," most likely in an effort to avoid security cameras.
After getting away, J.W.'s sister took her to an area emergency room, according to the suit.
During the incident, J.W. managed to obtain some of Hayden's pubic hair, which DNA analysis confirmed to be the suspect's, according to the lawsuit.
The lawsuit claims that there is an ongoing pattern of civil rights abuses by the City of Ferguson, including the shooting death of unarmed teen Michael Brown by officer Darren Wilson.
The suit alleges,
"Discovery will produce other acts of violence, all contributing to a pattern and practice of allowing violence and sexual assault on members of the public… The numerous acts of violence against the citizenry by law enforcement of the City of Ferguson constitute a pattern."
https://www.scribd.com/doc/246912185/Lawsuit-against-City-of-Ferguson-Jaris-Hayden
Jay Syrmopoulos is an investigative journalist, freethinker, researcher, and ardent opponent of authoritarianism. He is currently a graduate student at University of Denver pursuing a masters in Global Affairs. Jay's work has previously been published on BenSwann.com and WeAreChange.org. You can follow him on Twitter @sirmetropolis, on Facebook at Sir Metropolis and now on tsu.