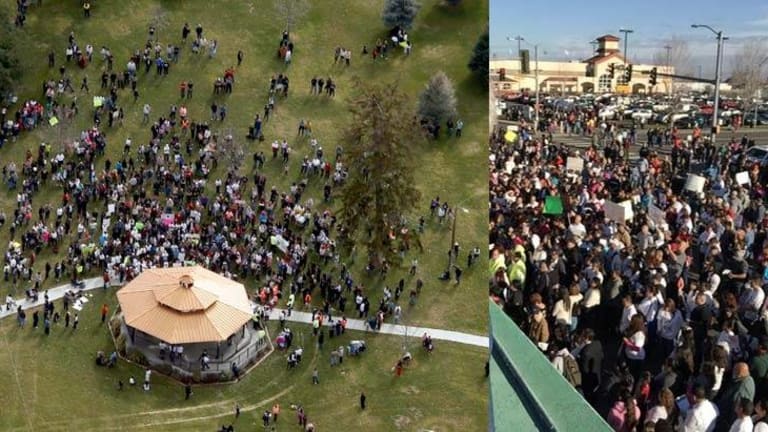 'Ferguson everywhere': Swarms of Protesters Fill Streets After Cops Kill Fleeing Unarmed Man With Hands Up
Are we witnessing the beginning of Ferguson 2.0? Citizens across the country on edge after a brutal string of police killings.
Around 1,000 people took part in a peaceful protest to denounce the recent fatal police shooting of a Mexican-born 35 year-old American in a town of Pasco, Washington State.
Hundreds of people, mostly from the Pasco's Hispanic community, gathered in Volunteer Park on Saturday to commemorate Antonio Zambrano-Montes, an unarmed Mexican national, who was killed by police officers on Tuesday.
Speakers from local and state levels, as well as clergy addressed the crowd, reminding it of the importance of maintaining peace – and the rally confined to Ferguson-styled placards and mottos, like"It's protect and serve, not obey or die,""Use your training not your guns" or even "We are all Antonio."
We have not yet had the time to cry. We are angry, we are very angry but we also know that getting angry and violent is wrong," Sandra Barragan, a cousin of the Zambrano-Montes, whose death is now being compared to those of Michael Brown in Ferguson and Eric Garner in New York last year, told the Guardian. "Everyone said [the police action] was not right, there could have been a different method. We still can't believe this … we lost a family member."
Antonio Zambrano-Montes was raised in Michoacan, Mexico and lived for about a decade in Pasco, where he worked as an apple picker, with his wife and two teenage children. He died of gunshot wounds to the torso, according to a coroner's report released on Friday.
With the calls "Black lives matter, Hispanic lives matter" and "Hands up, don't shoot", the rally turned into a march, led by the family members of the killed father of two, who chanted "El pueblo unido jamás sera vencido" – "The people united will never be defeated" in Spanish.
The American Civil Liberties Union's director for Washington State, Kathleen Taylor, who was present at the rally, commented "There is a saying that if all you have is a hammer, everything looks like a nail. Use of violent force must not be the only tool that our police officers have. They need the skills and training to enable themselves to respond in different ways."
On Friday, the criminal investigation confirmed that Zambrano-Montes was not carrying a firearm or knife when he was shot dead, but three police officers found his behavior "threatening", as he was throwing rocks at police and cars at a busy intersection. Then, his widow made a decision to sue the city for $25 million – for the police having used excessive and unnecessary force. The death of the orchard worker is the fourth fatal police shooting in Pasco, which is an agricultural city of 68,000 residents, with a Hispanic majority. In all previous cases the officers responsible were cleared by prosecutors.

Republished with permission from Russia Today