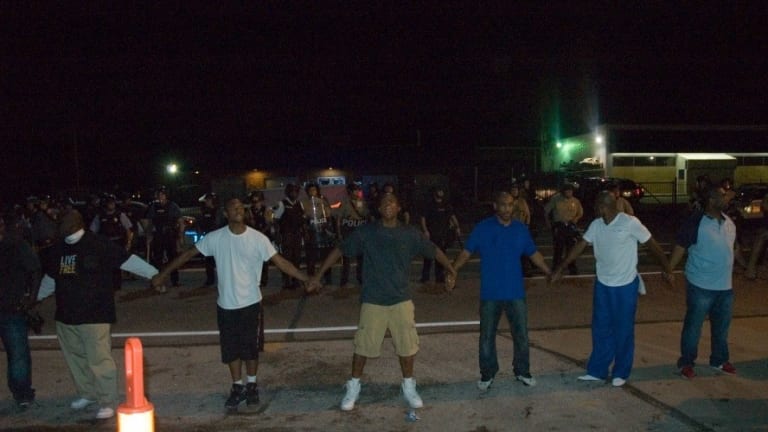 New Low? Ferguson Cops Raid Church
Police raid church that acted as medical station for protesters, make 47 new arrests overnight
Nadia Prupis, staff writer | CommonDreams.org

Protests in Ferguson, Missouri continued throughout Tuesday night, marking the 11th continuous day of demonstrations for justice for Michael Brown, the unarmed black teenager who was shot to death by Officer Darren Wilson on August 9th.
According to reports on Twitter, police on Wednesday afternoon raided the local St. Marks Church, which had become a refuge and medical aid station for protesters who had been injured by tear gas.
Police made an additional 47 arrests overnight as Captain Ron Johnson of the Missouri Highway Patrol claimed that "criminals and agitators" had threatened officers, althoughreports from the ground said that the majority of protesters were subdued and unarmed.
Peacekeepers and community activists at one point formed a blockade between police and protesters to help maintain order. In a few tense hours early Wednesday morning, police used pepper spray to make arrests and break up demonstrations.
Altogether, approximately 170 people have been arrested in the 11 days of protests against police brutality.
The majority of the demonstrations throughout the night continued with relative calm, as police were able to refrain from using tear gas and smoke bombs against residents and protesters.
Chants filtered in and out of demonstrations, captured by tweets and livestreams: "What's his name? Mike Brown!" and "We young! We strong! We marching all night long!" could be heard at various times.
Some well-known activists who joined the protest on Tuesday, including rapper Talib Kweli and organizers from the Fellowship of Reconciliation, reported being harassed by police:
I saw them raising their batons and getting in formation... police came at us like charging bulls, weapons drawn, screaming, causing mass confusion "leave the area now!" "Don't move!"At the moment Jessica Talib and I grabbed hands and ran. As we were running the police came from all directions and locked us down. The threats, their eyes, postures, weaponry says it all, we have the power, we don't care how many cameras there are we will never have to be held accountable. This is one of account of a small group of us.
The protests were partially fueled by the shooting death of a 23-year-old man earlier that day. Two St. Louis County police officers opened fire on him after he allegedly brandished a knife at police, acted "erratically" and told the officers to kill him. It was the second incident of police killing a man in the St. Louis area in less than two weeks.
Attorney General Eric Holder arrived in Ferguson on Wednesday afternoon to meet with community officials as the federal investigation into Brown's death continued.
"This is my pledge to the people of Ferguson: Our investigation into this matter will be full, it will be fair, and it will be independent," Holder wrote in an open letter published by theSt. Louis Post-Dispatch. "And beyond the investigation itself, we will work with the police, civil rights leaders, and members of the public to ensure that this tragedy can give rise to new understanding — and robust action — aimed at bridging persistent gaps between law enforcement officials and the communities we serve."
A grand jury also convened on Wednesday to hear case evidence.
The federal investigation was prompted after Ferguson police officials' response to the case—which included withholding information about Wilson for almost a week and initiating a posthumous smear campaign against Brown by claiming that he was a robbery suspect at the time of his death—destroyed public trust in the department. To ensure a truthful investigation, three separate autopsies by three separate agencies were performed on Brown, including one by a private medical examiner hired by his family.
Brown was killed when Officer Darren Wilson, who is white, fired at him at least six times, including one fatal shot to the head. Forensic evidence indicated that Brown was in a position of surrender when Wilson killed him.
Wilson has not been charged or arrested.
This article was originally published on CommonDreams.org, Ferguson Police Raid Church, Continue Arrests. It has been republished with their permission.