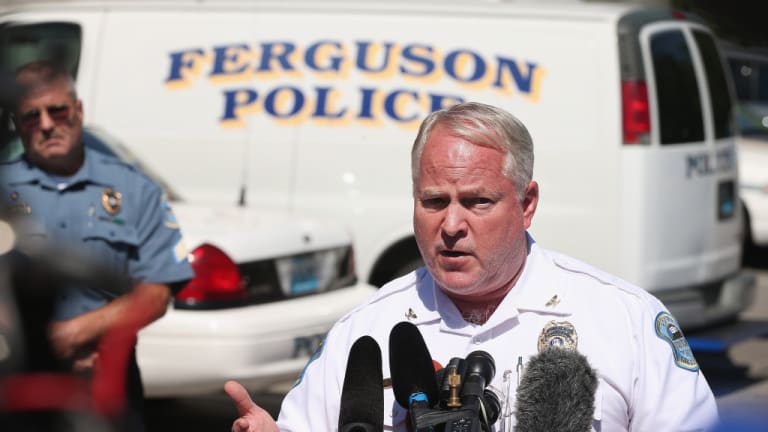 Ferguson Police FAIL: Attempt to Smear Michael Brown Exposed
Ferguson, Mo.- As the National Guard has been called in, and chaos reigns in Ferguson, it has become crystal clear that the alleged theft of cigars from a local market had absolutely nothing to do with the murder of Michael Brown.
According to Daily KOS, the attorney for the Ferguson Market, Jake Kanzler, has gone on record claiming that no one affiliated with the store called police regarding the incident, not the owner, nor any of the stores employees.
In addition the market's attorney has stated that the police in St. Louis County didn't issue warrants for the hard drive of the surveillance video until Friday, meaning that police hadn't even seen the video of the alleged theft until after Michael Brown had already been gunned down in the street.
This raises serious questions about the reasoning behind the release of the theft video by Ferguson Police Chief Thomas Jackson.
In essence, the Chief Jackson released the video in an attempt to divert attention away from Officer Darren Wilson and his heinous actions, and shift the blame onto the murder victim Michael Brown.
Chief Jackson, when releasing the video, was fully aware that when Officer Darren Wilson murdered the unarmed teenager, Wilson had no knowledge of Browns involvement of the incident at the market.
In a strategic, and extremely disgraceful public relations move, Chief Jackson was actually attempting to provide justification for the unprovoked shooting of the unarmed teenager.
According to Kanzler, "Whatever the police are looking for on the surveillance tape, had nothing to do with what went on in the street."
Another highly questionable move by police were the images they released from the alleged robbery. The images showed Brown having an alleged altercation with the store clerk. However, when watching the entire video it shows Michael Brown at the register, and there is an apparent exchange of cash.
Whatever confrontation happened after Brown left the register, wasn't serious enough for the store owner or clerk to call the police, yet police tried to use this incident, after the fact, to justify killing him.
Jay Syrmopoulos is an investigative journalist, freethinker, researcher, and ardent opponent of authoritarianism. He is currently a graduate student at University of Denver pursuing a masters in Global Affairs. Jay's work has previously been published on BenSwann.com and WeAreChange.org. You can follow him on Twitter @sirmetropolis and on Facebook at Sir Metropolis.