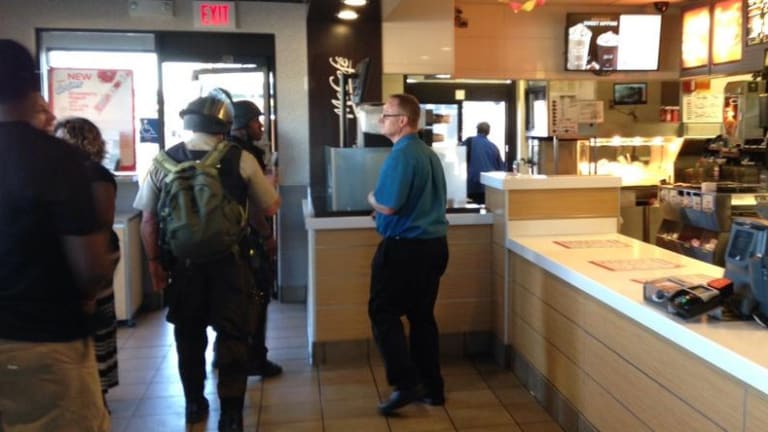 Ferguson: SWAT Team Raids McDonald's Arrests Two MSM Journalists Who Were Eating Inside
Wesley Lowery of The Washington Post and Ryan Reilly of Huffington Post were getting some food and working in a McDonalds in Ferguson.
They are covering the protests surrounding the street execution of Mike Brown last week, when a SWAT team burst in on Wednesday evening.
After sending out these two tweets, both journalists went dark for about an hour and a half-
The two men were reportedly assaulted. Lowery said that he was thrown into a soda fountain for simply asking which door to exit through. Reilly had his head slammed into a glass door, for filming the police and not leaving the McDonalds (where they were customers) fast enough.
When the Huffington Post called to find the status of Reilly's arrest, they were hung up on three times. https://soundcloud.com/the-huffington-post/ferguson-pd-hangs-up-over-huffpost-arrest

"They essentially acted as a military force. It was incredible," Reilly tells the Huffington Post. "The worst part was he slammed my head against the glass purposefully on the way out of McDonald's and then sarcastically apologized for it." Just before they were taken away, Lowery tweeted some disturbing observations about a man in police custody.

The man's fate is still unknown. The two men were eventually released without charges.

If the police are treating journalists like this, just imagine how the residents of Ferguson are being treated.