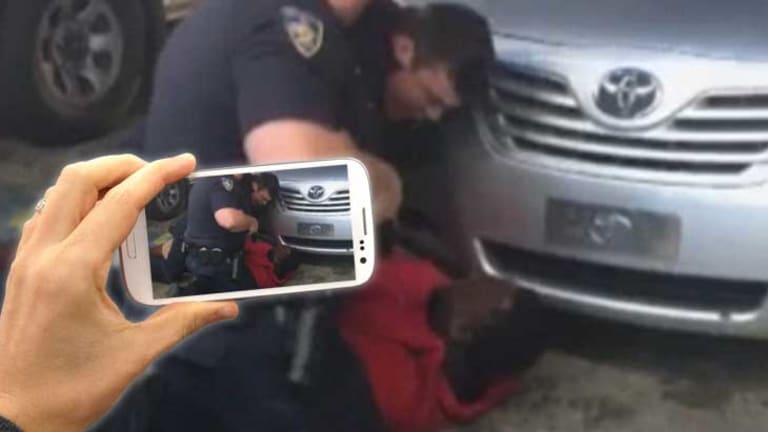 Police Retaliate, Arrest Man Who Posted Video of Cops Killing Alton Sterling -- the Next Day
After he filmed cops kill Alton Sterling, this man predicted that police were going to retaliate against him -- he was right.
In what appears to be an act of retaliation, the man who helped make viral video footage of the shooting death by police of Alton Sterling in Baton Rouge was arrested just 24 hours later for what appear to be fabricated charges.
Sterling's killing by police — and a second fatal shooting less than 24 hours later, in which Diamond Sterling filmed the aftermath of an officer's five shots into Philando Castile as he retrieved his ID — sparked the murders of five police officers in Dallas, as well as ongoing protests around the country.
Chris LeDay, who filmed Sterling's killing, found himself in handcuffs and leg shackles after police accused him of assault and battery — but was jailed overnight for unpaid traffic fines, Photography Is Not A Crime's Carlos Miller reported.
LeDay believes the suspiciously-timed, trumped up charges were an act of retaliation by police.
Though the Baton Rouge Police shooting of Sterling had escaped the national spotlight, once LeDay posted footage to Facebook, it quickly spread across social media platforms igniting national controversy in a week already fraught with tension.
According to Miller, LeDay hoped the shocking video would reach as wide an audience as possible — even tagging a local media outlet to help ensure its publicity. Less than an hour after posting, Black Lives Matter activist and New York Daily News journalist, Shaun King, uploaded LeDay's video to his Facebook page, and its traction exponentially increased.
Along with the video, LeDay wrote:
"Last night in Baton Rouge, La another black man killed in cold blood by the cops. Allegedly their body cameras just so happened to 'fall off.' So we're going to sit this right here and repost it a zillion times to try to have at least a small minute chance of getting justice for this deceased man Alton Sterling and the Sterling family! I'm sick of it!!!! [tagged] WAFB Channel 9."
Though LeDay calls Georgia home now, he was born and raised in Baton Rouge — and heard about the police shooting of Sterling through friends, Miller reported. With over 13,000 Instagram followers, over 6,000 Twitter fans, and some 2,000 Facebook friends, LeDay felt certain his post would generate a sizable circulation.
"I wanted everybody to see this video," LeDay told PINAC in a phone interview. "I wanted it to go viral. The police were already saying their body cams fell off and I wanted to show there was video of the shooting."
Following his post just before 8:30 pm Tuesday, the video had gained international attention by Wednesday afternoon.
But that evening, LeDay ran into trouble when he showed up for work as an aerospace ground technician at Dobbins Air Reserve Base in Marietta, Georgia, and wasn't allowed to pass through the usual security checkpoint.
No less than ten military police — some, according to PINAC, carrying M-16s — surrounded the man to prevent his escape. Fearing for his life, LeDay chose not to film the encounter — but did manage to alert friends through a hasty post to Facebook, which chillingly read:
"I just made it to my job on base and I'm being detained. They said I fit the description of someone and won't tell me anything else. If anything happens I did not resist! Please be aware!"
While handcuffed in a back room, the MPs told LeDay a warrant for his arrest on allegations of assault and battery had been issued by Dunwoody Police.
But once an officer arrived to transport him to the local jail, LeDay said the warrant didn't mention anything about an assault.
"It was just over some traffic tickets from a couple of years ago. They said my license was suspended," he explained to PINAC, admitting he hadn't paid the fines but no longer drives. "At the time, I couldn't afford it, then I was just being stubborn about it.
"But I take Uber to work anyway. Even one of the cops on base said he sees me getting dropped off for work."
Having to be escorted by Dunwoody Police off the base in cuffs and shackles "was embarrassing. This happening in 2016."
Even that degradation appears retaliatory in nature, as the officer told LeDay the excessive restraints were "for his safety."
After 26 hours behind bars in the DeKalb County Jail, LeDay forked over the $1,231 in outstanding fines to stave off a week as 'guest' of the State, since the judge wouldn't have been available until the following Wednesday.
Though his supervisors weren't concerned about the arrest once he explained the true nature of the warrant, LeDay remains convinced someone had been attempting to get him fired.
If that theory is correct, the mission didn't succeed on any level — LeDay asserted he will continue to speak out about police brutality and will film the police without hesitation.
"We need to diffuse what the cops are doing," he told PINAC. "They want to say that not all cops are bad but they are not speaking out about the bad cops.
"It just keeps getting worse and people are getting tired of it. I just want some change to occur."
Though filming police is not a crime provided you do not interfere and maintain a safe distance from whatever is occurring, those who do film — and, apparently, those who post such video to social media — have faced backlash from authorities before.
When NYPD choked the life from Eric Garner over his selling loose cigarettes, it was citizen videographer Ramsey Orta — not the officer who killed Garner — who wound up behind bars and subsequently targeted by cops. On Wednesday, in fact, Orta agreed to a plea deal on various weapons and drugs charges — and will spend the next four years of his life behind bars.
Massive protest reminiscent of the summer of 2014, following the fatal shooting of Mike Brown by police in Ferguson, Missouri, continue across the U.S. amid calls to end indiscriminate violence and killing by police — as well as the murders and targeting of police, themselves.