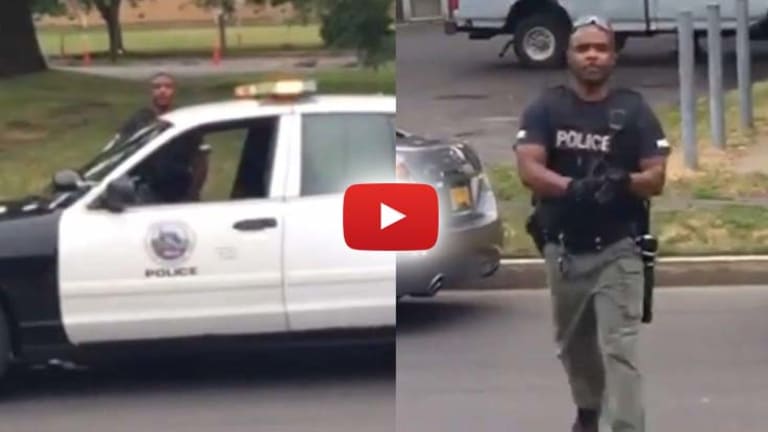 'I'm Gonna F**k You Up!' -- Innocent Man Live Streams His Assault and Arrest for Filming Cops
For legally filming the police from across the street, a 52-year-old man was assaulted and thrown in jail by tyrant cops on a mission to violate rights.
Syracuse, NY -- Maurice Crawley, 52, was live streaming on his Facebook page Thursday when he was attacked and arrested by jackboot thugs for practicing his First Amendment right.
Crawley had not committed a crime and had harmed no one when two officers from the Syracuse police department went out of their way to cross the street, assault and kidnap him.
The incident happened Thursday as Crawley was out on the streets holding police officers accountable by filming them. As Crawley is filming two officers arrest a motorist, he says, "see what's going on with these boys, make sure they're doing everything they're supposed to be doing."
Crawley then zooms in. "Look at the Uncle Tom," he said. "Yeah, Uncle Tom. Mmmhmm."
As he zooms out, Crawley films one officer frisking the woman when he is threatened by the other officer.
"Hey! Say one word, your ass is going to jail, just so you know."
Crawley replied, "I didn't hear you. Say it again, officer. I'm sorry, I didn't hear you."
Asking the officer to repeat himself apparently flipped a switch inside this cop and he went into rampage mode.
"Don't fucking move, you understand me? Don't you fuckin move. I'm gonna fuck you up!"
Since Crawley live-streamed the video, police were unable to delete it. It was then posted to the Black Lives Matter Syracuse Facebook page where it quickly went viral.
A peaceful protest formed on Friday as a result of the video.
According to Syracuse.com, Crawley is an outspoken anti-violence advocate in the community.
Herve Comeau, a spokesman for the Onondaga County Justice Center, helped to organize the peaceful protest.
"Though the city, the mayor and the police chief have suggested that hiring black police officers would solve the problem, it would not," Comeau said.
Comeau then went on to note how the color of the officer's skin is irrelevant as long as they can hide behind the badge. "The problem is police culture," he said. "The problem is the lack of accountability. The problem is that violent police officers can do violence against black bodies without consequence."
The report from Syracuse.comgives the official reason for the arrest in addition to the charges. It's quite compelling:
City Court Judge Mary Anne Doherty read from the charges filed against [Maurice] Crawley. According to the criminal complaint, Crowley stood across the street during a police drug investigation. Crawley used his hands to make a "circle motion" and made "tornado comments" while officers conducted a search, Doherty said.

Crawley's actions presented a dangerous situation and interfered with the investigation, the complaint said.

Doherty said Crowley is charged with resisting arrest for refusing to put his hands behind his back or over his head when an officer attempted to handcuff him. When an officer grabbed his elbow he "tensed up" and was then tackled to the ground.
Below is a perfect example of why there is a growing divide between the police and the policed. Until cops start protecting American's rights instead of violating them, this divide will continue to expand.
If you watch the video below and attempt to dismiss it by claiming it is an isolated incident, think again. Click here to see case after case of police officers arresting people for legally filming.
[author title="" image="https://tftpstagingstg.wpengine.com/wp-content/uploads/2016/03/magorist-e1456948757204.jpg"]Matt Agorist is an honorably discharged veteran of the USMC and former intelligence operator directly tasked by the NSA. This prior experience gives him unique insight into the world of government corruption and the American police state. Agorist has been an independent journalist for over a decade and has been featured on mainstream networks around the world. Follow @MattAgorist[/author]