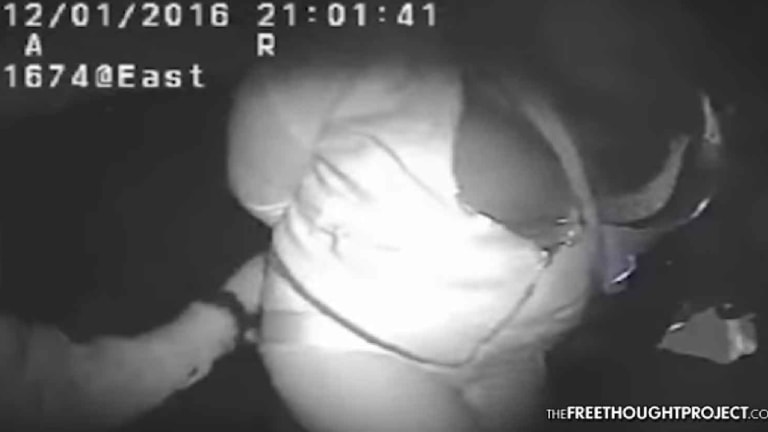 'F**king B**ch!' Cop Punches Handcuffed 14yo Girl on Video, TWICE -- Not Guilty
A Minnesota cop was caught punching a handcuffed girl in the face twice and somehow, his defense convinced a jury to acquit.
St. Paul, MN — The power of pro-police propaganda is so vast that it can convince a jury to dismiss an officer's own admission, police reports, witness testimony, and even video evidence of an assault. The most recent case of an abusive officer being found not guilty by a jury comes out of Ramsey County in which jurors acquitted an officer who was seen on video punching a handcuffed child — repeatedly — in the face.
Thanks to the American worship of the police state, Officer Michael Soucheray II will not be held accountable for the charges of misdemeanor assault following an incident in December of last year.
As the Free Thought Project reported in January, Soucheray was placed on administrative duty after punching the 14-year-old girl for allegedly spitting on him. The 14-year-old was at the East Side shelter for girls when police responded to a call of a suicidal girl.
According to the criminal complaint, officers were trying to take the girl to a hospital because she was reportedly suicidal, but she refused to go and became agitated, screaming and at one point going limp.
Because the girl, who was clearly in the midst of a psychological crisis, refused to get into an ambulance, police force was escalated.
When Soucheray told the girl that police would be taking her, the girl said she was not going and officers handcuffed her. They escorted her to a squad car, and the teen was screaming and crying, according to the complaint.
The girl then spat into Soucheray's face, and instead of maintaining his composure, knowingly dealing with a traumatized girl in a diminished mental state, this cop grabbed her by the neck and punched her in the face — twice.
In spite of the acquittal, the St. Paul Police department continues to chastise the officer for his choice to punch the girl — but has yet to fire him.
"I am deeply disappointed by what the video shows. The officer's actions do not in any way, shape or form reflect, or align with, our values, expectations or mission," Saint Paul Police Chief Todd Axtell said in a statement Thursday after the dashcam video was released.
How can a cop, cast out by his fellow cops, beat a child on video, and get off scot free? Well, you just have to do a little lying.
In spite of the fact that Soucheray wrote in his own report that he hit the girl — and in spite of him being heard losing his temper and yelling while hitting her on video — his attorney, Peter Wold managed to convince the jury that he really didn't hit her at all.
He used a 'diversion technique,' said Wold.
"The optics of it, the story of it, if you look at it superficially, alarming. I mean, this is a big strong guy with a handcuffed thirteen-year-old stressed child. And it looks like he was swinging at her face. But that was without the context of what was going on, and I'm confident the jury saw the context and did exactly the right thing," Wold said.
To be clear, this girl had done nothing wrong other than express suicidal tendencies. Only when a police officer was brought in, however, was she actually harmed. And now, the cop who did this to her will face no consequences.
He's also been on paid vacation this entire time as well, which means that because he was acquitted, he will most likely go back to work as a St. Paul cop.
If a citizen punched a 14-year-old girl in the face on video — twice — do you think they could use the same excuse, "it was a diversion technique," and walk?
Below is the full video of the arrest.