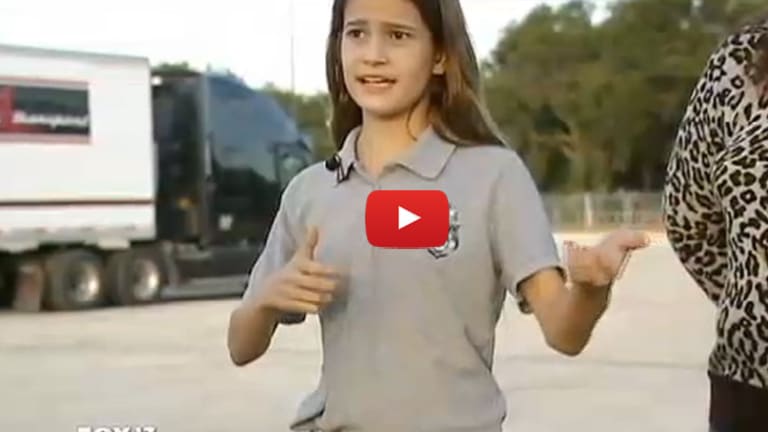 Florida School Children Terrorized by Cops for "Their Own Safety"
Officialdom says unannounced active shooter drill no different than fire drill
Students at a middle school in Winter Haven, Florida feared for their lives last week when police burst into the school with weapons drawn.
KURT NIMMO | INFOWARS.COM
"We actually thought that someone was going to come in there and kill us," Lauren Marionneaux, a seventh grade student at Jewett Middle Academy, told Fox 13.
Prior to the incident, the school had announced a lockdown. After students were sufficiently terrorized by gun-wielding cops, the school sent out an email to parents announcing a "lockdown active shooter drill."
According to Fox News in Tampa:
Jason Geary, a spokesperson for Polk County Schools said it's standard procedure for these types of drills to take place without advanced warning to parents, students or teachers. Winter Haven Police Chief Charlie Bird said police are able to evaluate a school's response.
In other words, evaluate the sheer terror of children:
"I'm panicking because I'm thinking that it's a legitimate shooter is coming, that something bad is happening at the school," said [the mother of Lauren Marionneaux], who also received frightened text messages from her other children, including one that read, "I thought he was going to shoot me."
After parents complained, the school issued a statement defending its action. It compared cops with weapons bursting into classrooms of frightened children to a fire drill.
"We continually evaluate and improve our safety procedures. Drills are an important component of our preparedness… We regret any concern that parents and students might have experienced in how the drill was conducted," the statement said.
Terrorism is part of an effort to "educate" students and teachers, according to Winter Haven Police ChiefCharlie Bird.
"These types of drills are vital in order to evaluate not only law enforcement response, but more importantly to educate the students and school officials in case an actual event were to occur," he said in an email sent to local media.
Bird added that inducing fear in children is part of an effort to protect them "and at no point in time would we endanger any of the children."
He did not address the psychological trauma suffered by the children who believed they would be killed.
In reaction to complaints by parents and negative publicity, Winter Haven police said they have "evaluated procedures" for drills and will make a change.
"Further lock-down drills that occur at schools within the city limits of Winter Haven will be performed by uniformed officers without weapons," the department said in a press release.