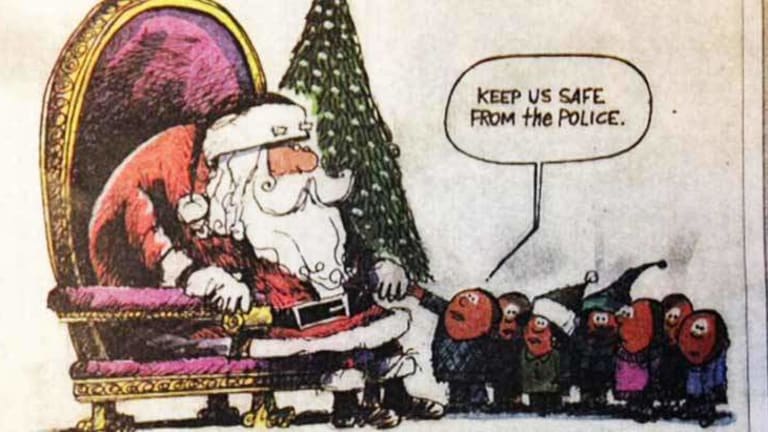 Police Union Throws Tantrum, Demands Apology Over Satirical, Yet Plausible Newspaper Comic
"There is a special place in hell for you miserable parasites in the media who seek to exploit violence and hatred in order to sell advertisements."
Bucks County, Pennsylvania - After decades of police abuse in America, people are finally beginning to speak out and question the institution that has until recently, enjoyed immunity from nearly all public criticism.
Now that the police have become somewhat unpopular because people are more aware of what they have been doing, they are acting like the victims and attacking anyone who decides to call attention to their crimes.
For example, police in the Philadelphia area were recently outraged by an editorial cartoon that appeared in a Bucks County newspaper, where a group of children were depicted asking Santa Clause to protect them from the police.
In response, Philadelphia FOP Lodge 5 president John McNesby wrote a vitriolic letter to the Bucks County Courier Times demanding an apology for the cartoon.
McNesby said in the letter that:
"Surprisingly, you have at least one reader of that excuse for a newspaper you run. The one reader forwarded a copy of your disgraceful and highly offensive 'cartoon.' There is a special place in hell for you miserable parasites in the media who seek to exploit violence and hatred in order to sell advertisements. Rest assured that this letter will be distributed to as many residents and businesses in Bucks County as we are able to reach. Here's wishing you a bankrupt New Year."
Sadly, the paper capitulated to the officers demands and issued and apology that read:
 "To our readers, our Editorial Page is a forum for opinions, even controversial ones. Letters, cartoons and guest opinions do not necessarily reflect the opinions of our editorial board, rather that of the author or artist. Those who subscribe to this newspaper understand our commitment to the community and our steadfast support for law enforcement and those who work very hard to make Bucks County a better place to live."
Now that police departments are getting some well deserved bad publicity, they are having a difficult time understanding the concept of free speech.
On a daily basis police go on social media pages and publicly post violent, hateful and many times racist rants, and more times than not, those officers are able to keep their jobs. However, when an athlete or celebrity or artist wants to make a public statement about police misconduct, they are accused of inciting violence.
The Free Thought Project team will actually be visiting Bucks County Pennsylvania this April, for the alternative media panel at the Free Your Mind Conference. Something tells me FOP Lodge 5 president John McNesby won't be in attendance.
John Vibes is an author, researcher and investigative journalist who takes a special interest in the counter culture and the drug war. In addition to his writing and activist work he is also the owner of a successful music promotion company. In 2013, he became one of the organizers of the Free Your Mind Conference, which features top caliber speakers and whistle-blowers from all over the world. You can contact him and stay connected to his work at his Facebook page. You can find his 65 chapter Book entitled "Alchemy of the Timeless Renaissance" at bookpatch.com.