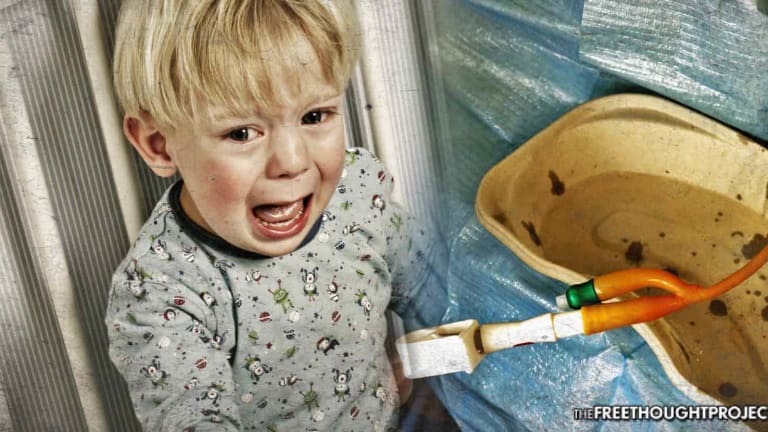 Hooded, Handcuffed, 'Violated': Cops Forcibly Catheterize 3yo Boy, Man for Drug Urinalysis
In the war on drugs, police are employing forced catheterization, a technique suitable for Nazi Germany — and they're torturing children too.
Pierre, SD — In all the years the Free Thought Project has been reporting on police misconduct and government corruption, we've seen some vile, horrific, and nightmarish acts committed by those sworn to protect. However, a recent case getting exposed by the ACLU of South Dakota may be one of the most insanely cruel and horrifying acts committed by police in the name of the drug war — and they're doing it to children too.
Forced catheterization.
To find out if a person has traces of an arbitrary substance deemed illegal by the state, cops are torturing adults and children alike.
Dirk Sparks recalls that horrid night that it happened to him. "It was degrading," Sparks said. "I was angry. I felt like my civil rights were being violated."
The nightmare began when police responded to an incident, in which Sparks had done nothing wrong, at his home. However, one officer said he saw Sparks being "fidgety," so police claimed the right to test his urine.
Because Sparks refused to pee in a cup for cops, they arrested him and brought him to the hospital.
"I didn't actually think they were going to go through with it," Sparks said of the event which left him in pain for weeks and an emotional toll which is still there today. "Even when we went to the hospital, I thought it was a threat."
But cops followed through with their threat.
Once in the hospital room, four police officers held Sparks down while they placed a hood over his head. He was then chained to a bed with his pants around his ankles while a nurse at Avera St. Mary's Hospital in Pierre forcefully inserted a pencil-sized tube into Sparks' urethra to extract his urine involuntarily.
Sparks recalls that through the mesh hood, he could see a fifth officer filming the sadistic torturous practice.
In Sparks' case, according to the Argus Leader, the doctor who oversaw the procedure, Peter Maningas, is also a reserve officer for the Pierre Police Department and is a member of the department's SWAT team, according to court records. Maningas could not be reached for comment this week.
Because police had stolen his urine, Sparks pleaded no contest to possession of marijuana and ingestion of a controlled substance and was released from jail on time served with a suspended sentence.
Sparks told the Argus Leader that the pain lasted for weeks and every time he tried to go to the bathroom he was reminded of that torturous event. The kidnapping and forced catheterization were so traumatic for Sparks that he moved away because he now fears the Pierre police.
According to the Argus Leader, the Pierre Police Department would not answer questions, and state court officials said they have no way of tracking how often catheters are used on suspects. After Argus Leader Media reported on the practice last summer, multiple people contacted the news organization to say police had threatened or put them through the practice.
But it's not just adults these sadistic cops torture either — it's their children.
Kristen Hunter's boyfriend was on probation when he failed a routine urinalysis. So, multiple cops showed up at her house, along with a Department of Social Services employee and demanded her and her kids produce urine to see if they too had drugs in their system. Hunter's children were 3 and 5-years-old at the time.
Police told Hunter that if her kids couldn't pee on demand that they would be taken from her. Luckily, Hunter and her 5-year-old daughter were able to produce a sample. However, the young boy, who wasn't potty trained yet, was unable to go.
Police and social workers then held down the child and sexually assaulted him via forced catheterization.
"They just shoved it right up there, and he screamed so bad," Hunter said.
Because these sadistic cops and social worker were apparently filthy at the time, the poor young toddler contracted a staph infection from the process. "He's still dealing with a staph infection, and we are still giving him medication," said Hunter.
"Quite frankly, it's cruel and barbaric to forcibly catheterize anyone, let alone a 3-year-old child, and this process raises serious constitutional concerns," said Heather Smith, executive director of the ACLU of South Dakota.
According to the Argus Leader, the ACLU reviewed Hunter's case and wrote a letter to the Department of Social Services condemning the incident. Smith said the state subjected a vulnerable child to trauma and injury to gather information to charge his parents. Her letter asked the department to stop catheterizing children and provide an explanation why procedure was permitted.
"The process runs afoul of the Fourth Amendment's protection against unlawful search and seizure where there are other, less intrusive means available to gather the information," Smith said.
Jason Riis, 34, also of Pierre, was subjected to similar treatment after being arrested for suspicion of a DUI. Riis refused a urinalysis citing lack of probable cause so cops threw him in jail.
"They put me in a holding cell for 15 minutes and kept asking me if I wanted to take a voluntary pee test," Riis said in an interview. "I told them 'no' because they didn't have probable cause."
The next day, cops came back with a warrant for Riis' urine. By this time, however, Riis said he was ready to just get it over with and pee in a cup. But cops didn't care, they told him it was now too late and apparently wanted to torture him to get his urine out.
"One cop held my penis, and a doctor shoved a catheter in me," Riis said. "It hurt for a week. I couldn't pee."
Police found trace amounts of substances deemed illegal by the state and used this as justification for Riis' torture and charges.
Riis told the Argus Leader that he recalled telling his mother about what happened. They both held each other and cried, he said.
Force catheterizing adults and children is the work of sick tyrants and has no place in the ostensible land of the free. Hitler, the Stasi, and their depraved scientists would be proud.