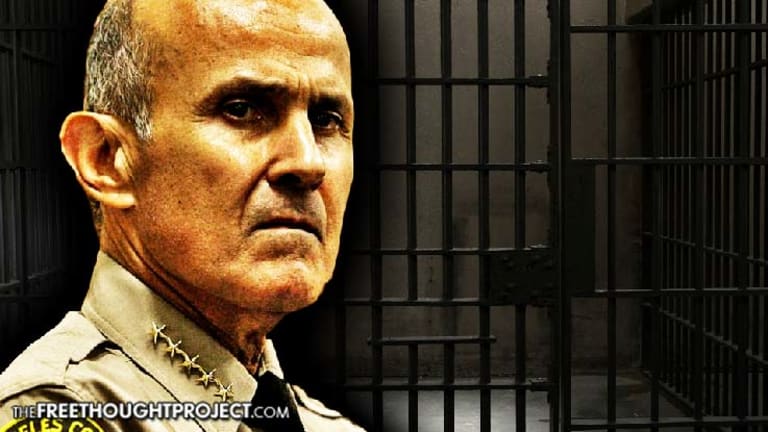 National Sheriff of the Year CONVICTED in Massive Conspiracy — Facing 20 Years
The former sheriff of one of the nation's largest departments is headed to prison, convicted for his role in a civil and human rights conspiracy.
Los Angeles, CA — It's often been said (so much so it's now become cliche') there are only a few bad apples in the police force. Well, if that's true, this next story serves to illustrate the entire apple tree is corrupt. Los Angeles county is the most populated county in the U.S., with over 10,000,000 citizens calling LA their home. And on Wednesday, their former sheriff was found guilty of three different felonies for his role in a corruption cover-up.
According to the LA Daily News, "Once the head of the largest law enforcement agency of its kind in the nation, former Los Angeles County Sheriff Lee Baca was found guilty by a federal jury Wednesday of obstruction of justice, conspiracy to obstruct justice and giving false statements in connection with an investigation into corruption and excessive use of force inside the Men's Central Jail."
The 74-year-old former sheriff was convicted by a jury consisting of eight men and four women, after two weeks of testimony and evidence presented. Baca may spend the next 20 years of his life behind bars, and at age 74, it's likely he'll never see daylight outside of prison.
The former sheriff was charged and found guilty for his role in obstructing justice. In 2011, the FBI was investigating reports of inmate abuse and cover-ups within the LA County Jail known as the "Men's Central Jail."
As the Daily reported, "prosecutors set out to prove that Baca led efforts to thwart the investigation by hiding an inmate-turned-informant named Anthony Brown within the jail system, so the FBI could no longer interview him." Yes. You read that right. He was accused and found guilty of taking a whistleblower, a jailhouse snitch, and moving him around the numerous city detention facilities so the FBI could not interview him. The Daily also reported prosecutors accused the former sheriff of allowing, "two sheriff's sergeants to threaten the lead FBI agent with arrest in front of her home," the same FBI agent who was attempting to interview Mr. Brown.
Baca's guilty verdict, possibly the highest-profile conviction of its kind, may stand as evidence in a larger trial going on in the court of public opinion as to whether or not the United States has a systemic problem of corruption. After all, LA is the nation's most populated county, and what happens in LA, may be happening throughout the country.
We, at The Free Thought Project, harp on police abuses, the planting of evidence, and subsequent cover-ups all the time. Not even we could have predicted our concerns would be validated by the arrest, trial, and conviction of the former sheriff of the nation's largest police force. But it proves our point. We have a problem in this country we feel will only be solved with higher levels of accountability and transparency being put in place, and true penalties being implemented against officers found guilty of such crimes.
Baca makes the 10th person convicted in the abuse and cover-up investigation which has now endured for nearly six years. And while the national stage is still shaken from FBI director James Comey's decision not to indict former Secretary of State Hillary Clinton for her mishandling of classified information, the case also serves to prove the FBI still has the tenacity it takes to root out corruption and bring criminals to trial.
Jones has told the press he has no regrets for his decision to become an informant for the FBI. The convicted armed robber, who'll never get out of jail (still serving over 400 years in prison), was asked to snitch on the abuses taking place at the Men's jail.
"The episode was life-changing for Brown. His cover as an informant was blown in August of 2011 when jail guards found Brown's contraband cellphone stashed in a bag of Dorito's during a routine search," writes ABC News 7.
The phone was a given to Jones by the FBI, who were also on speed dial, in the event he was able to gather any leads in jailer abuses against inmates. "Brown's phone calls from jail were traced by LASD investigators to a civil rights squad of the FBI - a squad that investigates potential corruption in local law enforcement," according to the report. And the scandal could have stopped there, but LAPD decided they'd obstruct justice and attempt to prevent the FBI from making contact with Jones. "Soon after, Brown's name was changed in the LASD computer system, he was moved repeatedly, and discouraged from further cooperating with the FBI," writes the LA news affiliate.
Jones told Eyewitness News, "The whole ordeal of assisting the FBI was a living hell...I knew at any time I could be killed -- disappear without a trace -- if the LASD deputies found out I was assisting the FBI by reporting corrupt deputies."
Baca is now facing 20 years in prison, but in 2016 attempted to reach a plea deal, agreeing to serve 6-months in jail. However, U.S. District Court Judge Percy Anderson believed the plea deal to be too lenient and denied it, paving the way for a jury trial. The first jury trial ended in an 11-1 mistrial. Prosecutors took another shot at a conviction, believing they could prove Baca knew about the abuse, cover-up, and the threatening of a federal agent. The plaintiffs won.
Now the former sheriff of one of the nation's largest police forces is headed to prison. And it all could have been prevented if the police had allowed the FBI to do their jobs and root out those bad apples. So much for that theory!