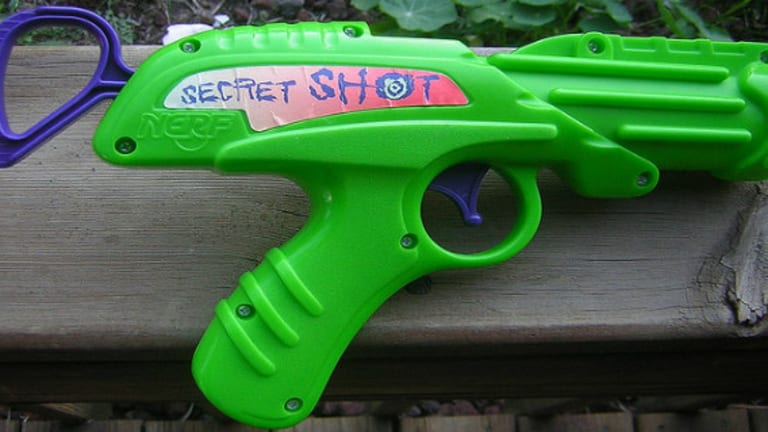 Fourth-Grader Suspended for Bringing Nerf Gun to Show and Tell
"They told me my son brought a weapon to school and they asked me if I was aware"
Mikael Thalen
August 8, 2014
A 9-year-old Georgia boy was suspended this week after bringing a plastic Nerf gun to show and tell.
Ramsey McDonald, a fourth-grade student at Miller Elementary School, brought the item to class after a teacher asked students to present their favorite toys.
"They were trying to get the kids to know each other," McDonald's father, Scott, told 13WMAZ News.
McDonald reportedly told his father about the assignment several days prior, saying he intended to bring in several toys including his IPad.
Thinking nothing of the assignment, Scott was shocked to receive a call the following morning that accused his son of bringing a "weapon" to school.
"They told me my son brought a weapon to school and they asked me if I was aware," Scott said. "I asked them what it was and they said it was a plastic Nerf gun."
Scott, who says he likely would have advised his son against bringing the toy if he'd have known, was even more surprised to learn that his son would be suspended for three days.
"He told me he didn't know they would think it was a weapon or he wouldn't have brought it to school," Scott said.
According to Houston School Superintendent Mark Scott, McDonald's punishment was later "reduced" to a three days in-school suspension.
The superintendent also claimed that school officials "never" viewed the toy as dangerous or weapon-like.
Scott refuted the superintendent's claim, saying a school official told him that the suspension was directly over his son having "something that looked like a weapon."
Scott, who says he never received written notification on his son's suspension, plans to meet with the superintendent to further discuss the school's handling of the situation.
Such absurd incidents have become increasingly common as more and more schools adopt "zero tolerance" policies towards anything remotely related to firearms.
An 11-year-old boy was interrogated and suspended last February after accidentally bringing a plastic toy gun to school. The boy, who had left the plastic gun in his jacket pocket and realized the mistake, was subjected to "intimidation tactics, threats and accusations of lying" after alerting teachers voluntarily.
Incredibly, items that even slightly resemble the shape of a firearm are now deemed dangerous.
Last September, a 9-year-old boy in Detroit was suspended after a teacher accused him ofpretending his spinning top was a gun.
Most famously, a 7-year-old student was suspended last year after allegedly chewing his pop-tart breakfast pastry into the shape of a handgun.
That same year, a 5-year-old girl talking about her "Hello Kitty" Bubble gun was suspended for "terroristic threats" after another student found the discussion offensive.