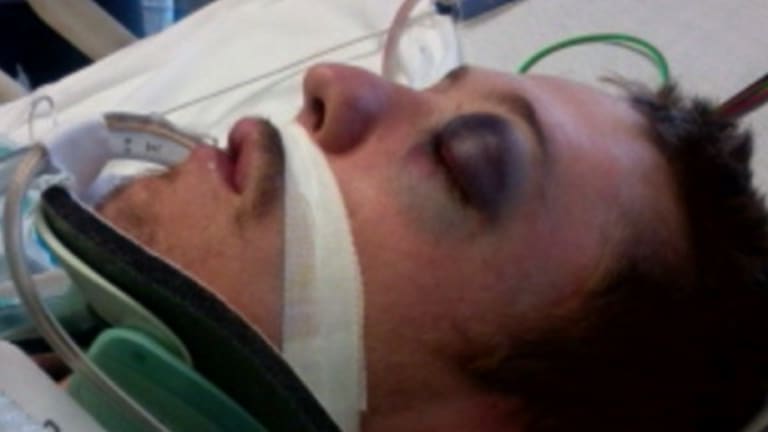 Fracturing a Handcuffed Man's Eye Socket is Fine, Just Don't Use Fowl Language While You Do It
"The average person, they're going to be somewhat disturbed by how hard he's- that Mr. Mitchell is put on the ground"

June 20, 2014

Matt Mitchell was arrested in April for DUI.
When the arresting officer, Sgt. Christopher Dubay, brought him in to the Chillicothe Police station to be booked, he alleged that Mitchell tangled his hand in the cuffs.
Dubay then slams the skinny, drunken man to the ground so hard that it fractured his eye socket and he had to be airlifted to a nearby hospital.
In April, city officials claimed that this use of force was justified but said that an investigation would occur.
Chillicothe's Law Director, Sherri Rutherford explains, "The average person, they're going to be somewhat disturbed by how hard he's- that Mr. Mitchell is put on the ground. But I think that in that circumstance, when you have someone that's fighting with you in a small area, we have to be concerned about officer safety."
Below is the original news coverage of this story.
Wednesday the results of their 'investigation' were released which was conducted by fellow police officers and concluded with a written summary by Police Chief Roger Moore.
"There is simply no evidence of police brutality," wrote Moore in the summary, which is dated June 16. "Mr. Mitchell was a disrespectful, belligerent drunk who endangered himself and others due to his excessive use of alcohol and/or drugs."

Moore wrote Dubay was "provoked by Mr. Mitchell, but remained calm and professional" and said Mitchell's fall was caused by his own actions.

"Ofc. Dubay's hands were caught in the handcuffs and he took immediate action to free himself from that position," the chief wrote. Dubay told investigators he "did not try to hurt Mr. Mitchell and only took him to the ground to control him."

In the conclusion of the report written by Sgt. Tim Gay, it states that "the injury sustained by Mr. Mitchell was the result of Mr. Mitchell actively resisting" and that "Ofc. Dubay did follow the Use of Force policy."
Sure, Mitchell was drunk and belligerent, but in the video he was clearly NOT posing a threat to anyone. The level of force applied by Dubay was completely excessive given the circumstances.
The idea of police investigating themselves as a means of accountability is laughable; as is the promotion of Dubay to Sergeant during the investigation.
The cherry on top of this circus that Chillicothe calls 'justice' is that Dubay was eventually reprimanded for his actions during the arrest, but not the violence force. He was written up because the language he used was inappropriate!
Investigation Summary Chief Moore
Below is the arrest video in its entirety.