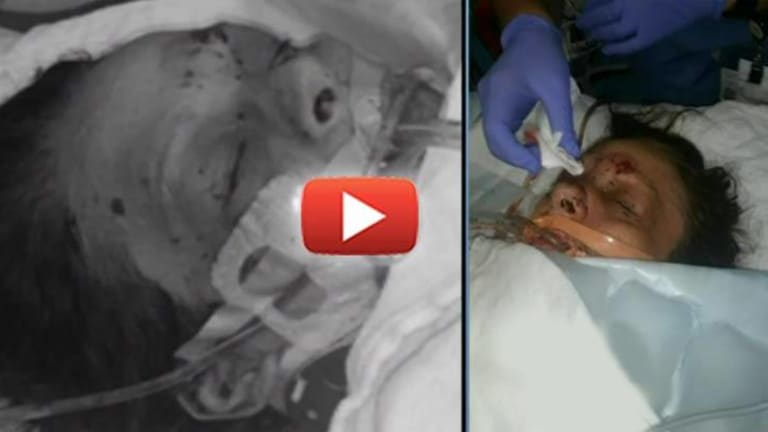 Frail Grandma Left in Critical Condition, Coma, After Cop Body Slammed her During Traffic Stop
A 105-pound grandmother is in a coma after a traffic stop by NJ police. They mayor claims the family is looking for a payday.
Clark, NJ - In what has become an all too common occurrence, a 61-year-old grandmother, Antionette Dilorio, was left in critical condition after being slammed onto the pavement by a police officer during the course of a traffic stop.
Dilorio is in critical condition and is currently in a medically induced coma, with multiple bone fractures and numerous missing teeth from the incident, according to WABC 7.
"All of a sudden he grabbed my mother in law by the arm, lifted her off her feet in mid-air and slammed her on the ground. All you saw was blood pouring out of her face," said the driver's fiance, Crystal Palmieri.
Palmieri was dismayed by the amount of forced used by the officer against such a small elderly woman and said she didn't understand how a traffic stop escalated into this.
The incident, which happened on July 31, began when Fortunato Riga, the victim's son, was pulled over for running a stop sign. Clark police attempted to remove Riga from the vehicle after he refused to get out.
Police claim that Dilorio then jumped on the officer's back as he was attempting to remove Riga from the vehicle, a contention denied by Riga.
"My mom is 61 years old, if she weighs 105 pounds it's a lot," said Riga. "They tried saying my mom jumped on the cop's back. My mom grabbed the cop and said 'why are you going after my son like this?'. He was like, shut up boom and just slammed her, she went face first."
At the time of the incident, the couple's 5-year-old son was also in the car and watched the entire episode take place.
"Now my son is scared of cops and they're supposed to serve and protect us. And all they did was terrify us," said Palmiere.
Of course, the facts haven't stopped the mayor of Clark, Sal Bonaccorso, from backing his officer's actions, while belittling the character of the family that was brutalized, according to NJ.com.
"Quite honestly, I'm disgusted by the whole situation," Bonaccorso said. "I think these people are looking for a pay day. And they're not going to get it in Clark."
Rather than have concern for the lives of the citizens he is alleged to represent, Bonaccorso seems more interested in protecting the financial bottom line of the city.
"The climate right now in this country is anti-cop," Bonaccorso said. "If you get pulled over and they ask for your credentials, just give them the damn information. What is the problem?"
But Riga sees things very differently.
"She was trying to stick up for her son because she knew there was no reason I should have been pulled over," Riga said.
In typical police apologist fashion, Bonaccorso simply took whatever his officer said, as truth, without regard for the actual events that took place.
Mark Spivey, a spokesman for the Union County prosecutor's office, confirmed that the incident is under investigation by the office's special prosecutions unit.
The reality is that the climate in America overall is not "anti-cop," but there has been a growing awareness of the need for police to be held accountable for their actions. Having people like Bonaccorso in positions of power is problematic, as they simply embrace the thin blue line, which serves to further divide the public from those that are tasked with protecting them.
When politicians ignorantly stand behind those that would violently abuse a citizen, without a proper investigation into the events that have transpired, is there any hope of systemic change or true justice being found?
Jay Syrmopoulos is an investigative journalist, free thinker, researcher, and ardent opponent of authoritarianism. He is currently a graduate student at University of Denver pursuing a masters in Global Affairs. Jay's work has been published on BenSwann's Truth in Media, Chris Hedges' truth-out, AlterNet and many other sites. You can follow him on Twitter @sirmetropolis, on Facebook at Sir Metropolis and now on tsu.