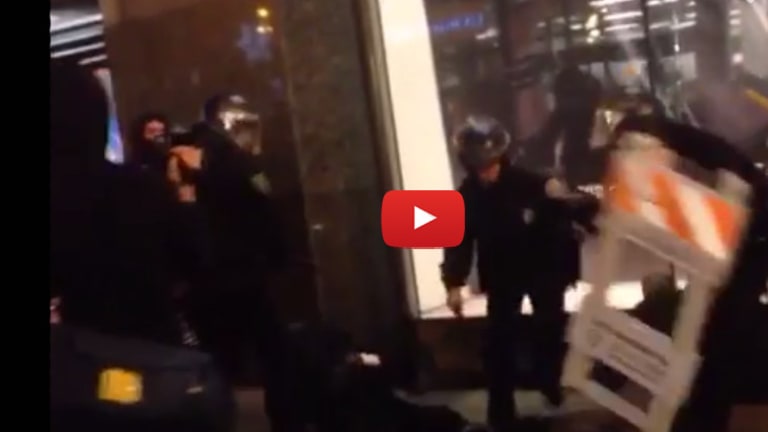 Full Video of Viral Vine of Demonstrators in SF Clashing with Police
San Francisco, CA-- Protests took place all over the nation on Black Friday to stand up for all the families with empty seats at their tables due to police violence this Thanksgiving. People from all walks of life took to the streets, malls, and Walmart's to say there will be no more business as usual until we start seeing justice.
Late Friday evening a vine of police being hit with a barricade and then the officer who reacts falling on their face at the march in San Francisco spread across the internet like wild fire, with over 7,500,000 loops by 3pm the following day.

Tom Goulding has uploading a highlight reel of some of the events from the San Francisco protest, and it is beautiful.
"An anti-Black Friday protest marched through San Francisco on Friday night, leading to a number of arrests and smashed store fronts throughout the Mission District.

The march combined protesters from a wide range of causes, such as anti-police brutality, Ferguson and Ayotzinapa, and begun at Embarcadero at around 5p.m..

The protesters walked peacefully down Market Street, and after police blocked their entrance to One Bush Plaza, there were some minor skirmishes and a few arrests. The march continued towards the Mission District, going peacefully for nearly an hour throughout the Mission.

The police then forcibly split the crowd into separate groups at around 9p.m., and started making a large number of arrests at Valencia and 23rd, the majority of which were of seemingly peaceful protesters. There was then several spates of vandalism of Mission store fronts, mainly of large corporations' windows and doors." Goulding wrote.
Watch it here, get inspired, and join us on December 1st at 10:01am for #HandsUpWalkOut- a national call for people to leave work and school and head to your local PD to continue the fight for justice.