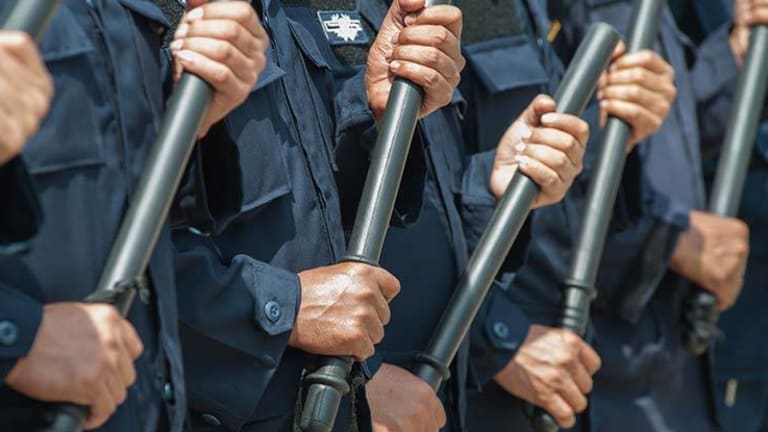 Game Changer -- Instead of Tax Dollars, More Cops Buying Insurance to Fund Their Own Lawsuits
Police officers have cost taxpayers billions in payouts for brutality -- all that is now changing.
In almost every city across the US, tax dollars are used to cover the damages and settlements from lawsuits filed against their police departments due to officer misconduct. Taxpayers, in essence, pay out massive amounts in damages for officers not doing their job properly. Additionally, the cost is compounded because taxpayers are forced to continue paying the salaries of these criminal cops.
City officials don't have the guts to hold officers accountable for their actions. So, a new approach is necessary to hold rogue officers responsible for their conduct.
Just like doctors have to carry malpractice insurance, police officers should be required to carry professional liability insurance as a condition of employment. For years, the Free Thought Project has been advocating this approach to force police accountability and, according to a new report out of Reuters, it's happening.
Between July 2014 and July 2015, the number of police officers who bought the union's liability insurance jumped 15 percent, according to data from the nation's largest police union, the Fraternal Order of Police.
In previous years, liability insurance purchases grew only between one to three percent, said Jim Pasco, executive director of the FOP.
"In an already litigious society, the likelihood of a police officer being sued or charged, often falsely, grows by the day. Officers are increasingly aware of the need to be protected and joining the FOP legal defense plan in growing numbers," said Pasco, whose union sells insurance for $265 a year.
Over the past seven years, taxpayers in Minneapolis alone, have paid out tens of millions of dollars to settle cases stemming from police brutality. In just 2011, $4.7 million taxpayer dollars went to cover the costs of officer misconduct. Many other cities across the US have faced similar losses with seemingly no recourse.
Some cities, such as Minneapolis, self-indemnify for police claims, while others rely on the League of Cities coverage. Most large metropolitan areas don't engage in effective risk management strategies, as it would be a political liability due to the strength of the police lobby and unions. Thus, police are rarely held accountable for their actions.
Requiring police officers to carry professional liability insurance coverage would be an excellent risk management strategy and provide accountability for officers in ways that city administrations cannot or will not provide. While cops increasingly purchase liability insurance, a requirement to carry it to be employable does not yet exist.
As instances of police brutality and police killings continue to be exposed, there is no doubt that the US is in dire need of reform. The simple requirement for police to be insured for personal liability seems like an easy fix -- especially to remove repeat offenders from the force.
All too often, when a tragic death, such as Tamir Rice, occurs, months later, we find out that the officer should have never been given a badge and a gun in the first place because of their past. However, insurance companies, who can't fleece the taxpayers to pay for problem cops, would have to come out of pocket to pay for them, and would make sure that these officers are uninsurable.
If the officer becomes uninsurable, the officer becomes unhirable -- simple as that.
Similarly to how other professionals, such as doctors who are sued too many times become uninsurable, the demands of professional liability insurance will ensure risk reduction takes place. Meaning that if city officials don't hold police accountable for their actions, an insurance company on the hook for massive police misconduct payouts certainly will.
Problem officers would find their rates up until eventually they would become uninsurable, a wonderful way to have problem officers forced out of policing entirely.
"The environment has become increasingly volatile towards law enforcement in general," said Jonathan Adler, a member and past president of the Federal Law Enforcement Officers Association, where insurance purchases grew 10 percent last year. And, the reason people feel this way is because they see officers repeatedly abuse citizens and face no consequences. But liability insurance changes that paradigm.
There are likely many cops out there right now who an insurance company would not cover due to their track records. A requirement for personal liability insurance would, quite literally, weed out problem officers -- overnight.
In 1994, City Pages published a story on police brutality within the Minneapolis Police Department, identifying a dozen cops whose histories of doling out beatings over the previous decade had cost the department $5.8 million in settlement payouts and court costs.
If officers were to carry their own professional liability insurance, insurance rates would increase for each misconduct case brought against an officer. That handful of officers who continue to abuse their power in uniform would be forced out, as their insurance rates would become too costly for them to remain in the department or they became uninsurable. Doctors, lawyers, accountants, general contractors and many others are required to pay for professional liability insurance-- why not police officers?
If accountability and reduction in police abuses are to be achieved, clearly a new approach is needed. Requiring police officers to carry their own professional liability insurance and to pay for costs over the base rate is one step towards reaching these goals.
[author title="" image="https://tftpstagingstg.wpengine.com/wp-content/uploads/2016/03/magorist-e1456948757204.jpg"]Matt Agorist is an honorably discharged veteran of the USMC and former intelligence operator directly tasked by the NSA. This prior experience gives him unique insight into the world of government corruption and the American police state. Agorist has been an independent journalist for over a decade and has been featured on mainstream networks around the world. Follow @MattAgorist[/author]