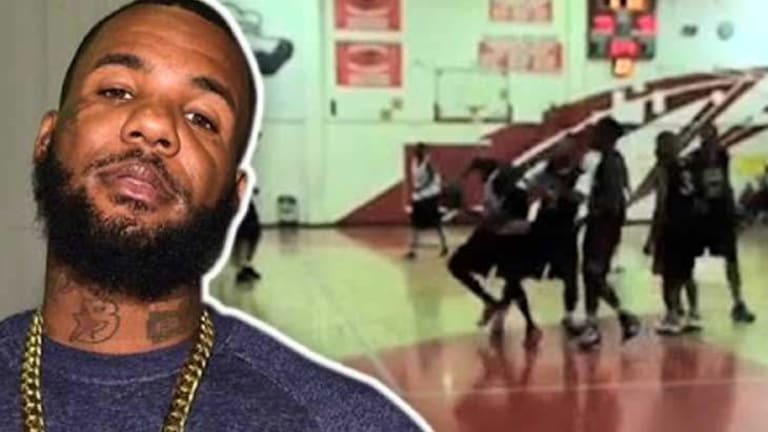 Game Sued for Punching Off-Duty LAPD Officer, Cop Claims to Have Suffered Brain Damage
An LAPD officer is filing suit against rapper Game after a physical confrontation between the two during a basketball game.
Los Angeles, Calif. - In an interesting turn of events, rapper Game is now facing a lawsuit after he was involved in a fight with an off-duty cop during a Pro-Am basketball game.
While there are conflicting reports about what transpired prior to the captured footage of the incident, the video clearly shows Game punching the cop.
" width="790" height="444" frameborder="0" allowfullscreen="allowfullscreen">
According to Game, the off-duty cop, Onyebuchi Awaji, allegedly threatened to get a gun out of his gym bag after game play became physical and elbows were exchanged.
After being punched Awaji wasted no time in filing a lawsuit, claiming quite incredibly that he suffered brain damage from the punch, according to Complex.
While Game may have a new tattoo of Mike Tyson's face on his right hand, it's extremely clear from the footage that the blow he landed was not of the Iron Mike variety.
You can judge for yourself from the footage, but this certainly doesn't look like a punch that would lead to any te of brain damage. It clearly looked like a weak glancing blow, as opposed to a brain-damage-causing power punch.
Is this cop really suffering from brain damage; or is he simply another lying cop trying to scam his way to a big payday at a rich celebrity's expense?
The LAPD investigation into the alleged assault is reportedly ongoing.
Jay Syrmopoulos is an investigative journalist, freethinker, researcher, and ardent opponent of authoritarianism. He is currently a graduate student at University of Denver pursuing a masters in Global Affairs. Jay's work has previously been published on BenSwann.com and WeAreChange.org. You can follow him on Twitter @sirmetropolis, on Facebook at Sir Metropolis and now on tsu.