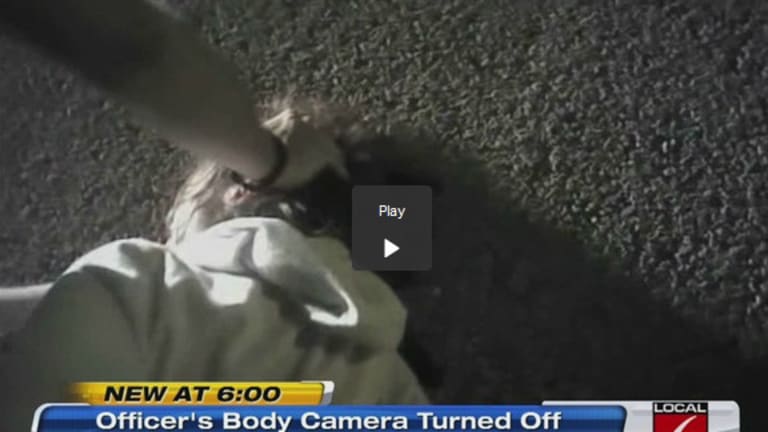 What Good Are Body Cameras if a Cop Can Turn it Off to Shove a Flashlight Down a Woman's Throat?
Matt Agorist
May 16, 2014

Christine Chippewa was beaten, had her teeth knocked out, and a flashlight shoved down her thoat after running in to two aggressive Daytona Beach cops.
Chippewa was sitting in her car in a parking lot when Officers Justin Ranum and Matthew Booth approached her. The two officers alleged that they saw Chippewa put a bag of cocaine in her mouth.
That is when Officer Ranum's body camera goes blank. The arrest ended in Chippewa on the way to the hospital with her teeth knocked out.
"Clearly in the middle of the arrest the camera goes blank and then I have a woman with her teeth knocked out of her mouth and headed to the hospital," said Daytona Beach Police Chief Mike Chitwood. "And I have this documentation of 'Oh these things happened,' well why'd your camera go off?"
Chitwood asserts that Ranum turned off the camera himself.
According to WKMG,
Chippewa filed a complaint with the Daytona Beach Police Department claiming that the officers used excessive force during the arrest.
She says Booth put his fingers down her throat, shoved a flashlight in her mouth and kicked her in the head.

"Further investigation into officer Booth and the injuries that this woman suffered are conducive to excessive force and that's not how we operate," said Chitwood.
Both of the officers are now out of a job over this incident and all charges against Chippewa were dropped. Chippewa also received a $20,000 settlement.
In Rialto California, after body cameras were implemented they saw a 60% reduction in use of force instances and an 88% reduction in officer complaints.
Body cameras are a necessity for police accountability. However, what good are they if cops can turn them on and off as they see fit?
We've also seen that some cops will still murder someone in cold blood, despite it all being recorded on a their body cameras, as was the case with James Boyd.
Here's a thought, how about the government stops worrying about what people put into their bodies, end the war on drugs now, and take away the reason for 99 percent of all police harassment.