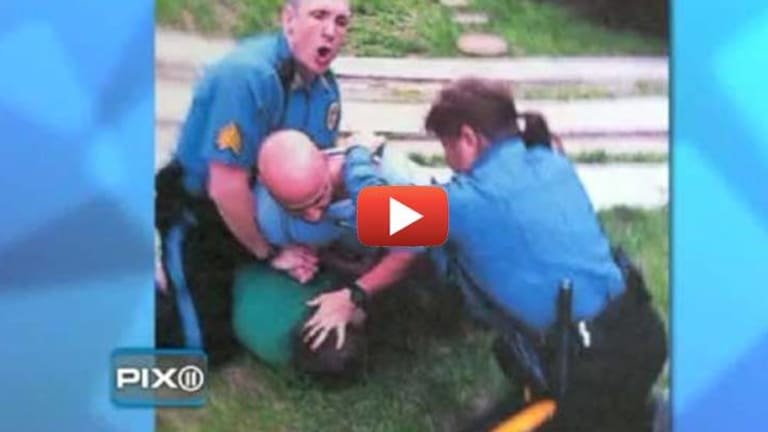 Good Cop Fired for Stopping Fellow Cop from Beating a Mentally Ill Man, Gets her Job Back!
Fellow officers admitted to covering up the beating, lying on reports, and deliberately trying to get her fired. They have yet to be disciplined.
Bogota, NJ -- A New Jersey police officer has won her job back after being fired from preventing her fellow cops from brutally beating an emotionally-disturbed young man.
Despite the incident being caught on dashcam, Officer Regina Tasca was fired for stopping a case of police brutality in April of 2011.
According to Pix 11:
Two officers called by Bogota parents to assist their emotionally-disturbed son into an ambulance instead tackled the man, and punched him in the head. The officers at the time even threatened the victim's father, captured on tape. "As soon as I get off him I'll get to you," he threatened the father of Kyle Sharpe.

Kyle's mother Tara, a former Bogota City Council member recounted that day. "In that moment, my son was jumped and punched, had she not been there to protect him, I can say with certainty things would have turned out quite differently."
"I consider myself a peace officer," Tasca told Pro Libertate. "My thing is to help make sure that people are safe, and that they don't have a reason to fear the police – that we treat them like human beings. The incident that started all of this was one in which I intervened to prevent excessive force against a kid who was the subject of a medical call, not a criminal suspect."
After she had been fired, Tasca expressed her feelings to a local news station. "Being fired means I did something wrong. I know I didn't. I protected that kid. I did what I'm supposed to do," she said.
Tasca, who was the only female in the department at the time, filed several complaints with her superiors about the harassment she faced. But those complaints fell on deaf ears.
During her hearing to get her job back, the attacking officer, from neighboring Ridgefield Park Police, Sgt. Joseph Rella, admitted to covering up punching the victim. He also admitted to lying about his training in dealing with emotionally disturbed people, and violating protocol with his tackle and punch.
Rella never faced any discipline for his brutal actions that day.
Tasca's boss, Captain Jim Sepp, also admitted to lying in his report to get her fired. He failed to interview witnesses, twisted quotes from Tasca and destroyed his notes used to make his report.
Sepp never faced any discipline for lying to get a good cop fired.
Sadly, the only person to be punished in this entire conspiracy was the only who deserved not to be.
Instances of "good cops" being punished by their departments seem to be on the rise. This year alone, we've already reported on several.
Last month, the Free Thought Project reported on the whistleblowers from the Chicago police department whose very lives were threatened for trying to expose the corruption in their department.
This cycle of the "blue line" of protection can only persist for so long before there is no one left with enough courage to call out the corruption.
As Shannon Spalding, one of the whistleblowers from the CPD points out, this blue code of silence and punishment is already an unfortunate reality for most.
"It's no secret that if you go against the code of silence, and you report corruption, it will ruin your career," Spalding said.
Luckily, in the case of Tasca, the justice system seems to have righted a wrong.