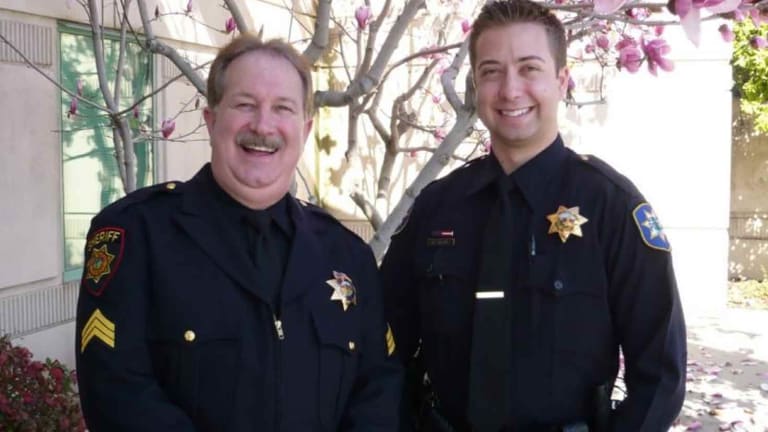 Good Cop Forced Out for Exposing Corruption Says Fellow Cop Put Gun to His Head to Scare Him
A good cop has come forward to tell the world how the system is set up to purge good cops for reporting criminal acts while protecting the bad ones.
Redwood City, CA — In 2015, the Free Thought Project brought you the exclusive story of the whistleblower Chicago Police officer, Shannon Spalding who was retaliated against by her fellow cops for exposing corruption. Spalding and her partner Daniel Echeverria uncovered a massive level of corruption in their department, leading to the arrest of other officers. However, being good cops got them threatened with "going home in a casket."Since then, we have reported on countless similar incidents in which good cops are forced out for trying to stay good cops.
"It's no secret that if you go against the code of silence, and you report corruption, it will ruin your career," Spalding said. And as the following case illustrates, she is right.
Despite knowing it would ruin his career, Redwood City Police officer Ryan Adler could no longer stay silent about the atrocities he witnessed committed by his fellow officers in the Redwood City Police Department.
When he worked up the courage to come forward, he was labeled a "rat" and a "snitch" and forced out of his job. Now, after watching the recent police violence across the country, Adler is telling the world how the system is set up in such a way that it protects the bad cops while purging the good ones.
"The real problem that we have right now is that we have a system that does not allow good cops to come forward," Adler said. "You have a system where if you complain, you're ostracized, and you're shunned, and you might not get cover on that next call when you need help."
Adler mentioned a chilling example of this "shunning" when he called out a fellow officer who would talk about colleagues being "thrifty," and then called them "F--ing Jews."
According to KTVU, Adler said the same officer, who has now been promoted to sergeant, would intimidate him by clicking an unloaded gun near the back of his head to scare him.
"He would take his gun out of the holster...and stand behind me," Adler said. "And he would rack the slide ….and he would dry fire ...and it would go 'click.'"
The depravity is seemingly unlimited. Adler talked about another example in which sadistic cops recorded woman's cries on a domestic violence call and then emailed it to the entire department so they could use it as a ringtone.
Adler said because he was so new at the time, he was scared to speak out at first.
"When you're in a situation and you want to speak up, it's hard to know when to do it," he said. "You learn really quickly there are things you can talk about and things you can't. We were expected to accept it, or chuckle with this inner circle of officers."
When Adler finally worked up the courage to blow the whistle and go to human resources to make his complaints, he was told he'd have to go on medical leave, even though he had been working as a detective with a slightly injured shoulder for months before that.
He would eventually sue the department for retaliating against him and won a $150,000 settlement. He is now speaking out as he watches this rampant corruption unfold across the country.
Adler's retaliation is not unique, and officials agree.
"This isn't just Redwood City. Don't kid yourself. It's sad. But this is not just at one police department. It's throughout the entire country," said LaDoris Cordell, a retired Santa Clara County judge and the city of San Jose's former independent police monitor.
KTVU spoke with 16 other sources from within the department who all detailed similar stories.
Unfortunately, TFTP has countless stories of our own as this type of response to good cops, who try to call out corruption in their department is the rule, not the exception.
Earlier this month, in fact, TFTP reported the story of Sgt. Javier Esqueda, a cop who blew the whistle on the death of Eric Lurry in Joliet police custody who was stripped of his police powers and placed on administrative leave for blowing the whistle.
Esqueda watched a video of his fellow officers appear to suffocate a man until he died while shoving a baton in his mouth and decided that enough was enough. The department thought that was enough as well and they moved to silence him for speaking out.
Just last year, TFTP reported on Sgt. Isaac Lambert who became the latest victim of his fellow Chicago officers retaliating against him for refusing to cover up the shooting of 18-year-old Ricardo Hayes in 2017.
Lambert filed a whistleblower lawsuit against the city last year because of the way he's been treated for being honest and courageous.
On Aug. 13, 2017, Hayes was shot by off-duty police Sgt. Khalil Muhammad. In the 911 recording, Muhammad can be heard telling the dispatcher that "the guy pulled, like he was about to pull a gun on me, walked up to the car and I had to shoot."
But this was a lie. Hayes had no such gun and surveillance footage showed he was running away and Muhammad fired out of his window in a drive-by fashion.
For trying to expose the shooting of an innocent unarmed autistic child by his fellow cop, Lambert was attacked and demoted.
Previously, the Free Thought Project brought you the story of Laura Schook, who tried to call out corruption in her department. Naturally they tried to run her through the mud and fire her.
Also, we broke the story of a cop in Buffalo, NY who was beaten and fired after she stopped a fellow cop from nearly killing a handcuffed man.
In Kentucky, a sheriff's deputy was fired for "insubordination" after pointing out that the sheriff had planted drugs in another deputy's car. Even though the sheriff was indicted, the deputy was still fired.
We also exposed the Baltimore police department's attempt to intimidate a whistleblower officer. Detective Joe Crystal became a target of intimidation for his entire department after testifying against other officers in a misconduct case. Following his testimony, he received threats from other officers, and even found dead rats on he and his wife's cars.
With stories like these, the occasional bad apple excuse crumbles. The thin blue line, it seems, is akin to the mafia; cross it and you will be snubbed out by the rest of the gang.