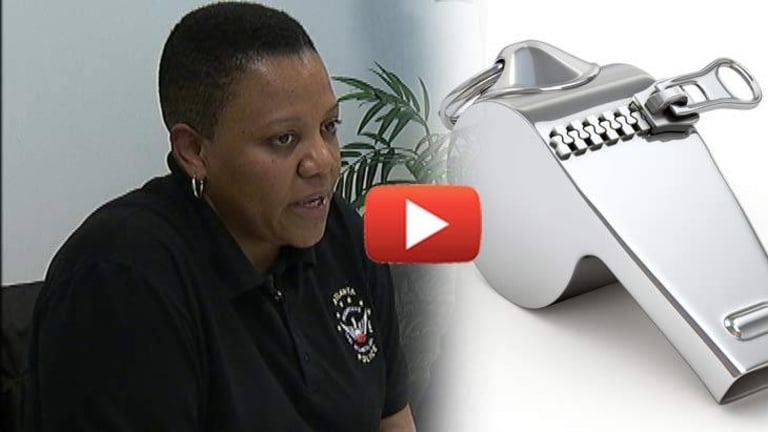 Good Cop Punished After She Caught Fellow Cops Stealing and Tried to Report Them
It's no secret that if you go against the code of silence, and you report corruption, it will ruin your career.
Atlanta, GA -- In yet another tragic incident of retaliation against officers who try to police their own, police officer Charron Walters is now fighting an uphill legal battle to prove her case.
In 2011, Walters and fellow officers were working a crime bust on a chop shop. Walters said she saw her teammates stealing during the bust.
"I'm trained to recognize crime, I know what I recognized that day, they asked me about it, I spoke up about it," Detective Charron Walters told Channel 2's Rachel Stockman.
Walters, a 16-year veteran officer of the Atlanta police department said she witnessed cops stealing parts from a truck.
"They asked me specifically who did you see take the items, and I had to tell them who I saw take the lights," Walters said.
After reporting the incident to her superiors, Walters claims that she is now being retaliated against.
"When you see people mean mugging you, they are not talking to you because you are the snitch, you are going to tell," Walter said.
According to WSB-TV, 
Walters said she's been transferred four times, since reporting the allegation, and is now off the streets on a desk job, filling open records requests.

According to an open records request, several officers involved in the bust were given written reprimands for failing to ensure evidence was "properly documented and turned into the Property Seciton." The report does not mention the thefts directly.

In a summary judgement decision, Fulton County Superior Judge Kimberly Esmond Adams, wrote: "The court finds that Plaintiff's testimony failed to establish the essential elements of a retaliation claim."
The system is set up to protect itself; this makes it nearly impossible for an individual whistleblower to prove wrongdoing. Despite these challenges, Walters and her legal team are continuing their struggle through the legal system.
"We are really going to have to fight our way through the legal system," said Jennifer Wright, one of Walters' attorneys, "We have good officers out there, officers that want to do a good job and we need the courts to support that."
Crossing the blue line often means career suicide and can also be dangerous. In January, the Free Thought Project reported on the whistleblowers from the Chicago police department whose very lives were threatened for trying to expose the corruption in their department.
This cycle of the "blue line" of protection can only persist for so long before there is no one left with enough courage to call out the corruption.
As Shannon Spalding, one of the whistleblowers from the CPD points out, this blue code of silence and punishment is already an unfortunate reality for most.
"It's no secret that if you go against the code of silence, and you report corruption, it will ruin your career," Spalding said.