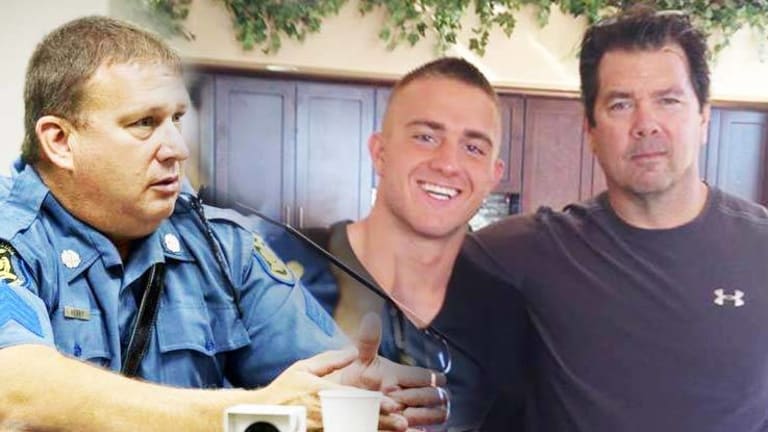 Good Cop Crosses Thin Blue Line, Helps Family Bring Officer Who Killed Their Son to Justice
After 18 months, this family finally fought through the cover-up of their son's death, thanks in large part to a good cop who was cast out for telling the truth.
Versailles, MO -- On Friday, special prosecutor William Camm Seay announced that Trooper Anthony Piercy is being charged in the death of Brandon Ellingson, who drowned in the Lake of the Ozarks with his hands cuffed behind his back.
On May 31, 2014. Trooper Piercy arrested Ellingson under suspicion of OWI and negligently placed the wrong life jacket over the handcuffed 20-year-old's torso. Piercy then drove his patrol boat away from the scene at a high rate of speed. Ellingson was thrown from the craft when it struck a sizeable wake, the life jacket came off, and he drowned with his hands still in cuffs.
As The Free Thought Project previously reported, following the familiar full-court press to prevent officer accountability, the jury in a Coroner's Inquest ruled Ellingson's death to be accidental. It was subsequently revealed that Amanda Grellner, the prosecutor who declined to file charges against Piercy, had received a personal favor from the MHP three years earlier when the department declined to charge her then-18-year-old son with DUI.
After seeing that they were getting zero help from the perpetrator and his subsequent conspirators, the family of Ellingson launched a campaign for justice. During this campaign, they were joined by Missouri Highway Patrol Sergeant, Randy Henry.
Henry witnessed first hand, the incompetence, negligence, and cover-up and took to exposing it.
"We killed Brandon Ellingson,"Henry bluntly told the Lake Expo newspaper, following it with the question of "Why are we investigating ourselves?"
In a conversation with Piercy the day following Ellingson's death, Henry expressed concerns about how the arresting officer had conducted himself. Piercy himself seemed remorseful, telling Henry,
"I feel like I drowned that kid…. I should have done more for him."
In any other context, that comment would be treated as a confession to second-degree murder.
Henry then filed a report on the drowning and testified about the inadequate training Piercy and other water patrol officers received.
During an interview with patrol investigators following the drowning, Henry mentioned a state law dealing with the safety of people in custody and how the police are responsible for the lives of those they detain. An investigator interrupted Henry and insisted that the recorder be turned off, to deliberately prevent an official record of his disclosures.
The stiff arm of blue justice was moving in.
Instead of Piercy being held accountable for his negligence, it was Henry who was then run through the gamut of the thin blue line. He was cast out by his department, demoted to corporal, and forced to retire.
But as a true servant to the public, Henry remained resilient and refused to be bullied.
His and the family's efforts led to the case being reopened and taken over by Seay.
"It was an investigation not concluded at that time," Seay said. "She [Grellner] didn't have it. We, my people, completed the investigation. There was additional investigation after Ms. Grellner stepped down."
When Seay was asked about the concerns of the law enforcement agency investigating themselves, he said, "That's what I'm for. I don't have any concerns."
On Friday, Seay announced the charge of involuntary manslaughter in the first degree against Trooper Anthony Piercy outside the Morgan County Justice Center. The charge is a Class C felony carrying a punishment of up to seven years in prison, up to a year in the county jail, a $5,000 fine or a combination.
The Highway Patrol said in a statement that it had placed Piercy, 44, on leave without pay. He is expected to turn himself in on Friday.
Craig Ellingson, father of Brandon, announced they were pleased with the news but noted how long it took.
"But it should have been a lot earlier," he said. "I think it has been a cover-up from the beginning. They had everything. They knew what Piercy did to my son."
For 18 months, this family, along with the now retired Henry, have fought for Piercy to be held accountable in the death of Brandon Ellingson.
"I never imagined something like that happening to Brandon. ... I think he felt like he was safe with Piercy, because he's a cop. But he wasn't," said Ellingson.
"There's been a cover-up from the beginning," Henry recently told The Star. "They wanted to protect the governor and the merger and protect Piercy from criminal charges because criminal charges would be a black eye for the patrol."
While this news of Piercy's charges is great for the family, Craig Ellingson insists that the fight is not yet over.
"I feel some relief, but I still want to get to the people who have covered this up," he said.