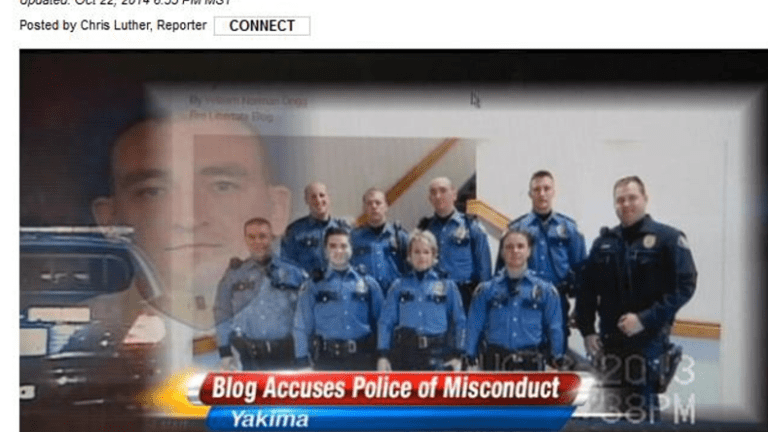 Why "Good Cops" Stay Silent
When confronted with an allegation of official misconduct or corruption, a journalist will investigate the complaint. In the same situation, a state-licensed apologist will investigate the complainant, in order to vindicate power in the eyes of the public.
William Norman Grigg | LewRockwell.com
Thus it is probably significant that when Yakima NBC affiliate KNDO decided to follow up on my story about former Yakima PD Officer Adam Basford, the headline it chose was: "I-Team Investigates Blog Claiming Yakima Police Abandoned Officer in Struggle."
Mr. Basford was shot in the leg while arresting a suspect in a previous shooting. Out of concern for bystanders, Basford didn't pull his gun, choosing instead to go hands-on with the larger, younger, armed suspect. During the foot pursuit and struggle, Basford called for backup, and claims that none arrived until after he had subdued the suspect. (Although the suspect was a convicted felon who shot a police officer, he was allowed to plead guilty to "attempted first-degree assault.")
While he was being treated for his wound, Basford relates, he became concerned that the suspect hadn't been secured, and thought he saw him reaching for an object in his pants. He drew his weapon and held it at "low ready," out of concern, he says, for the EMTs and police on the scene. One of the officers yelled that Basford was preparing to "execute" the suspect, and Basford was intercepted and compelled to surrender his weapon.
The video provided to KNDO – which wasn't available to me at the time I wrote the original story – validates most of Basford's account: It shows police responding after the altercation; documents that Basford was wounded (although at the time his wound – which proved to be very serious – was dismissed as "superficial") – and that Basford was concerned about the suspect going for a gun; and it captures the image of Basford striding toward the suspect with a drawn gun at his side.
KNDO depicts Basford as a dangerous and undisciplined officer who was seeking to "execute" a suspect he had just risked his life to arrest without using lethal force. It also dismisses his claim that other officers had declined to intervene on his behalf by noting that "in all official accounts of the incident, there was no mention of officers witnessing the struggle and not helping."
"That didn't happen," Chief Rizzi told KNDO correspondent Chris Luther. "I trust the integrity of all of these officers that they're going to do the right thing…."
Rizzi's assessment of an officer's "integrity" is based on a sliding scale. As noted in my original report, the Yakima PD has been deluged with lawsuits in recent years, many of them filed by disillusioned officers complaining about institutional corruption. Chief Rizzi is still dealing with the degenerate corporate culture he inherited from former Chief Sam Granato, and his administration isn't a substantive improvement over that of his widely despised predecessor.
Rizzi blithely ratified an internal review that permitted Officer Casey Gillette to escape punishment after he beat an unarmed man and unlawfully arrested him for "disorderly conduct," which is not an offense under Yakima municipal statutes. As a Supervisory Review of that case demonstrated, the false charge was "chosen to justify Gillette's [unlawful] use of force and possibly to protect the city" from a lawsuit.
A few months later that same Officer Gillette shot and killed Rocendo Arias, an innocent man who was sleeping in his car. That shooting was ruled "justified" because of the "perceived threat" reported by Gillette after killing the victim.
It is a bit precious of Rizzi to feign outrage over Basford's behavior after getting shot while countenancing the execution-style shooting of a sleeping man.
It would have been appropriate for Mr. Luther or other reporters from KNDO to ask Chief Rizzi about these matters. If those questions were asked, Chief Rizzi's answers were not made available to the public. But remember: The purpose of the KNDO report was to investigate the complainant, not the complaint.
Adam Basford, who arrived at an "amicable separation" from the Yakima PD following his injury, told me that he was often left without backup because of complaints he had made regarding misconduct by fellow officers. After leaving the force, he filed a complaint against Officer Ryan Yates arising from what he described as a confrontation in the parking lot of a sporting goods store.
KNDO was provided with what it described as "inconclusive" security camera footage of the confrontation. Luther's story also noted that Basford's complaint was dismissed, and he was charged with "filing a false report." An actual journalist might have asked Chief Rizzi to explain whether it is standard procedure for a citizen to be charged with a crime when his department doesn't sustain a misconduct complaint. He might also point out that the Yakima PD and the DA apparently consider it to be a more serious "crime" for a citizen to file an unsustained complaint about police misconduct, than for a convicted felon to shoot a police officer who had complained about misconduct by his colleagues, given that Basford actually faced more time behind bars than the man who shot him. A journalist might ask Rizzi for comment about that matter.
Luther had the opportunity to ask those questions. His apparent refusal to do so tells us which of the two roles described in the first paragraph above he has chosen to play.
Luther contacted me late in the evening on October 21 – less than 24 hours before KNDO's story was broadcast. I replied by sending him several hundred pages of documents I had obtained through public records request and other means.
"I really appreciate you getting back to me so quickly," Luther replied. "I will review all the documents tomorrow."
No, he didn't. Absent the gifts for speed-reading and comprehension enjoyed by the psionically enhanced Gary Mitchell, it would have been humanly impossible to review all of the documents I provided to Mr. Luther.
It's reasonable to surmise that by the time Luther contacted me, the copy had been written, the footage had been interviewed, and all that was left were a few inserts and the obligatory stand-up in front of the Yakima PD Office.
"There will not be any on-camera [interview] where I'm speaking with any news affiliate, outlet, or agency," Basford told Luther in an email exchange that occurred less than five hours before KNDO broadcast its story. "I've been advised by both my attorneys that I cannot do official interviews at this time. Besides, my whole story is actually in my police report."
Mr. Basford's refusal to speak with Luther was the product of a gag order imposed on him through a "Stipulated Order of Continuance" arising from the vindictive and unjustified charge of filing a false report. As explained to him by his attorney, this is a type of probation during which time he would face a "stipulated trial" if he were arrested and charged with any criminal infraction. This is a procedure in which "the judge reads the police reports and makes a determination. A stipulated trial would most likely result in a conviction."
What this means, obviously, is that the Yakima PD can tell whatever story it wants about Adam Basford, and Mr. Basford faces the prospect of imprisonment if he speaks in his own defense. A journalist would be expected to ask questions about that arrangement or, at the very least, explain it to the public. It's a pity that KNDO doesn't have anybody meeting that description on its payroll.